Workshop
---
The " Workshop" is one of the structures included in our "Townsite" collection . Originally built in the 1930's, it has seen several owners through it's lifetime, as well as some marginal reconstruction, and much marginal maintenance. Indeed, it is about as far as a person might want to go as a starting point for a re-construction project, but again, it has a wonderful history, and the Proletarian Pioneer brand/suspicion/inclination IS to actually be REAL about re-purposing, and "small footprints"
At 1500 sq. ft.,it is entirely usable for my requirements in pursuit of small manufacturing , fabrication, and vehicle maintenance & modification.
The first order of business is to seal it up enough to be heatable in (this) winter...then to clean & organize the interior enough to create tool/parts storage, and free work space. When  weather permits (spring!), the much larger tasks of installing a new floor, and designing/building a new roof can begin.
---
                                                                               2021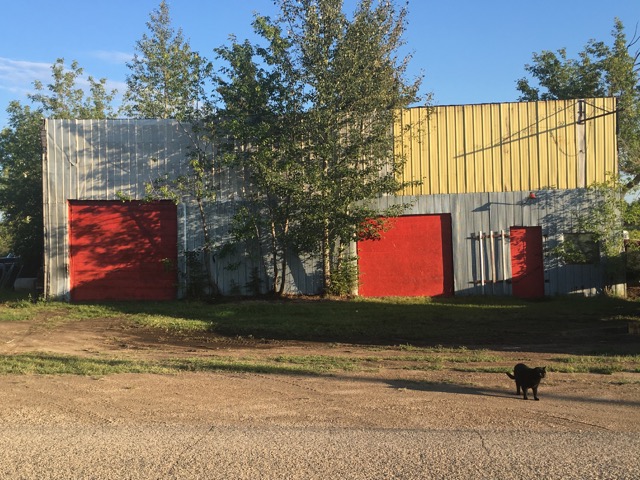 ...I straightened up the tin and repainted the "doors"...
                                                                                                         ...put some fresh ( salvaged ) metal on the east wall, and alittle paint...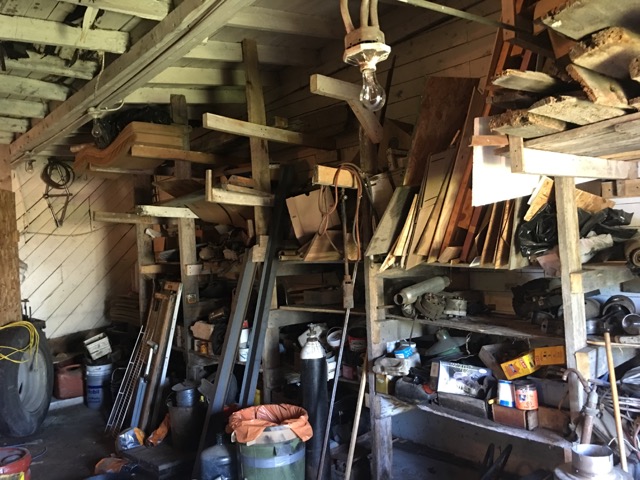 ...the next major project is to build an entire new, higher roof,..but first 40 years worth of parts etc.,have to be relocated...
                                                                  ...I installed some interior lighting in my storage trailer,..next step is to manufacture some shelving...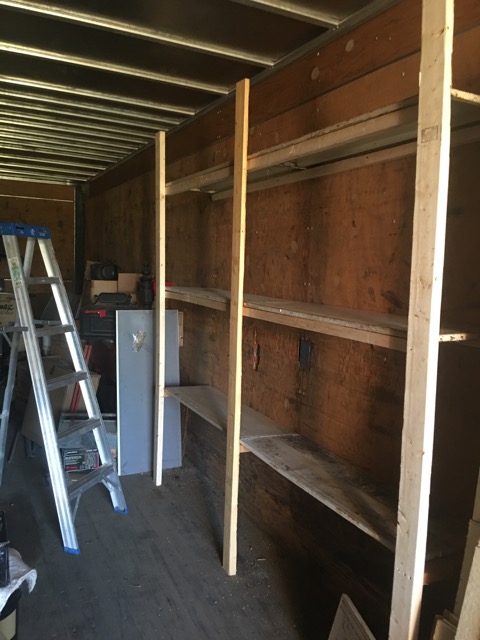 ...I built some frames of 2x4's to hold 18"x48"metal panels from my favourite salvager,.. "The Last Redneck "...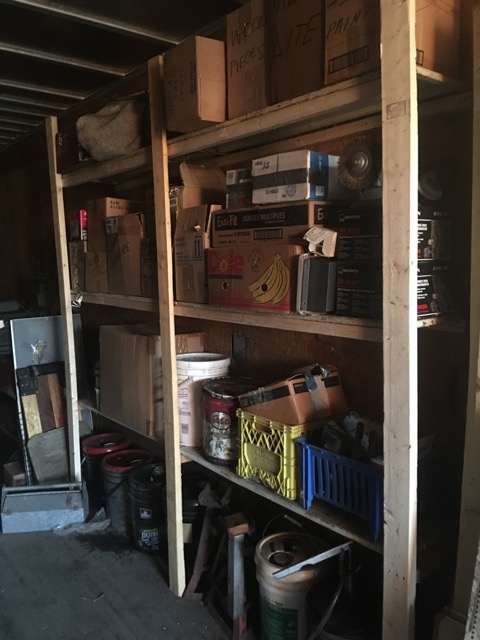 ... I realized the magnitude of my undertaking when many of my new shelves were filled with material already in the storage trailer!...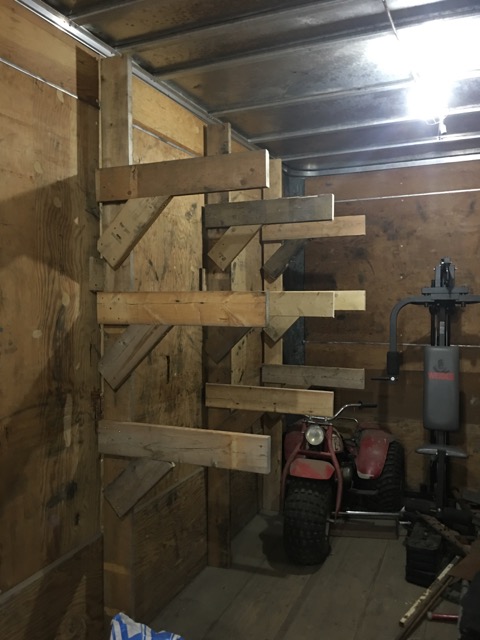 ...I made some shelving in the front area capable of holding longer material, such as the remnants of my " Barnwood "...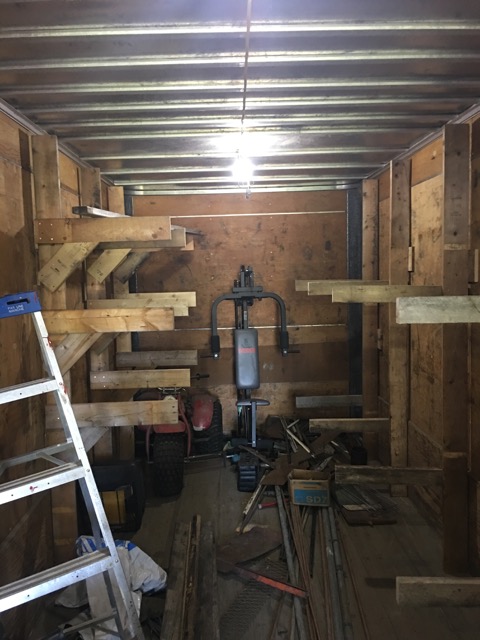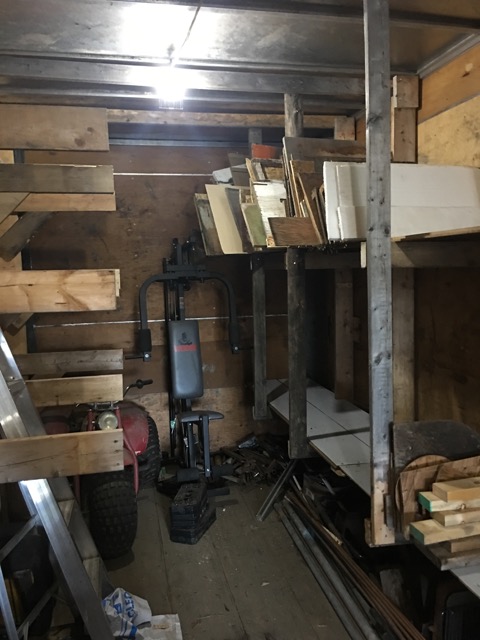 ...small pieces of lumber & plywood sound trivial,..but I turn to my supply repeatedly...
                                                                               2019
              ...some decades ago, when the shop belonged to my brother, I had poured a new floor section, and laid in tubing for floor heat, I now made "lazy man's"manifolds,
                                                                                                                 ( pipe fittings ), and connected the tubes with ball valves...
                                                  ...I sourced out an old tank from my favourite salvage yard, and mounted a ( new) ultra-low wattage circulating pump...
                                                                                                                  ...now to get some power sources, and alot of antifreeze!...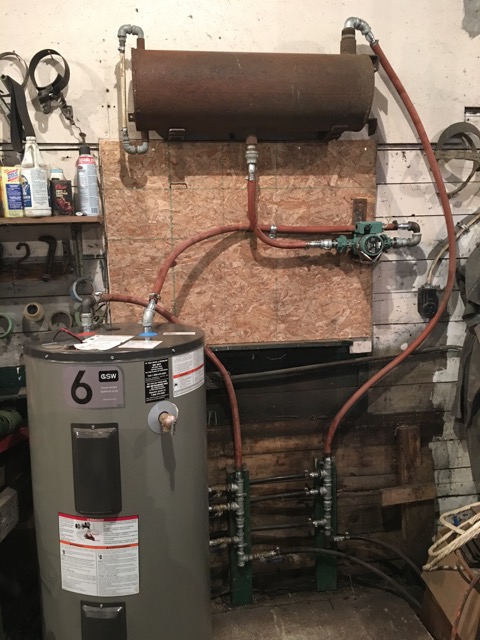 ...the system holds 65 gallons of antifreeze, the water heater works fine at it's lowest setting...I just plug it into my 220v welder plug,..( I unplug it temporarily to weld )...
                                                                                2016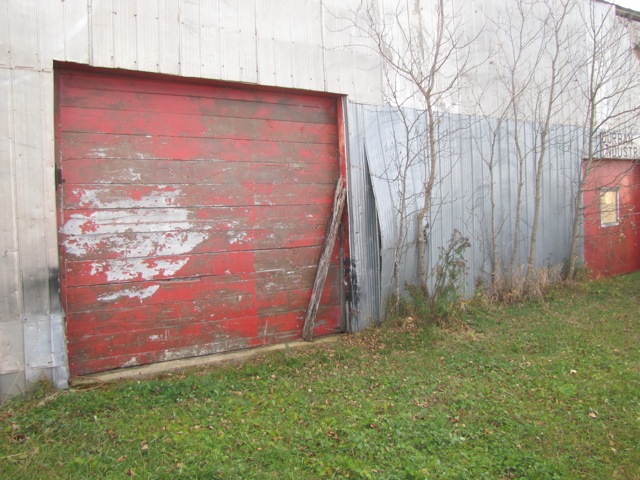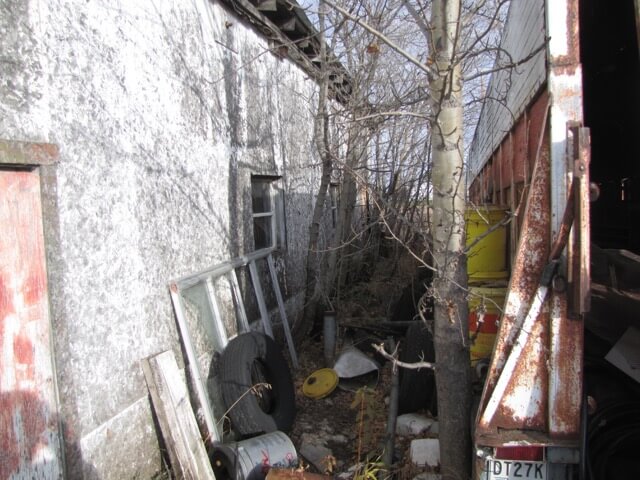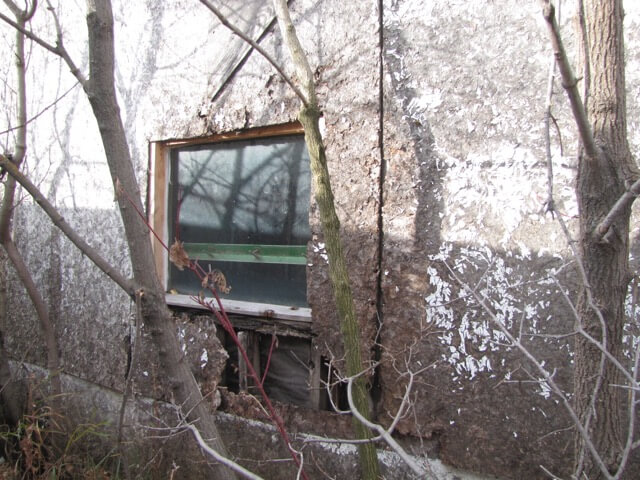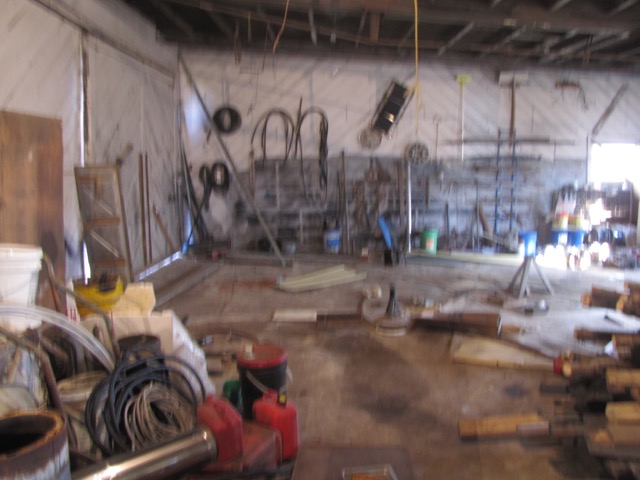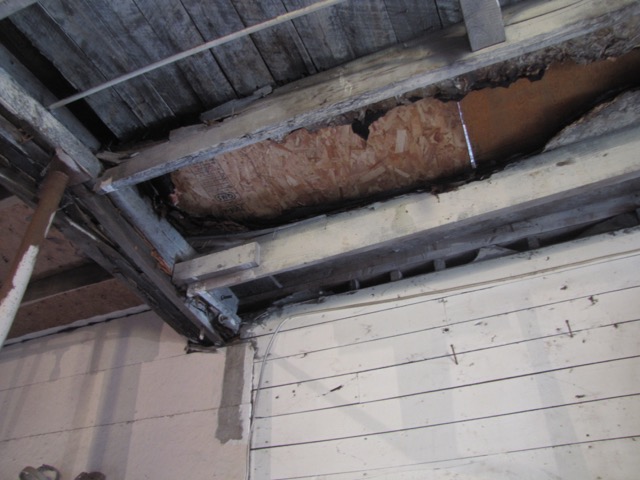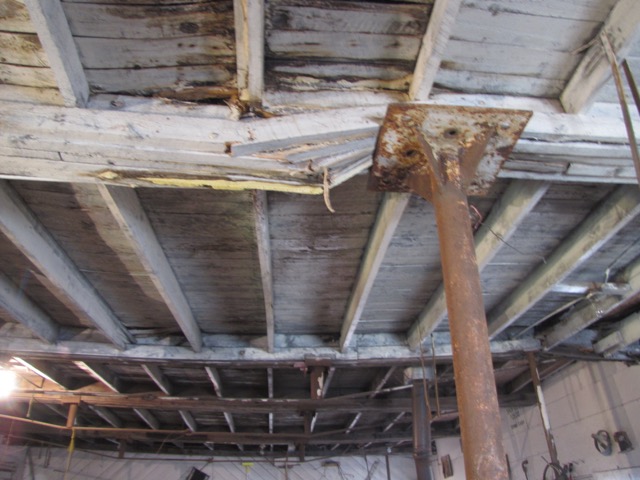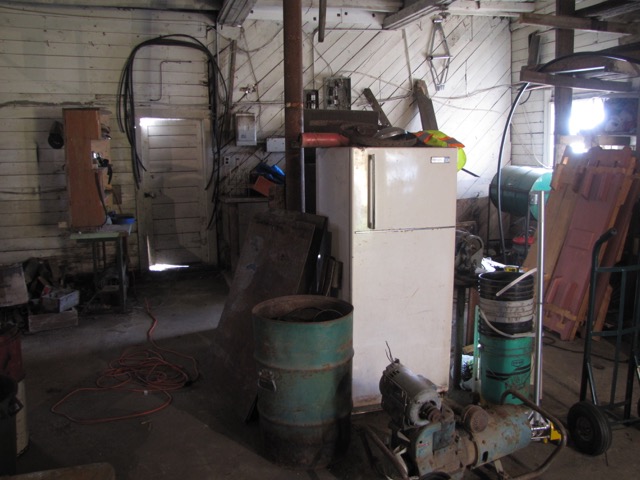 Stay tuned!...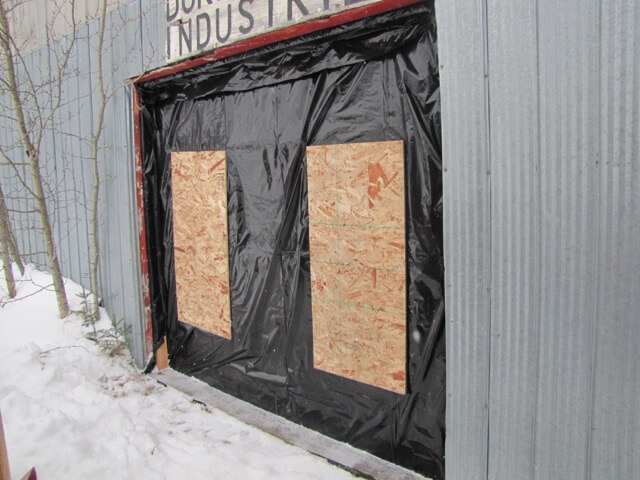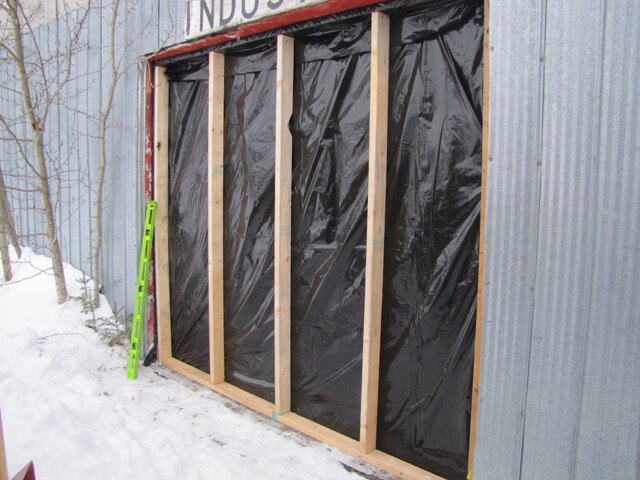 Late Feb...the smaller door ,on North side, was inoperable, and constructed of only one inch lumber...not air tight or insulated...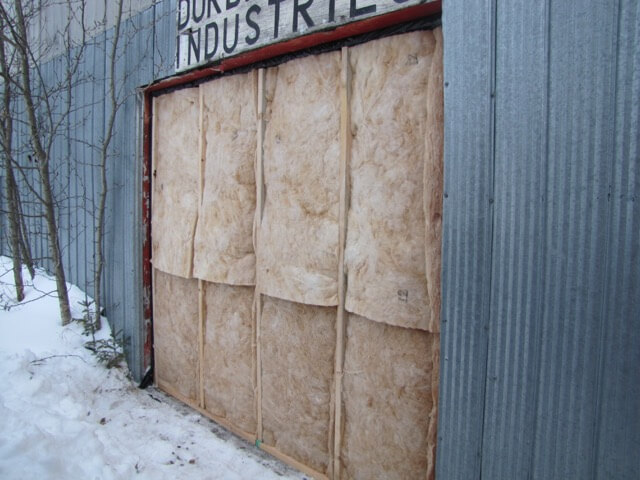 I sealed it with plastic, then framed it and insulated it , basically making it a wall section...