Prolomotion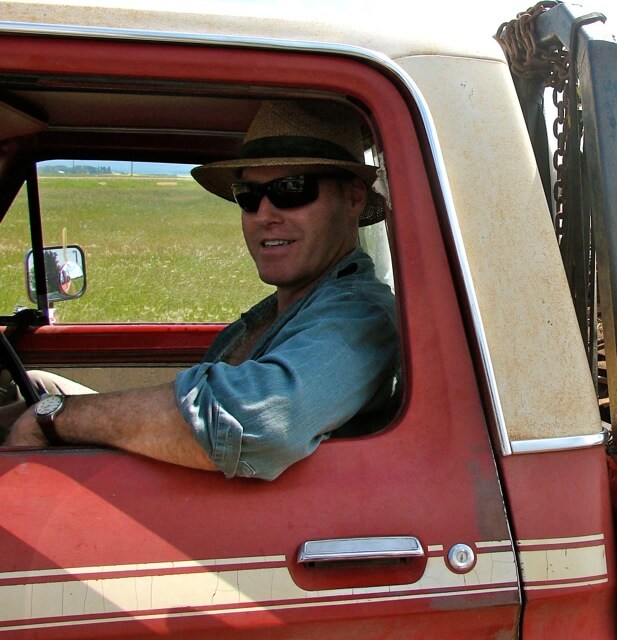 ---
Prolomotion...Motorized Pragmatism?... There seems to be an ( essentially unchallenged ) belief in the air, that transportation is expensive, complicated, tenuous, and beyond the grasp of " common folk ". Moreover, it is assumed that shiny, flimsy, new vehicles are necessary.
Well, we of course, call Bullshit...but to keep it fair, and fun, we have set up some new measuring stick/living experiments to get to the " Actuality of Mobility ".
*$50 per month transportation budget-...Decades ago, a friend of mine informed me of his fifty dollar per month transportation budget, and we laughed...but not for long. He would buy a vehicle, nondescript/neglected, ( cheap ) and just drive it. ( Note: in those days we did not need ABS/GPS/USB, or any other abbreviations, because, believe it or not, we were actually capable of operating a motor vehicle ) Seriously, we could actually tell if our tires were flat ( or missing ). 
But I digress, his formula dictated that a $100 vehicle had to last two months, and so on...after about a year he was so far ahead that nobody even kept score any more!
* "Two factor formulas" vs "Proloneer formula"-...I love the modern "two factor" formulas, especially concerning transportation. People say "oh but I get  50 mpg "...they don't say, " oh yeah I drive a Pious, so I can't actually haul anything, or anyone, or drive off pavement, or through snow, and my vehicle has the largest environmental footprint & poorest serivceability on the planet, with a high insurance cost ". Yeah, love that " miles per gallon per________formula! 
And granted, I'm old school, almost no skool, gearheaded, and hardheaded, and indifferent by choice...but even I can only stand so much bullshit.
So, of course, one of my favorite vehicle choices is an oldish, full sized van. You bet, V8, carbureted, real brakes (no ABS)...and actually made of metal! I "only" get 18 mpg on my good days, 15 on average, but I can haul 3000 lbs of cargo, 14 foot lumber, 4x8 sheets of plywood, 8 or 10 people, down anything more than a 4x4 trail. Oh yeah, I also custom camperized it just for good measure. It is ultimately maintainable, (500,000+km) it complains for at least a week before it stops, it cost $1500 to buy, and costs $400 per year to insure.
So yeah, how about a formula like " miles per gallon, per carrying capacity, per versatility, per roadworthyness, per dependability, per maintainability, per "actual footprint", per ACTUAL COST PER MILE"?
Yeah, now we're talk'in....
Here's a few of my entries into the "$50 per month" transportation challenge...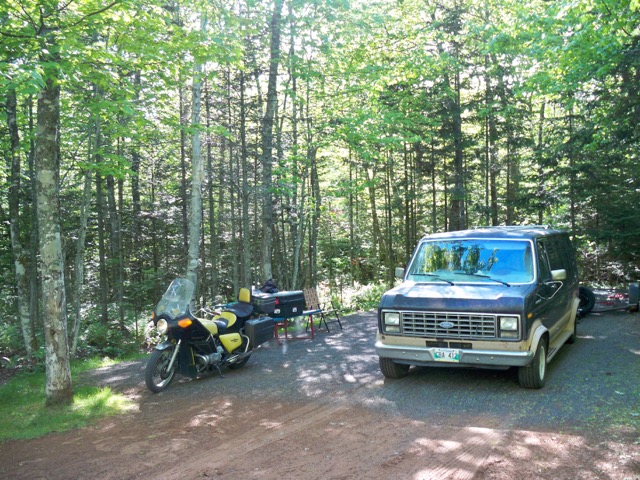 ...1983 Ford Econoline Van...
                         351Windsor, 2V, C6 with added cooler,high speed differential...purchased 2003, ( cost 1500$ ), retired 2019...(192 months, allowable expenditure 9,600$)...
     300,000 miles, still runs perfect, was destroyed by good old road salt,..replaced fuel pump, starter, cam chain, and 4 sets of tires, app.( 3500$),..never seen a tow truck!
                                                                                                                                         ... $18.22 per month...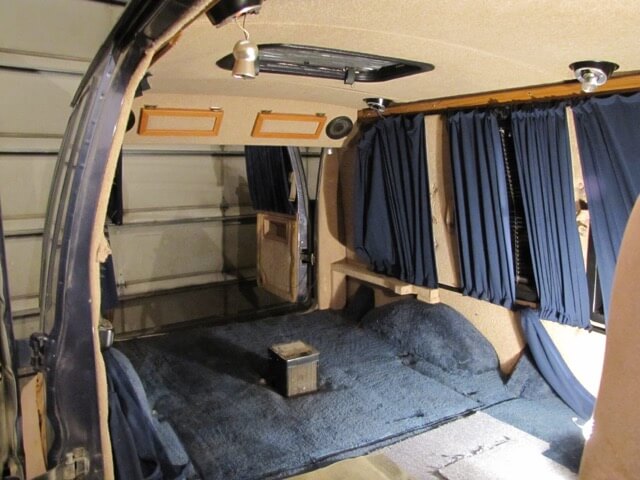 ...I personalized the interior to reflect my Prolineer disposition...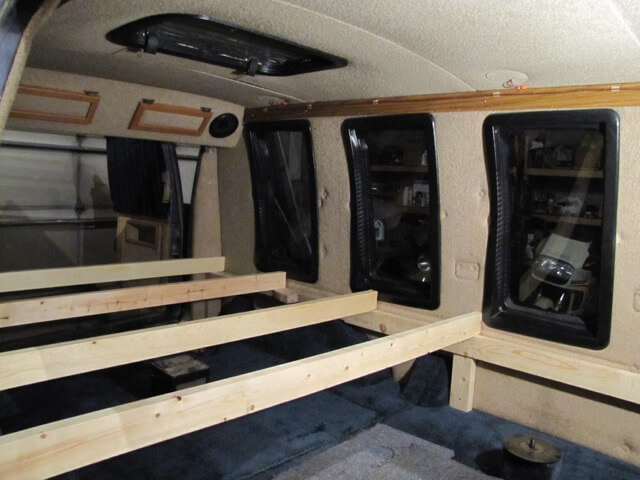 ...I wanted the underbed area clear to enable carrying large freight, ( or 14 foot lumber, lol )...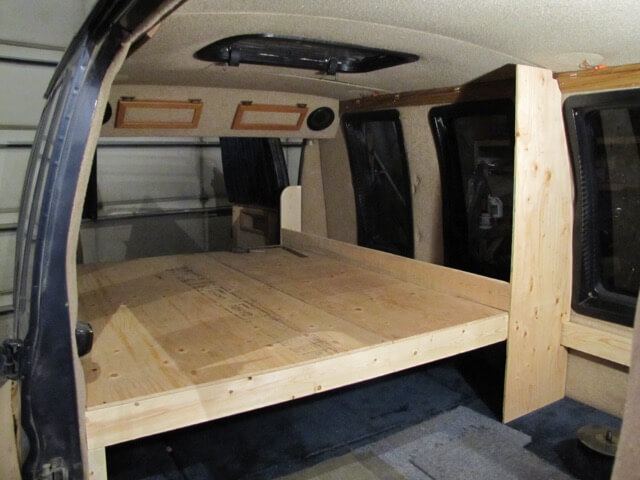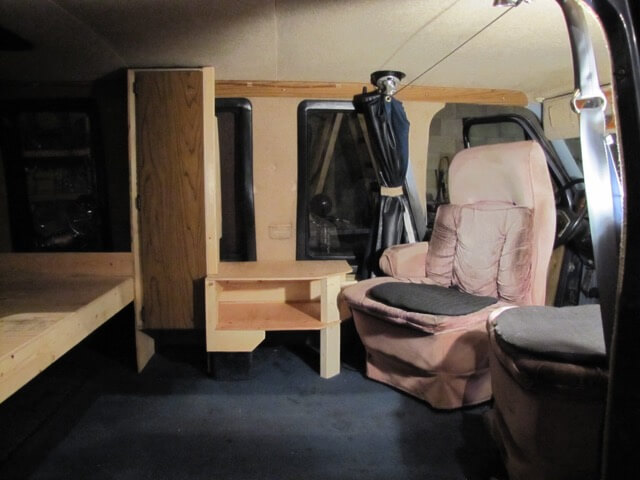 ...the resulting interior space is more than adequate for one or two proficient folk...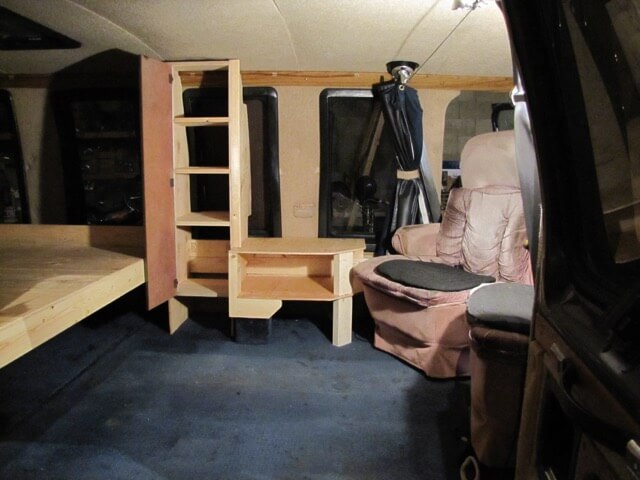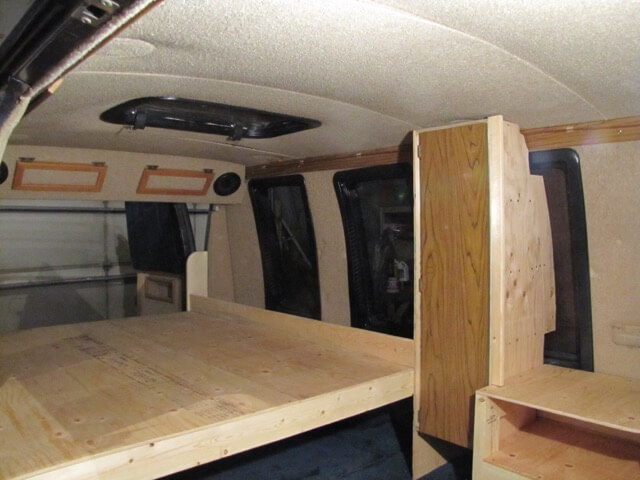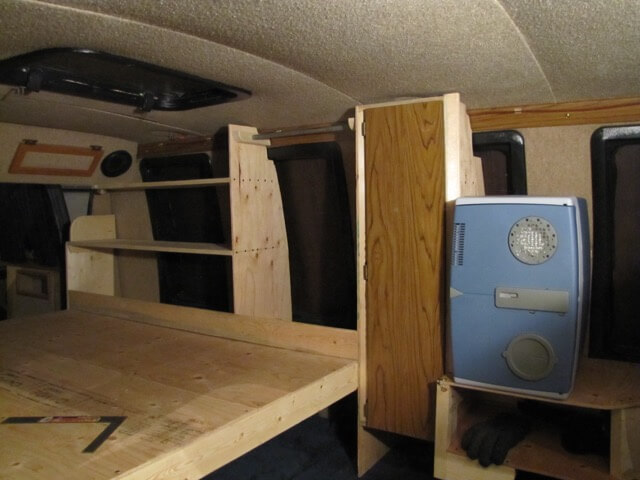 ...the cooler is always worth the effort to include...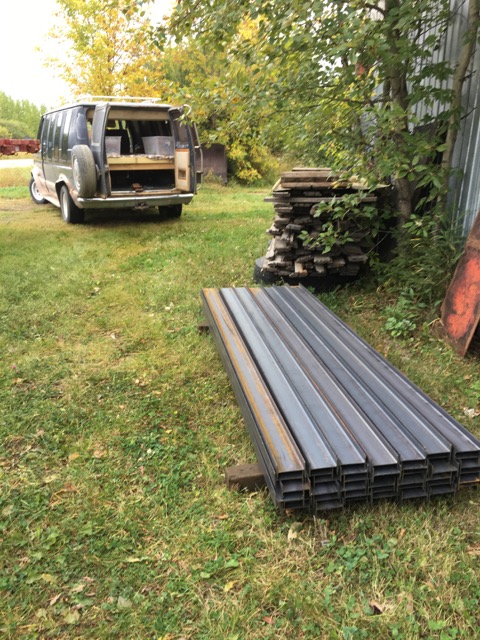 A testimony of the versatility & carrying capacity of Old Blue,..that is a pile of 8'6" steel trailer crossmembers ,in excess of 2000#, which I hauled easily under the bed...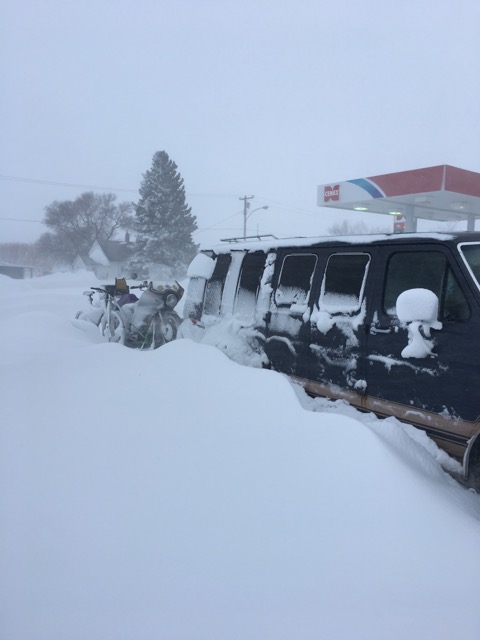 ...this is Old Blue on her last long road trip ( Mexico, spring  2019 ),... found a little winter in South Dakota!...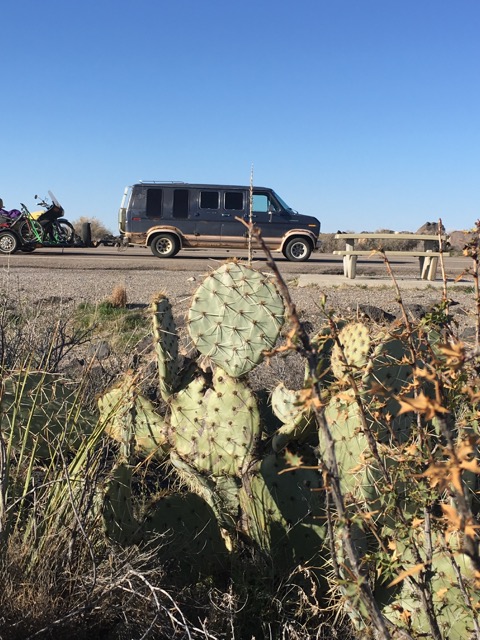 ...made it to cactus country without a hiccup!...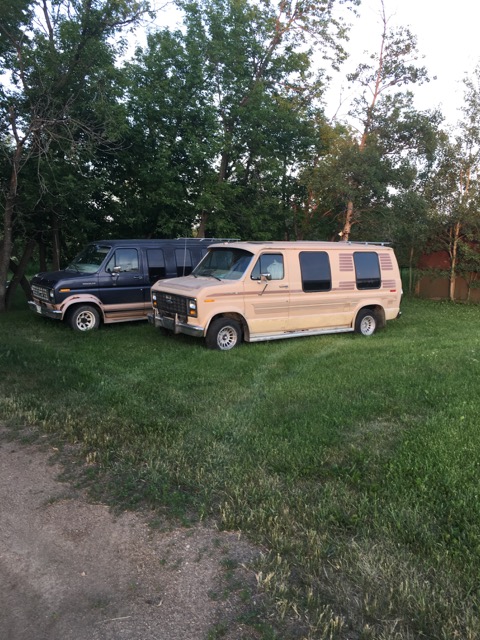 ...Fall 2019,...Old Blue posing with her replacement , 1979 Ford Econoline...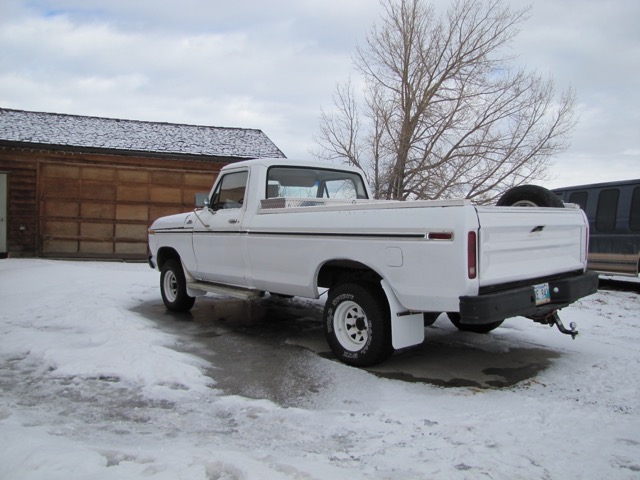 1977 F-150...89,000 mi...cost $1500...(has to last 30 months)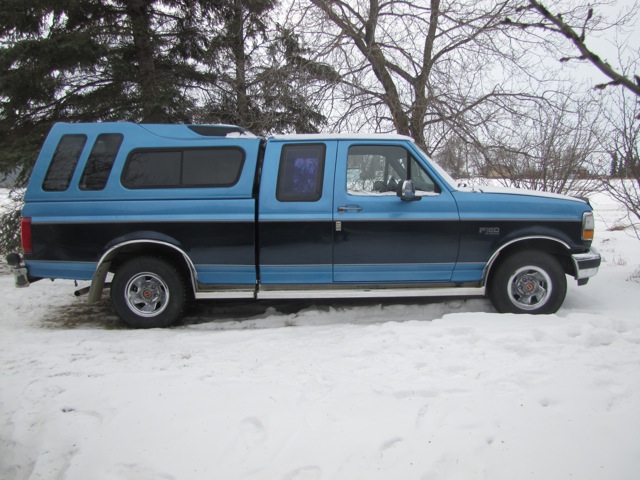 1992 F-150...247,000km...cost $4000...(has to last 80 months )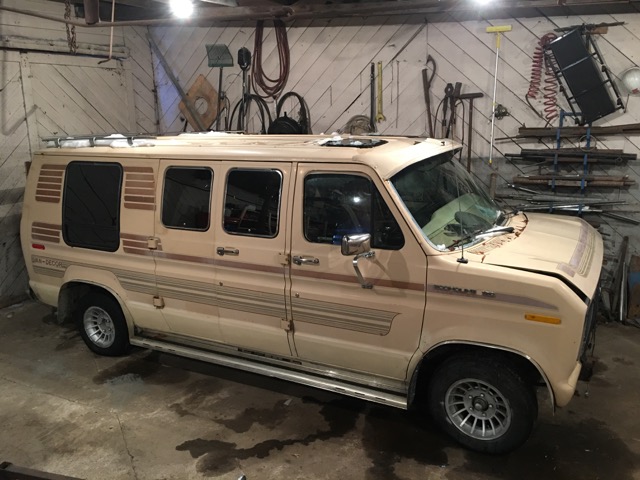 ...1979 Ford Econoline Van,..351 Winsor 4V, HO, C6 W/ added cooler, 100,000 mi, cost $500, ( has to last 10 months)...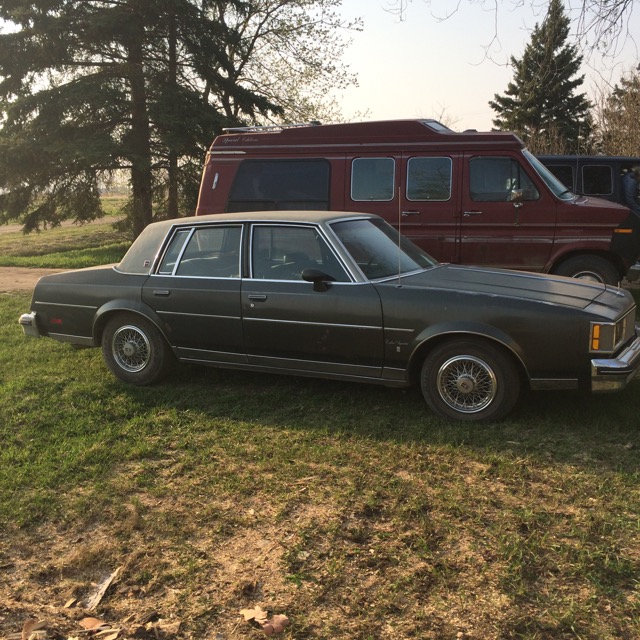 ...1983 Olds Cutlass Supreme, 305, 4V, Turbo 350, 50,000 miles, cost $3000, ( has to last 60 months)...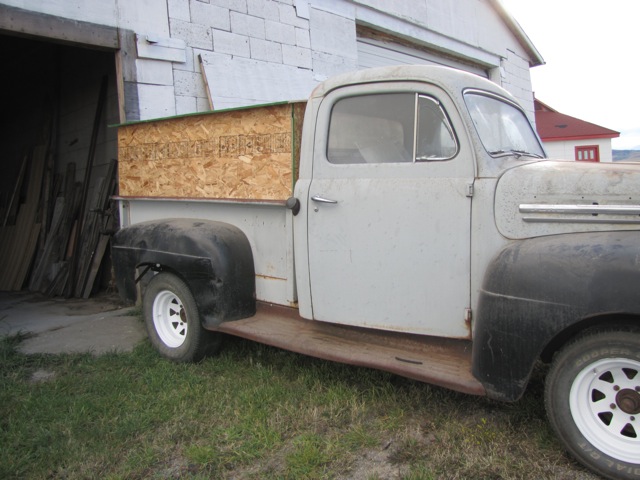 1952 Ford...cost ?...has to be rebuilt...
This section is just for fun...a collection of "Prolineer" equipment...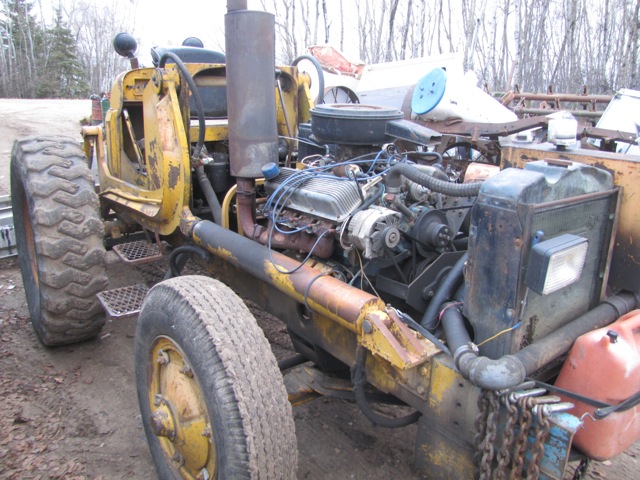 1950's small wheel loader...with 400 cu in V8...Yeah it runs real good!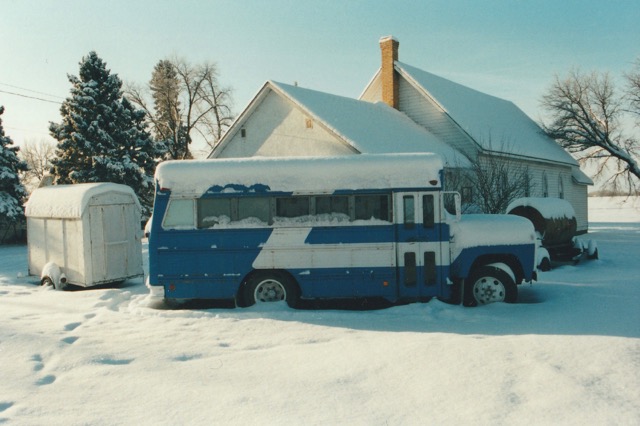 RatBus&Rat Trailer @ Made&FoundManor...1993
1967 Ford School Bus...5 speed manual, 330 cu in FE block, factory balanced, roller cam chain, full skirt pistons, 3600 rpm normal operating speed...THEN relieved, with added 429 heads & 428 scj cam...Yeah, it runs real good!
Mileage is unknown...hundreds upon hundreds of thousands at least... five trips to the west coast under my steerage alone. There is no apparent reason that it will not remain serviceable for at least another couple hundred years .
(Yes, it is not a tender modern vehicle)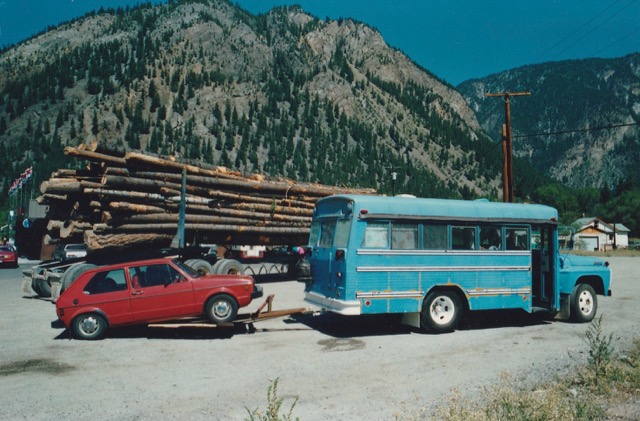 RatBus&Rabbit...Okanogan ...1986
The "Rat Bus" has been modified continuously by me since 1984...the tiny 8:25 rear tires were replaced with 9:20's for little more ground speed. On three occasions I have removed leaves from the rear springs to achieve a softer ride
                                                  We challenge the heavyweights too!
  The phoney conventional narrative, and subsequent production of inferior, garbage equipment is not confined to the domestic markets,..it is rampant in the heavy duty arena as well.  I have spent a lifetime in the  heavy transportation industry, have designed and patented world leading equipment, and continue to research and design in that arena,...so I am well qualified in my assertions and challenges of " modernity".
  One of the pieces of equipment utilized in my research is a 1999 "super B" double trailer configuration. It's replacement cost is now approximately $150,000,..the PROBLEM is that modern trailers are so poorly built, they are simply not worth purchasing,..so, of course, I decided to rebuild my own trailer, improve it even more than original, and see what it ACTUALLY costs. ( Yes I am capable of welding, machining, wiring, etc, etc,..but so are most Prolineers )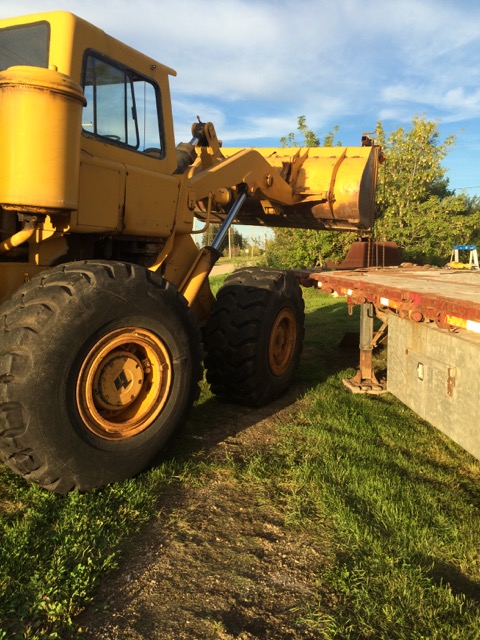 New upper 5th being held in place for welding by " Tonka",( my $100,000+ giant wheel loader that I purchased for $4,500, then repaired for less than $1,000,..it's story will        
                                                                                                                                              reach these pages eventually...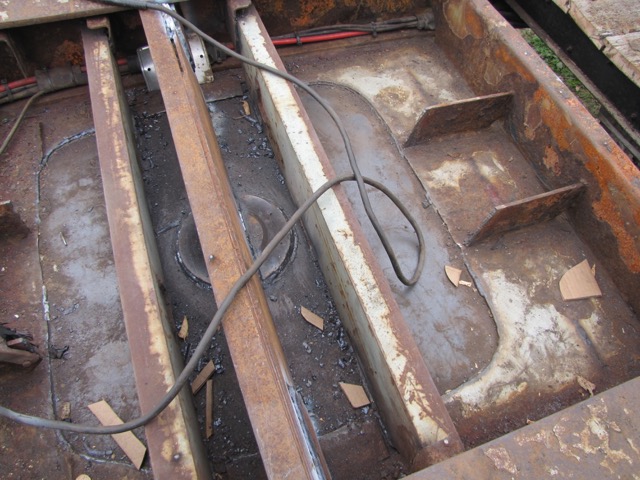 Even though these trailers were built in 1999, and are twice as strong as "modern " garbage, the upper 5th wheel plate was only 1/4 of an inch thick,...I replaced it with a much sturdier 3/8" offering, and made the supporting crossmembers twice as heavy as well...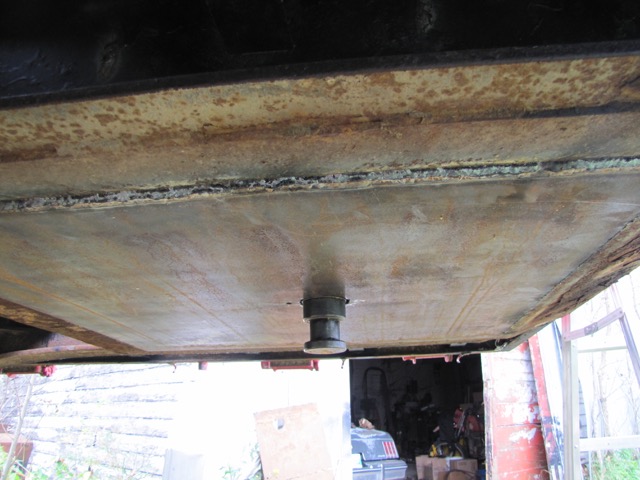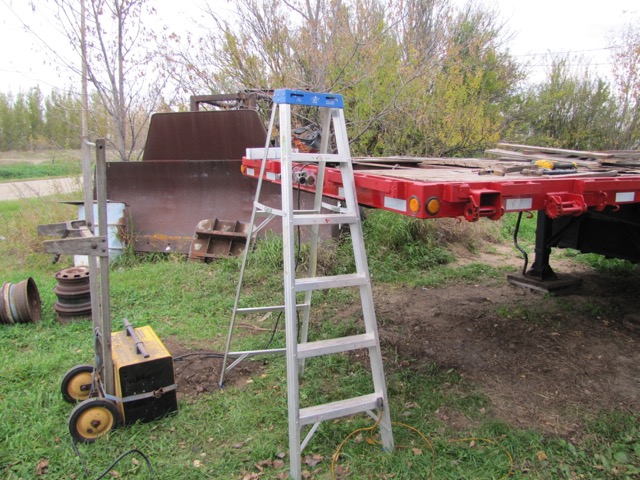 Plenty of exercise climbing up & down!...the original (20 year old ) oak flooring was becoming dry and brittle,and would be replaced by experimental polymer  coated 15 ply 
                                                                                                                                             Douglas Fir plywood,..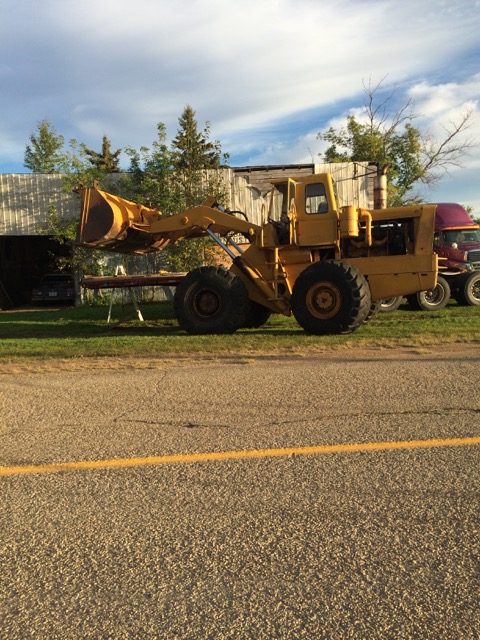 Another upper 5th being held in place...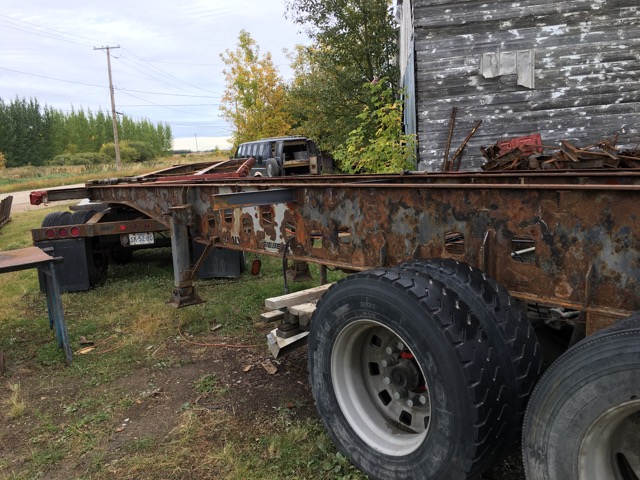 Slowly removing outer rail and crossmembers, a plasma cutter is essential for this job, but they are now very reasonably priced, ( and every Prolineer should have one in his/her
                                                                                                                                                        tool collection..)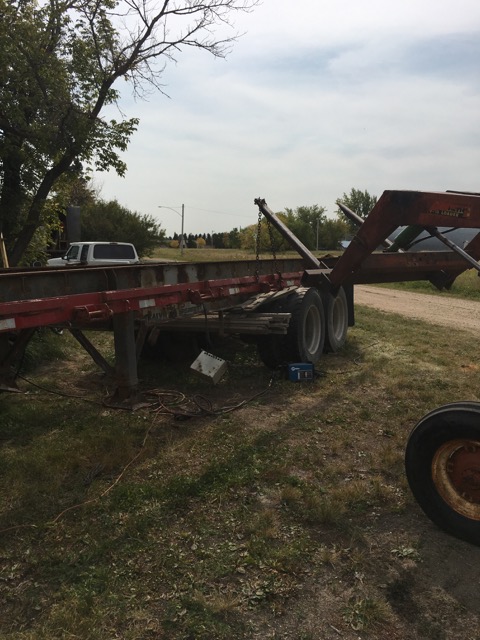 An outer rail being lifted by my antique $1500 front end loader, ( yes, that's another story to come)...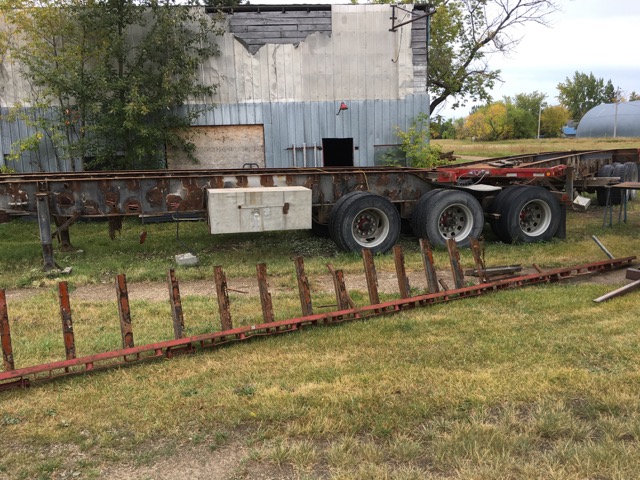 This is that point in a project when you wonder if you should have started, lol...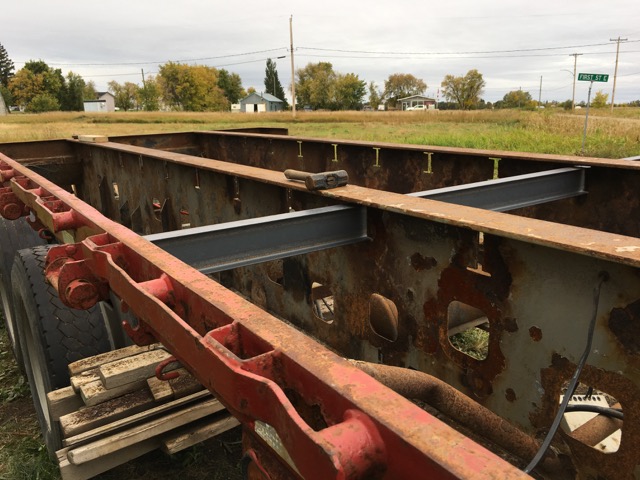 By far the most arduous & time consuming part of the project is removing the endless crossmembers, and trimming the precision holes in the main frame web,...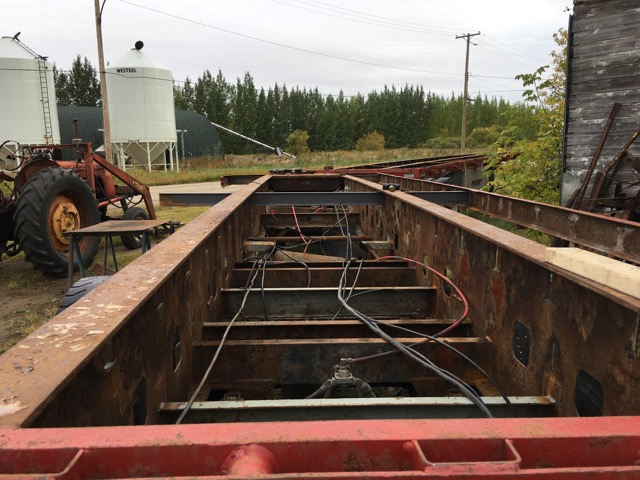 Without crossmembers for attachment , the air lines & wires look like a bird's nest!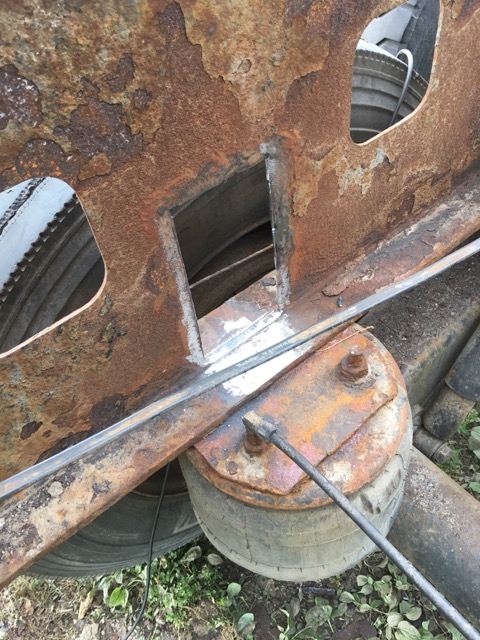 Original crossmembers above air bags were tubular, always a bad idea in Kina-Duh, so we are replacing them with sturdier, rust proof channel irons...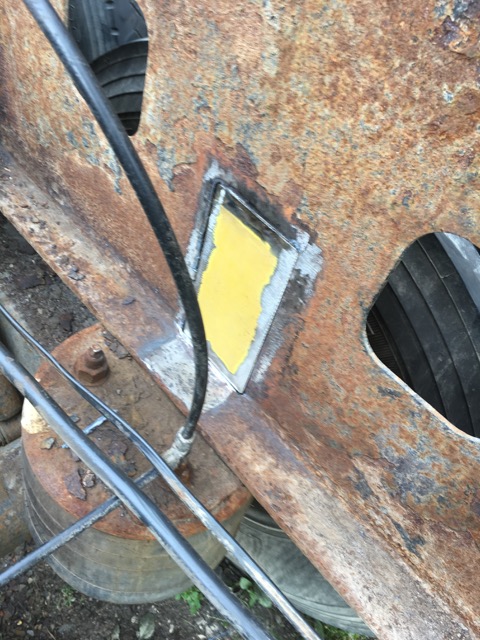 Frame web was rust damaged where tubes were mounted, so area was over-trimmed and had new metal welded in,...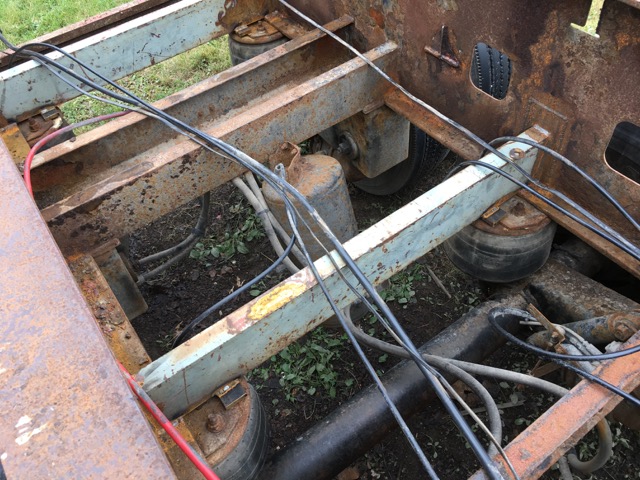 New lower crossmembers appearing ...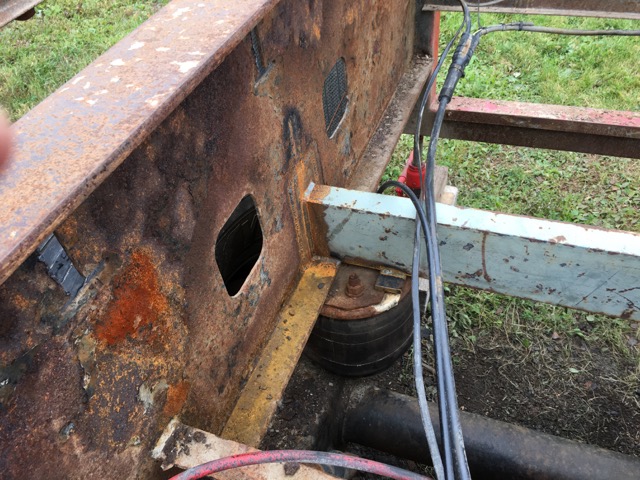 This photo clearly shows the heft & depth of frame and web, easily twice that of rubbish being sold today,..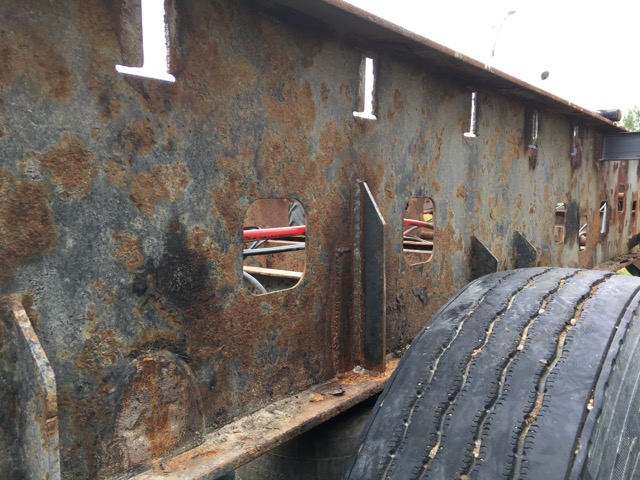 Taller gussets were added on exterior web at crossmember ends,...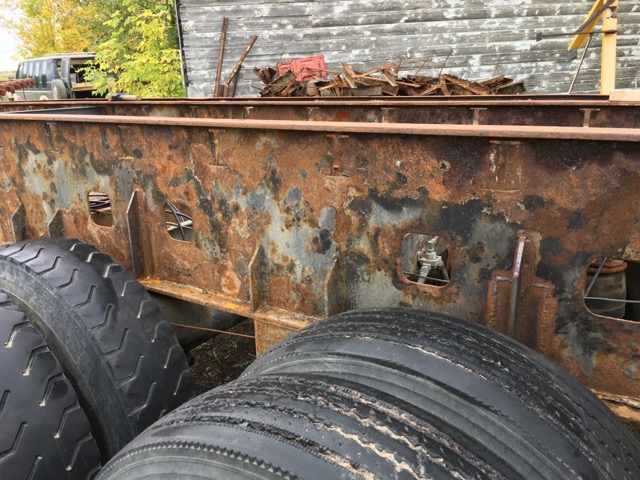 Main frame rails slowly getting trimmed clean enough to begin installing floor crossmembers,..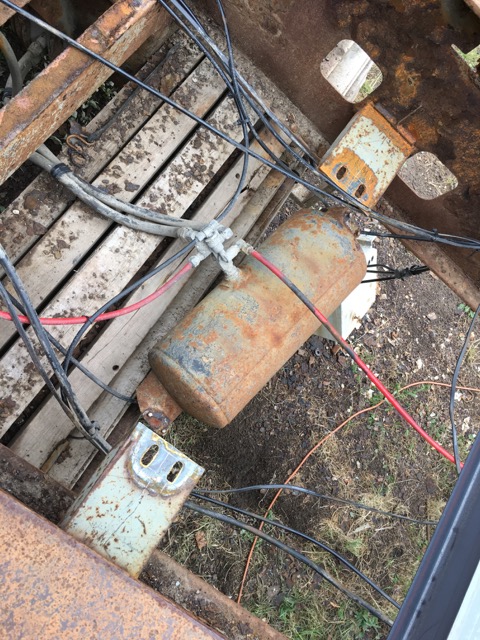 Original air tank mounting brackets were insufficient to survive another 20-40 years, so new sturdier ones were installed,...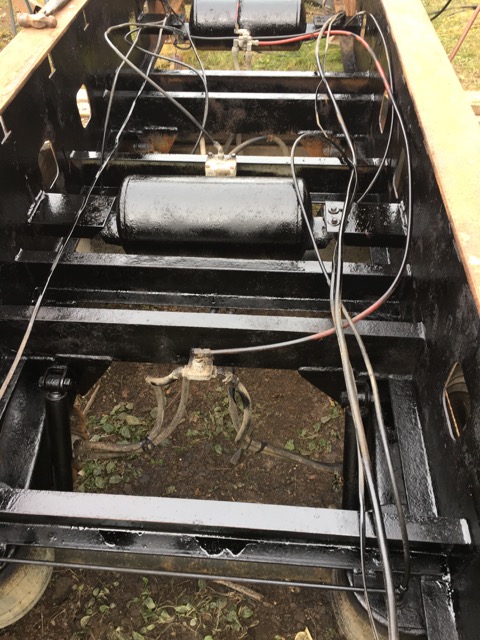 A gallon or two of undercoating makes the whole project look more hopeful,...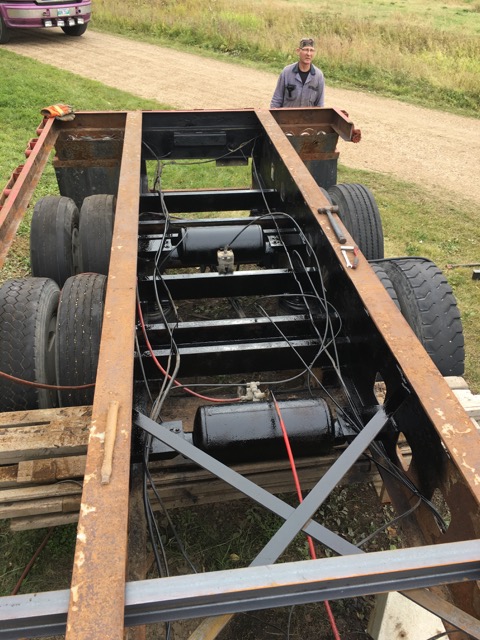 New, wider "X" braces were also installed,...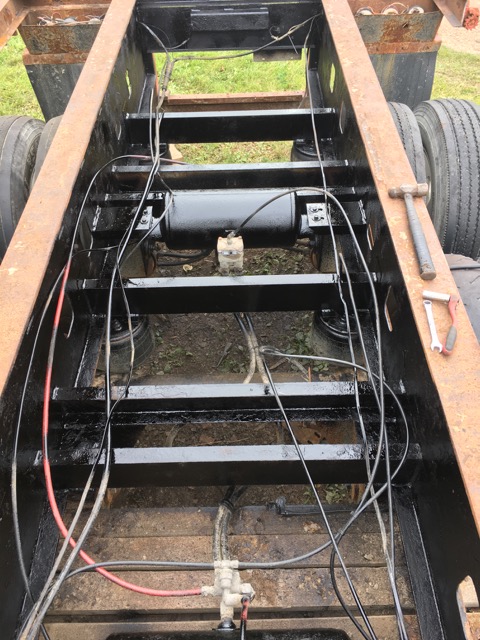 Step by step,..slowly beginning to resemble a trailer again,..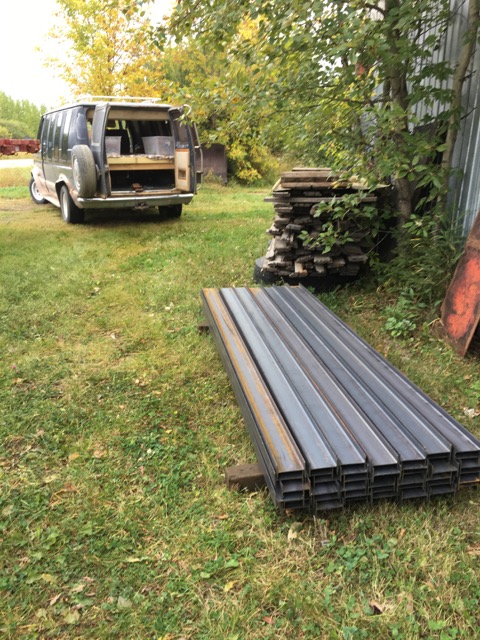 The pile of 44 new steel floor crossmembers, hauled easily under the bed by Old Blue,...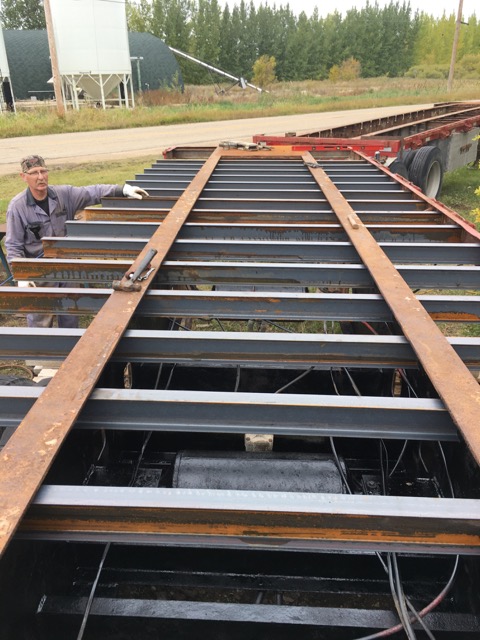 Enlisted the assistance of "The Last Redneck ", career welder and fabricator extraordinaire , with twice the patience of yours truly, for the rather large job of aligning & welding     
                                                                                                                                                floor crossmembers,...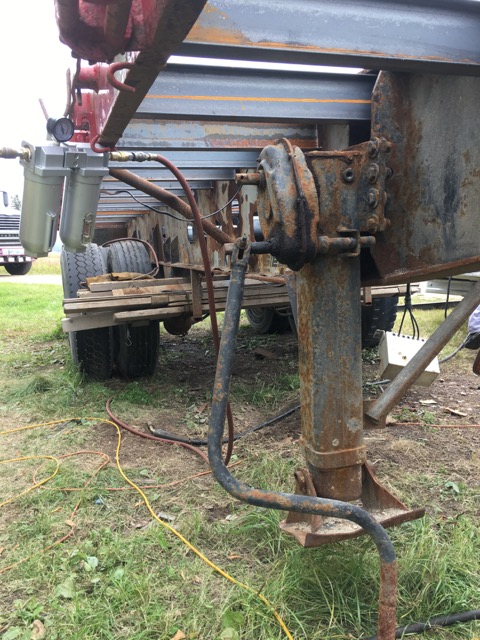 Clean, dry air is a prerequisite with plasma cutters,...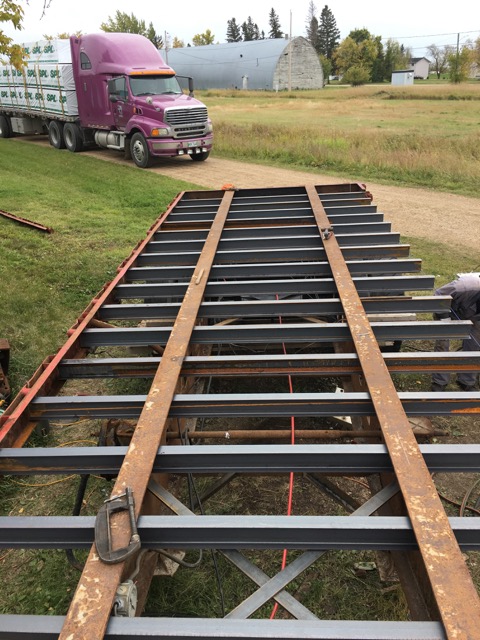 Looks more hopeful,...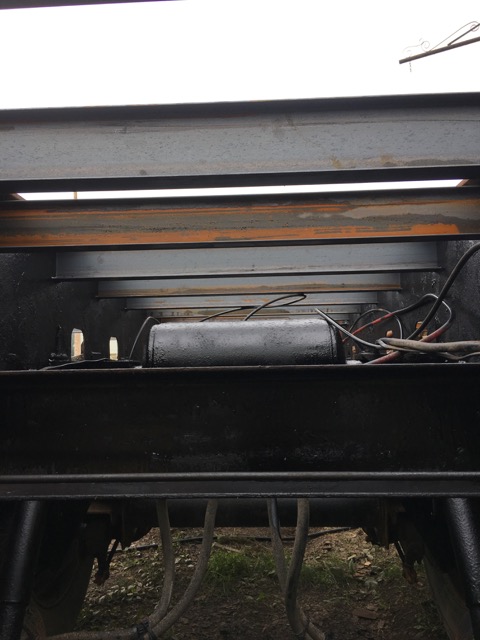 Getting crowded in there!,...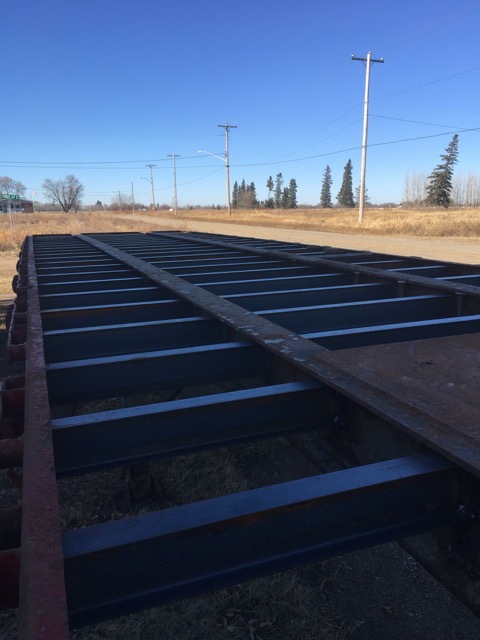 This one's nearly ready for flooring,...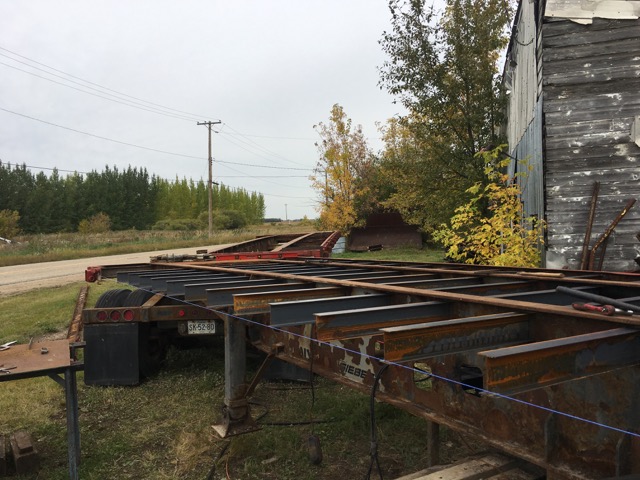 Crossmember alignment takes little skill and perseverance ,..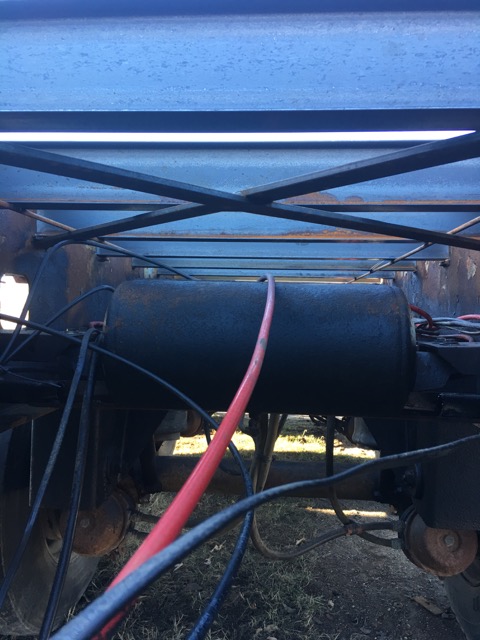 Re-plumbing air and electrical requires a bit of spelunking!,...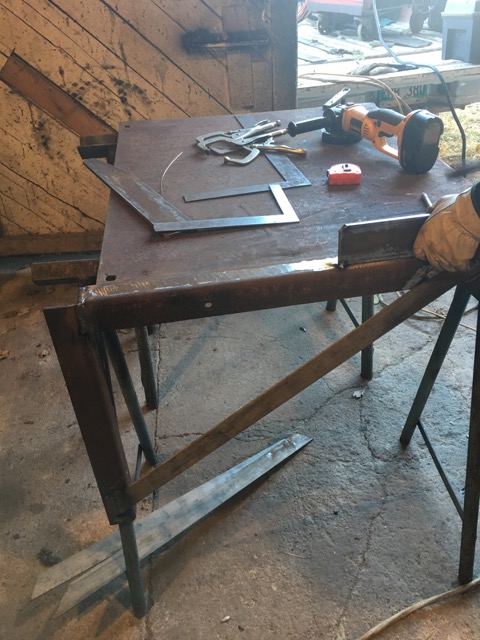 Larger storage boxes were installed on lead trailer, requiring fabrication of new mounting brackets,..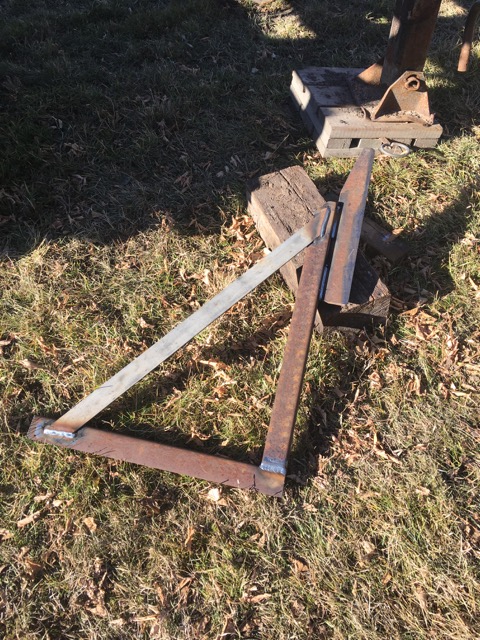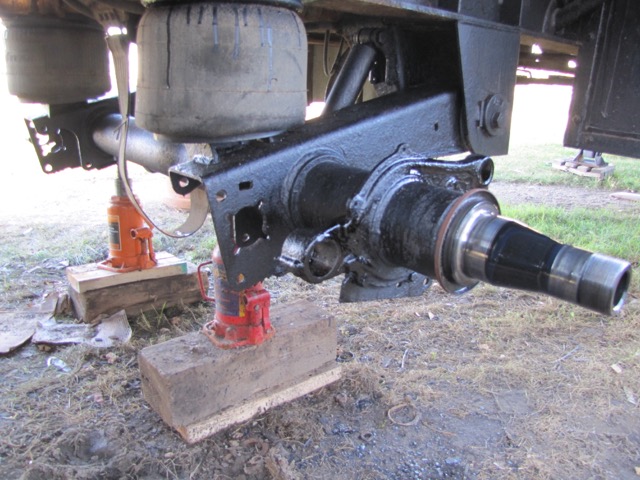 All brake components were replaced during rebuild...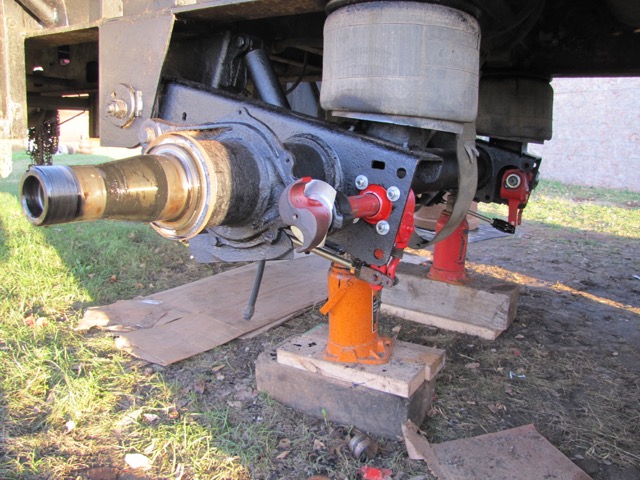 The strap you see under the axle is attached to a winch on frame exterior, it lifts that axle when trailer is empty, super cheap ($50), never malfunctions,...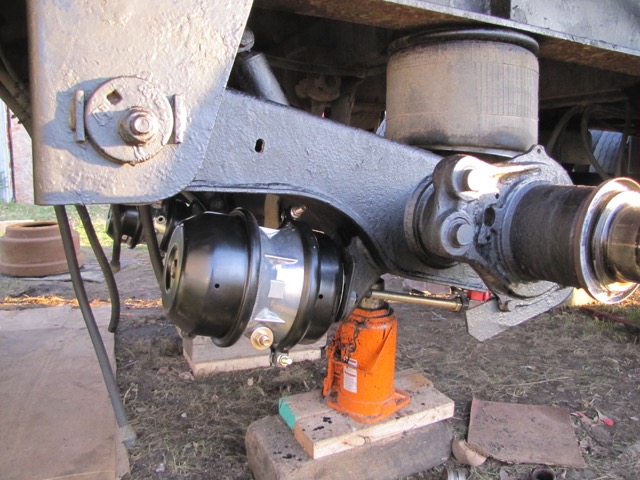 Brake chamber assemblies are replaced (on my equipment ) every 2 years , as quality of replacement parts is now so low, they are not dependable beyond that,...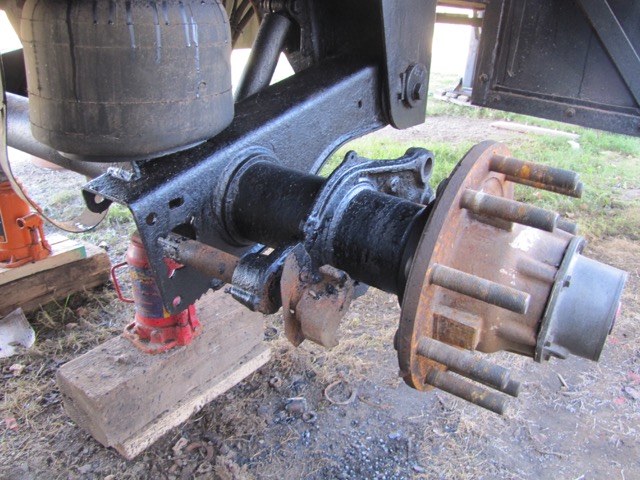 These shots show wheel hubs installed, these are proper , small diameter bearings running in oil; but you should know that the populace has allowed modern manufacturers to revert to ancient , non-serviceable, large diameter (high roller speed ) bearings running only in grease,..a very dangerous practice outlawed in the 1960's,..this is of course, criminal negligence on the part of the Department of Transport,..but they are idiot gods , above the law, and absent any morals or common sense,.so don't be too surprised when some new ,wonderful modern wheel assemblies come through your windshield...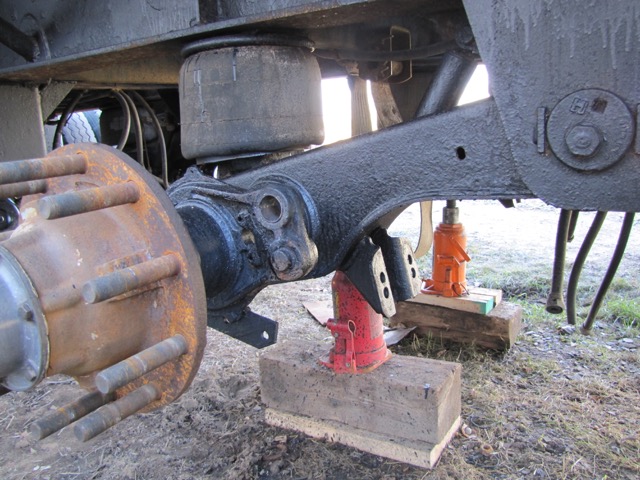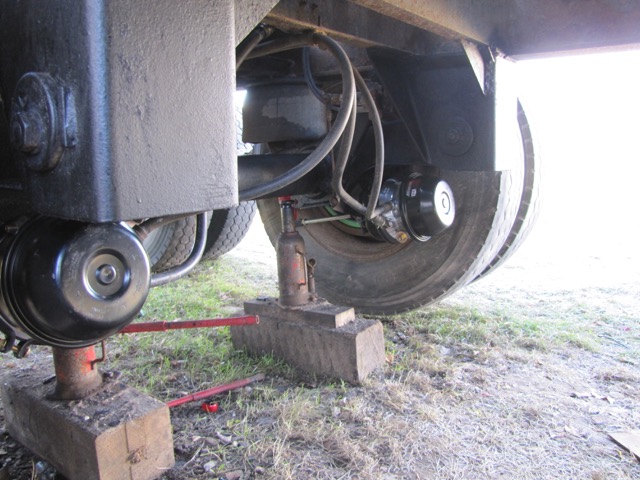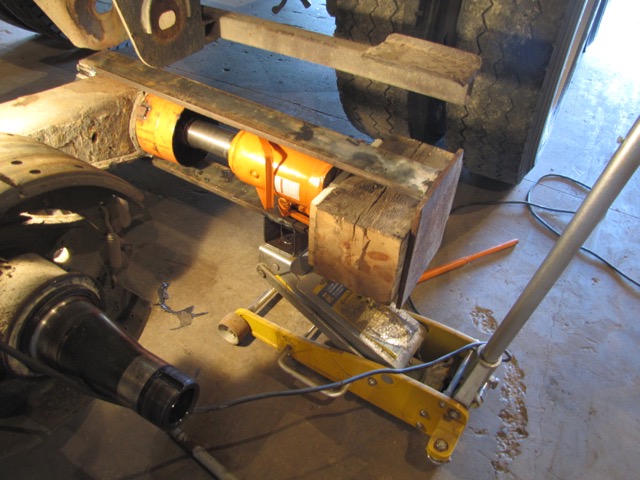 These shots show the suspension bushing housings, standard until about 2005, they are now LITERALLY half the size, and fail in as little as 2 years,..yet somehow it is legal for them to be manufactured and sold..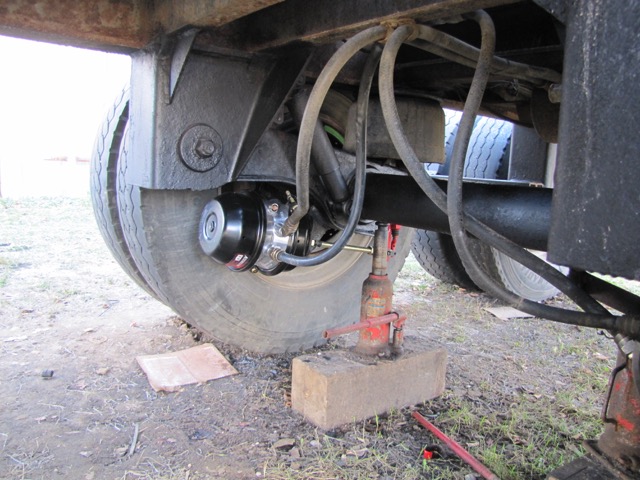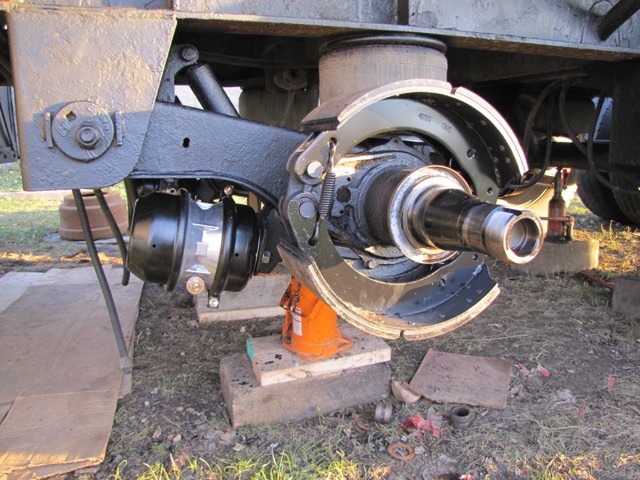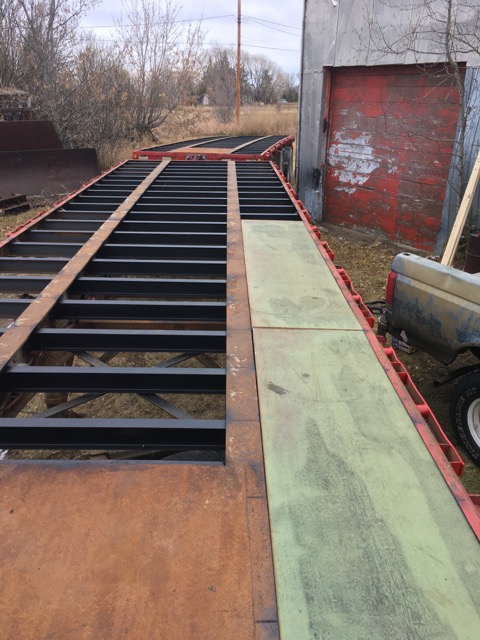 Beginning of floor panel installation,...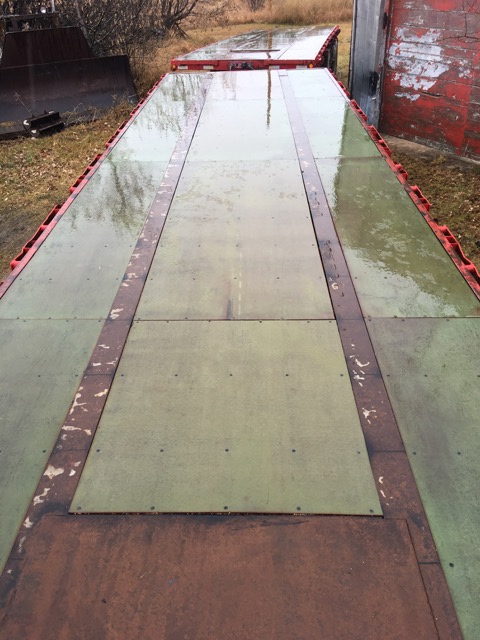 These lightweight Douglas Fir plywood panels are an experiment, not typically used this application,..they are 1000 pounds lighter than the original oak flooring, polymer coated,
                                                                                                                         ( and after two years of service, still intact,)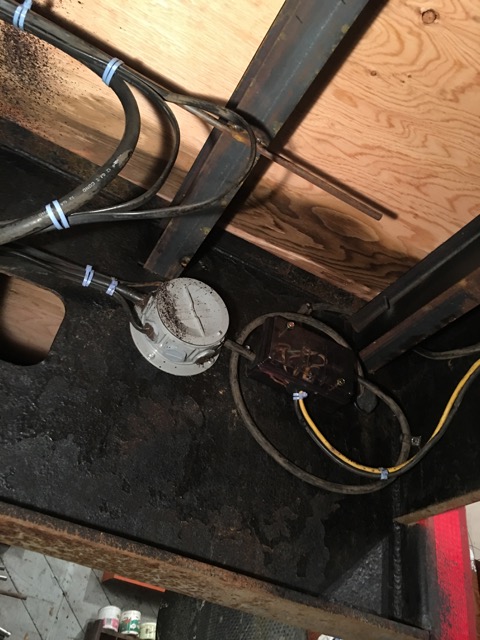 Much re-wiring was done, although the heavy original main harness was fine,and all lights were converted to LED, producing a very strong wiring system. "Modern "crappy 
                                             trailers however, utilize flimsy wiring due to the power small demand of LED's, and consequently have poor reliability...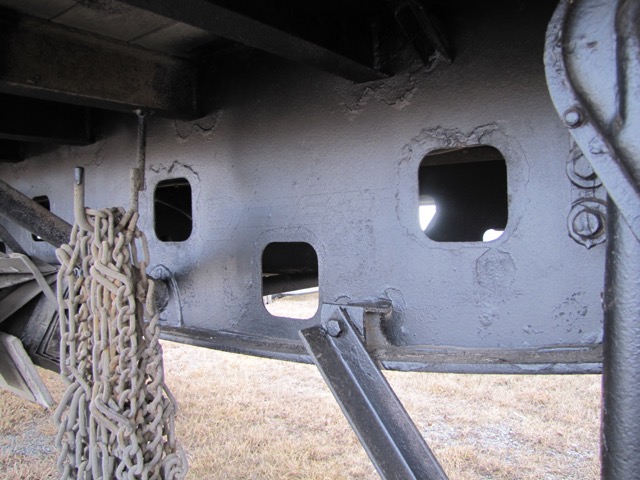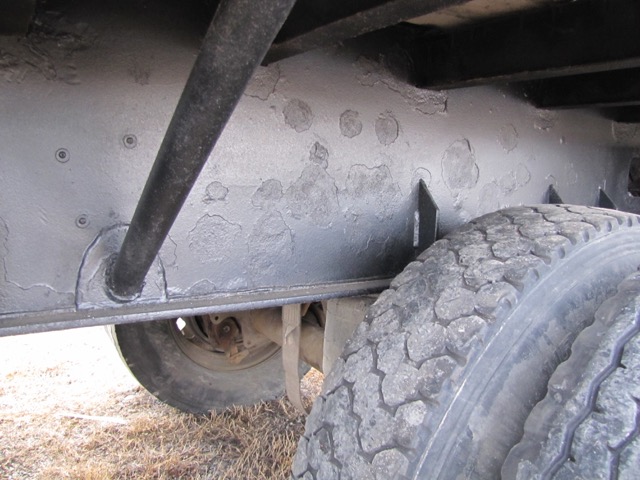 Several more gallons of undercoating to help slow the infiltration of good ol' road salt,...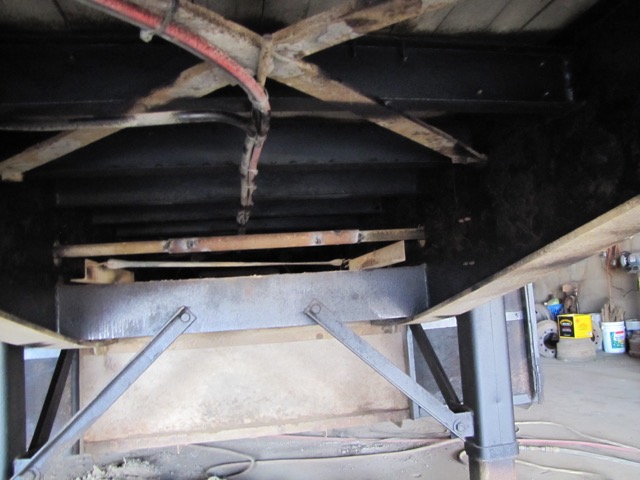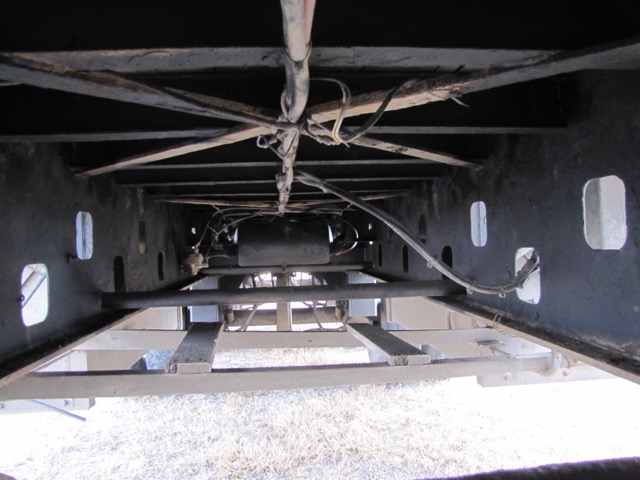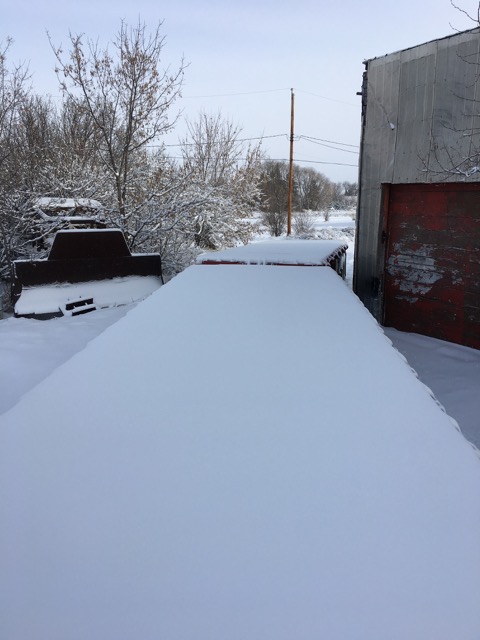 This project was begun when the snow melted, and completed 10 hours before the snow returned! However, it was accomplished on weekends, cost $15,000 for parts, and $5000
 for outside labour,..so $20,000 for a brand-new trailer of much higher quality than anything you can purchase new for $150,000; this is the pattern & realization with everything
                          we research,..this is why the ProlitarianPioneer movement exists,..and the gap between pragmatic and pathetic is growing incomprehensible