Prolomotion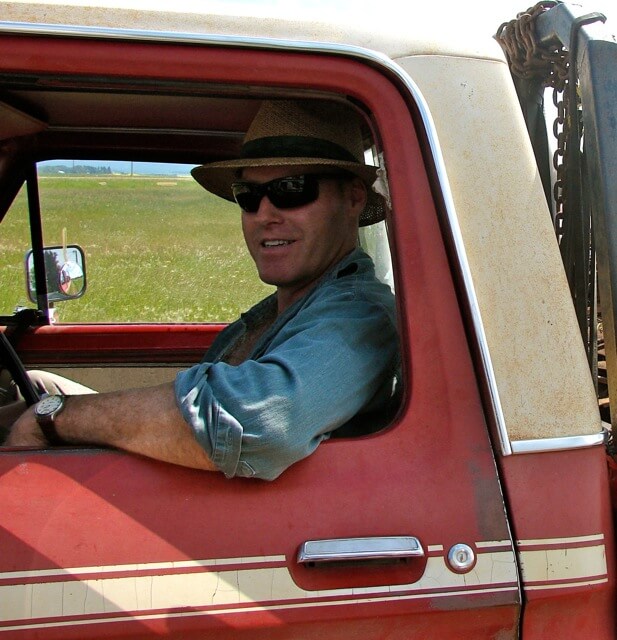 ---
Prolomotion...Motorized Pragmatism?... There seems to be an ( essentially unchallenged ) belief in the air, that transportation is expensive, complicated, tenuous, and beyond the grasp of " common folk ". Moreover, it is assumed that shiny, flimsy, new vehicles are necessary.
Well, we of course, call Bullshit...but to keep it fair, and fun, we have set up some new measuring stick/living experiments to get to the " Actuality of Mobility ".
*$50 per month transportation budget-...Decades ago, a friend of mine informed me of his fifty dollar per month transportation budget, and we laughed...but not for long. He would buy a vehicle, nondescript/neglected, ( cheap ) and just drive it. ( Note: in those days we did not need ABS/GPS/USB, or any other abbreviations, because, believe it or not, we were actually capable of operating a motor vehicle ) Seriously, we could actually tell if our tires were flat ( or missing ). 
But I digress, his formula dictated that a $100 vehicle had to last two months, and so on...after about a year he was so far ahead that nobody even kept score any more!
* "Two factor formulas" vs "Proloneer formula"-...I love the modern "two factor" formulas, especially concerning transportation. People say "oh but I get  50 mpg "...they don't say, " oh yeah I drive a Pious, so I can't actually haul anything, or anyone, or drive off pavement, or through snow, and my vehicle has the largest environmental footprint & poorest serivceability on the planet, with a high insurance cost ". Yeah, love that " miles per gallon per________formula! 
And granted, I'm old school, almost no skool, gearheaded, and hardheaded, and indifferent by choice...but even I can only stand so much bullshit.
So, of course, one of my favorite vehicle choices is an oldish, full sized van. You bet, V8, carbureted, real brakes (no ABS)...and actually made of metal! I "only" get 18 mpg on my good days, 15 on average, but I can haul 3000 lbs of cargo, 14 foot lumber, 4x8 sheets of plywood, 8 or 10 people, down anything more than a 4x4 trail. Oh yeah, I also custom camperized it just for good measure. It is ultimately maintainable, (500,000+km) it complains for at least a week before it stops, it cost $1500 to buy, and costs $400 per year to insure.
So yeah, how about a formula like " miles per gallon, per carrying capacity, per versatility, per roadworthyness, per dependability, per maintainability, per "actual footprint", per ACTUAL COST PER MILE"?
Yeah, now we're talk'in....
Here's a few of my entries into the "$50 per month" transportation challenge...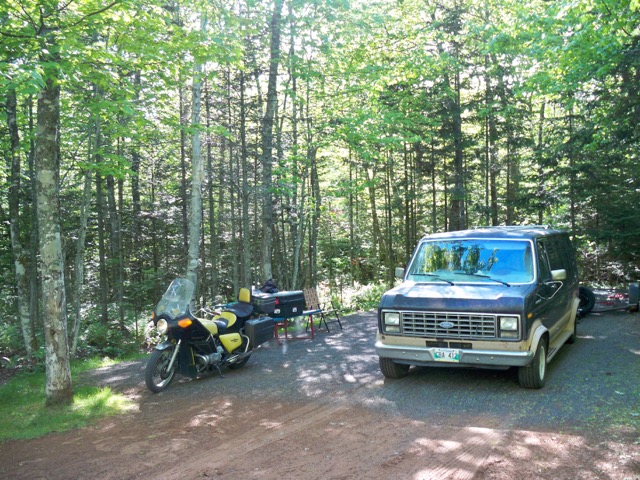 ...1983 Ford Econoline Van...
                         351Windsor, 2V, C6 with added cooler,high speed differential...purchased 2003, ( cost 1500$ ), retired 2019...(192 months, allowable expenditure 9,600$)...
     300,000 miles, still runs perfect, was destroyed by good old road salt,..replaced fuel pump, starter, cam chain, and 4 sets of tires, app.( 3500$),..never seen a tow truck!
                                                                                                                                         ... $18.22 per month...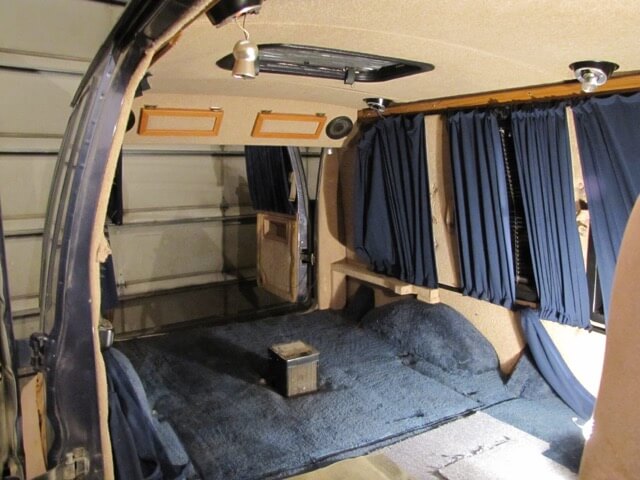 ...I personalized the interior to reflect my Prolineer disposition...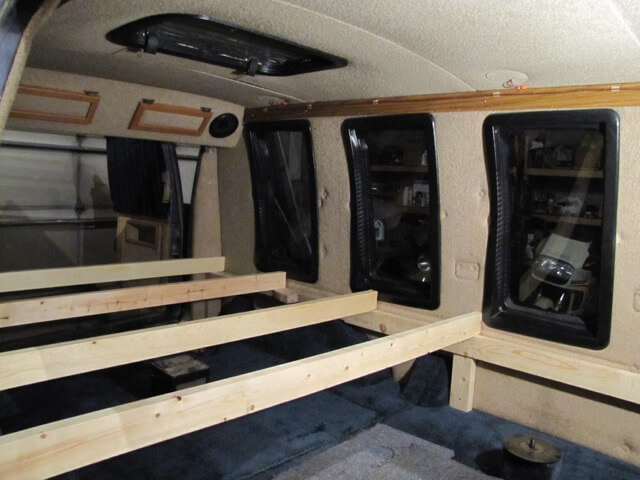 ...I wanted the underbed area clear to enable carrying large freight, ( or 14 foot lumber, lol )...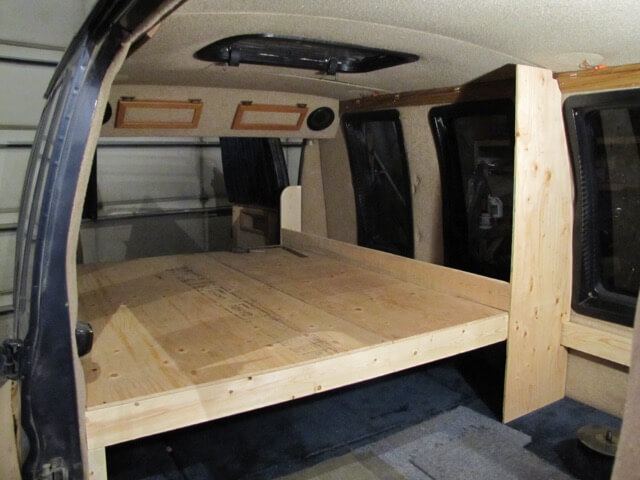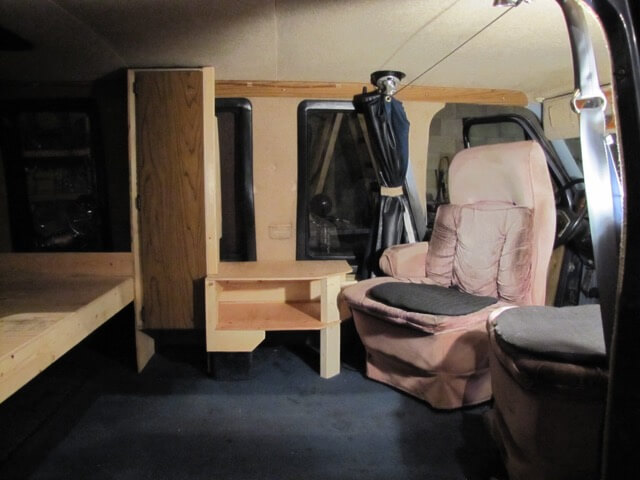 ...the resulting interior space is more than adequate for one or two proficient folk...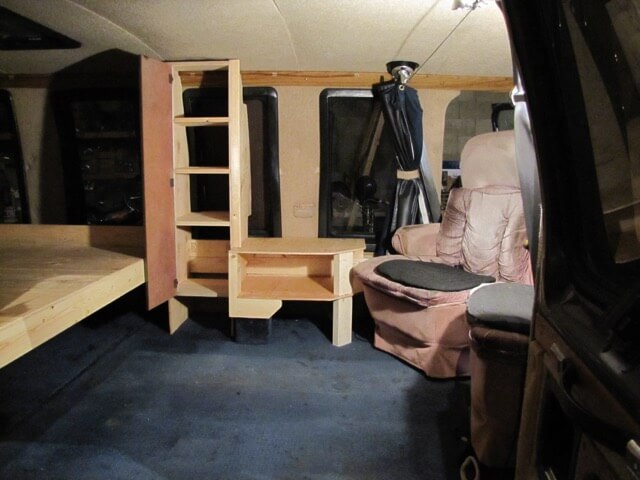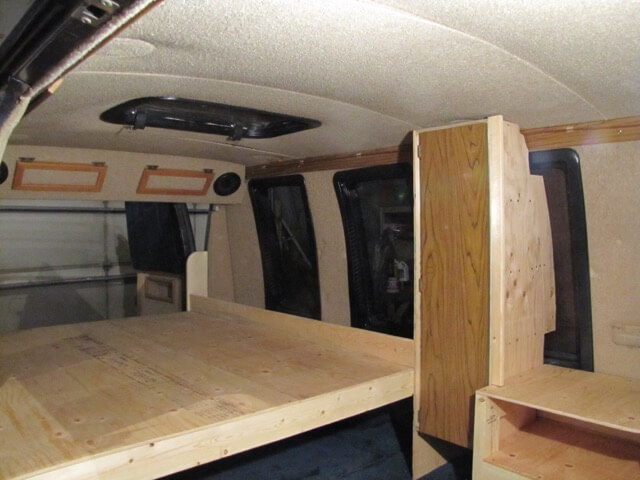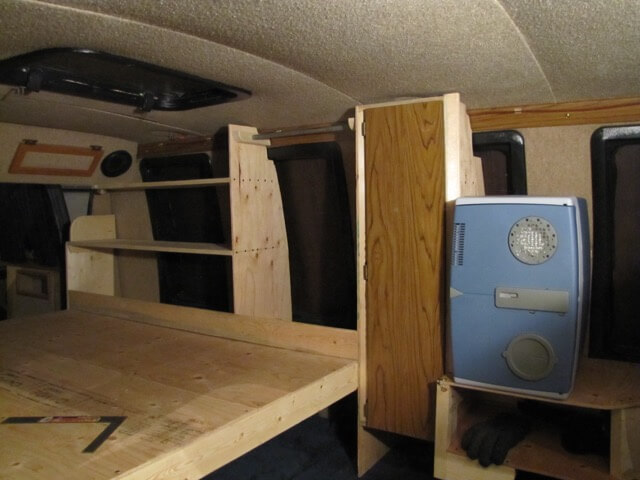 ...the cooler is always worth the effort to include...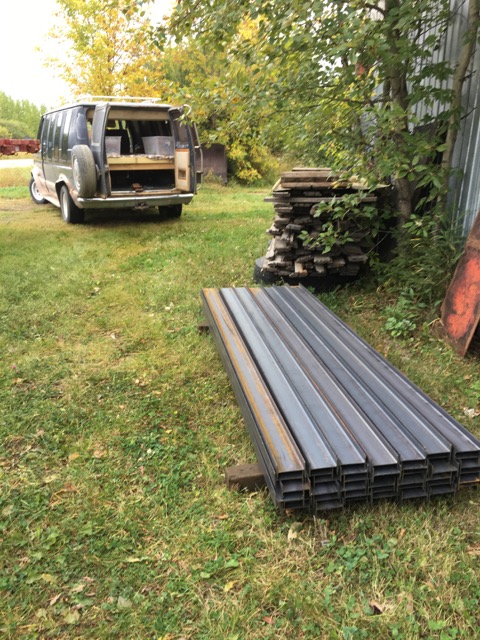 A testimony of the versatility & carrying capacity of Old Blue,..that is a pile of 8'6" steel trailer crossmembers ,in excess of 2000#, which I hauled easily under the bed...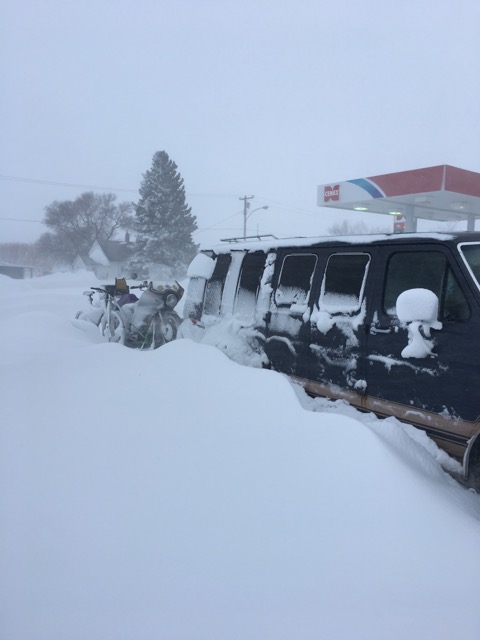 ...this is Old Blue on her last long road trip ( Mexico, spring  2019 ),... found a little winter in South Dakota!...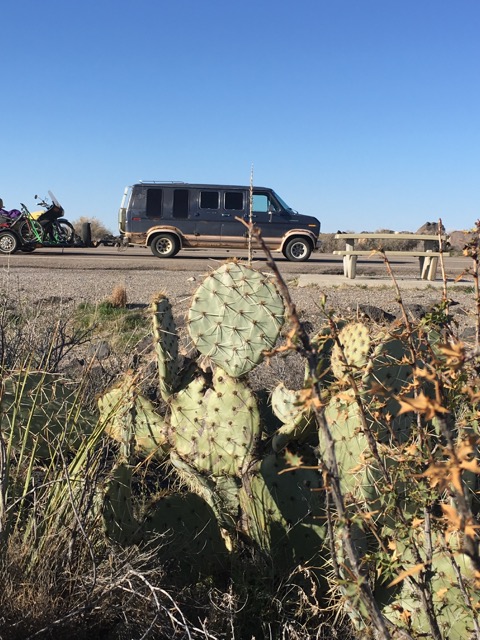 ...made it to cactus country without a hiccup!...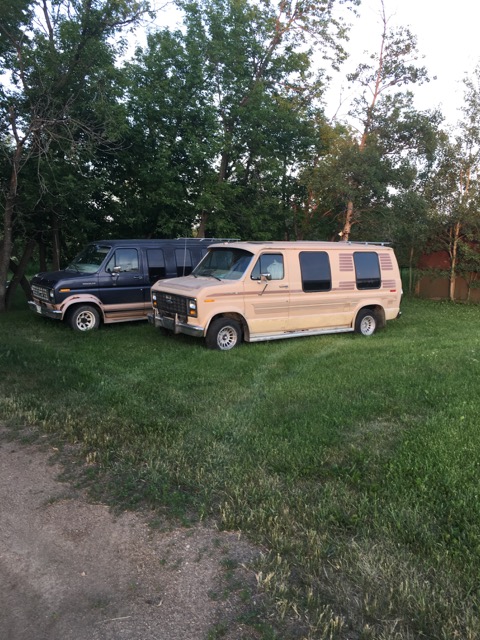 ...Fall 2019,...Old Blue posing with her replacement , 1979 Ford Econoline...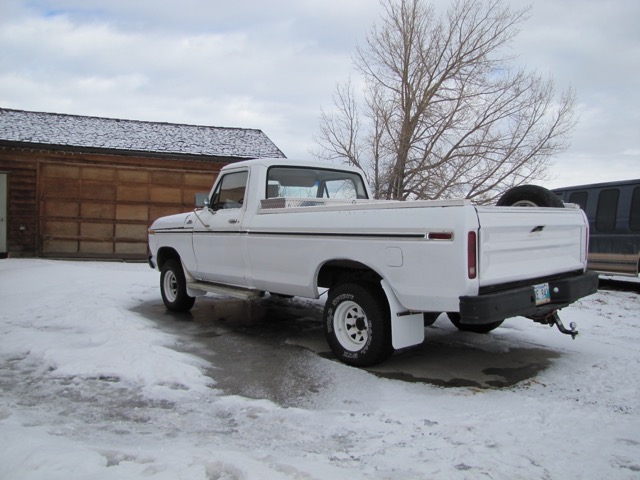 1977 F-150...89,000 mi...cost $1500...(has to last 30 months)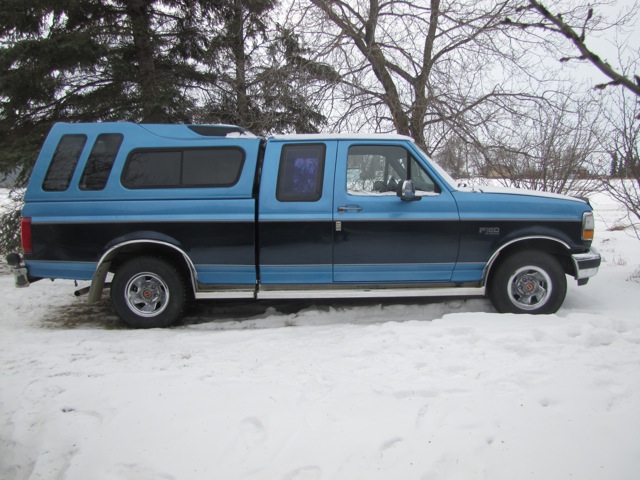 1992 F-150...247,000km...cost $4000...(has to last 80 months )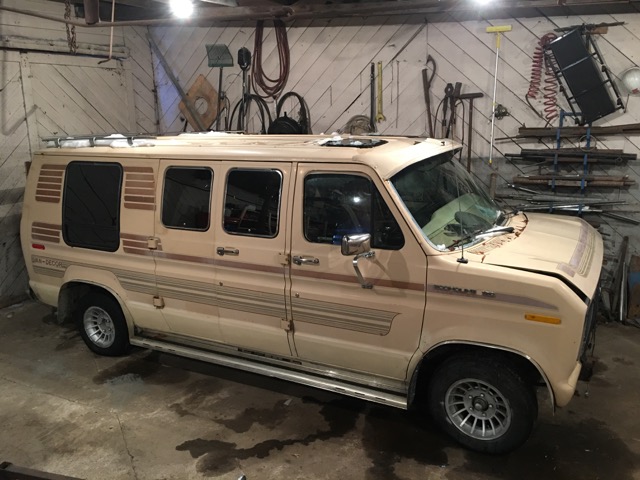 ...1979 Ford Econoline Van,..351 Winsor 4V, HO, C6 W/ added cooler, 100,000 mi, cost $500, ( has to last 10 months)...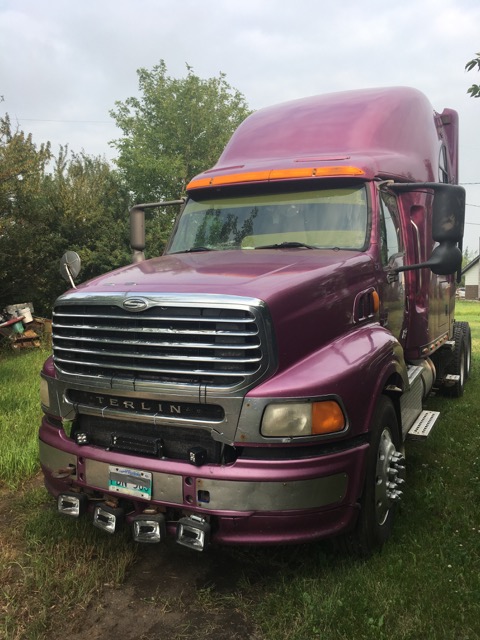 ...this is our antique (21years old ), highway tractor,.over 2,000,000 ( yes two million) miles of service , so far...our only breadwinner these days,
                                                                                          through proper maintenance, I plan to operate it for another two million!,,,
       ...my (Jim) motoring experience has included a lifelong addiction to motorcycles,.here;s the story...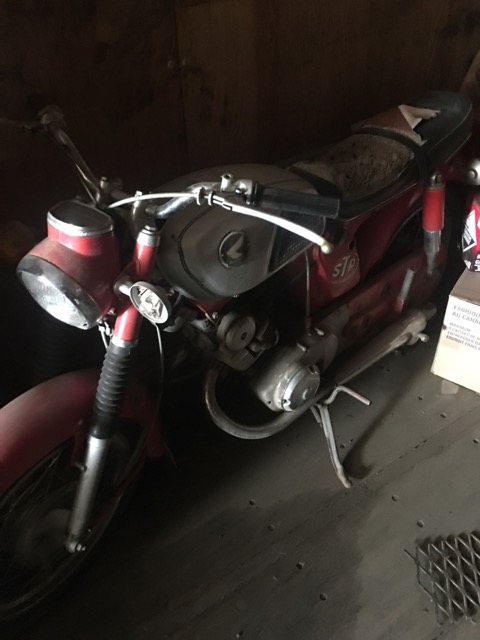 ...first smitten in 1970, by this 1968 125 Honda Street, which I still own,...( it;s waiting patiently for restoration)..
     ...honestly, I've lost track of all the machines I've owned in 50 years..but I kept the sweet ones,..and 250,000+ miles of travel behind bars remain a treasure of experience..
                                                                                       ...I still own about 10 machines,..for now I'll post the street machines..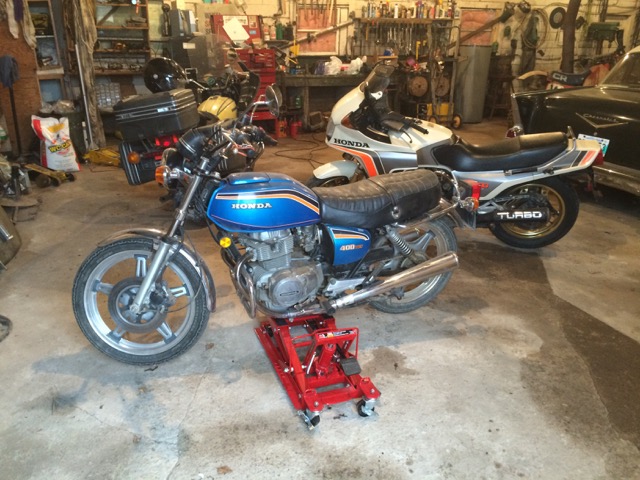 ..1978 Honda 400T...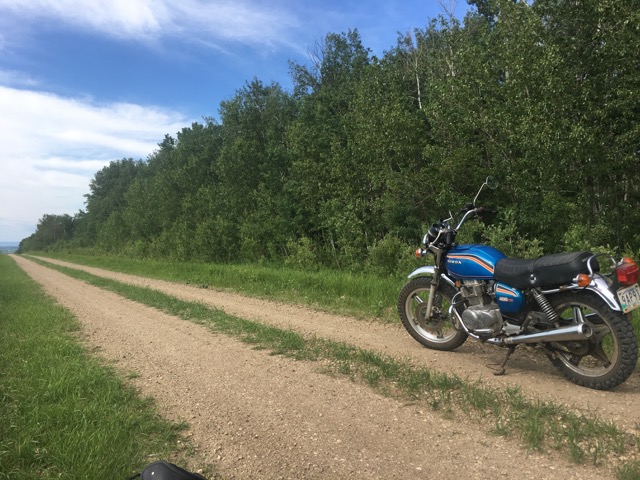 ...this little guy spent most of his life as a street machine,.. including being lowered 4" and living in a city with my daughter for a few years...
                                           ...after it was outgrown by her, I raised the suspension & front fender, installed " grippy" tires and used it as a Dual Purpose machine...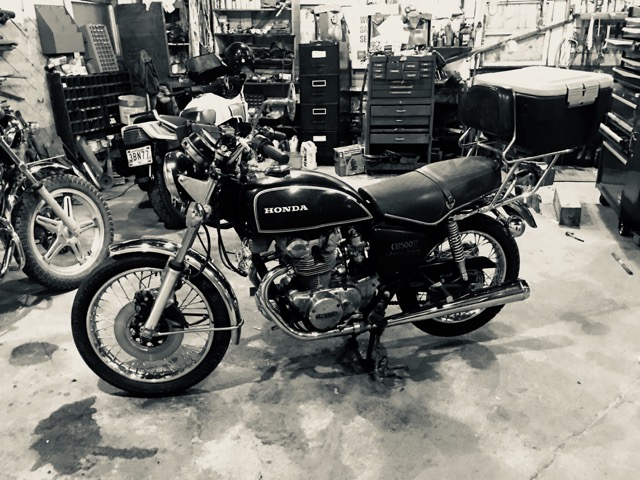 ...1976 Honda CB 500T..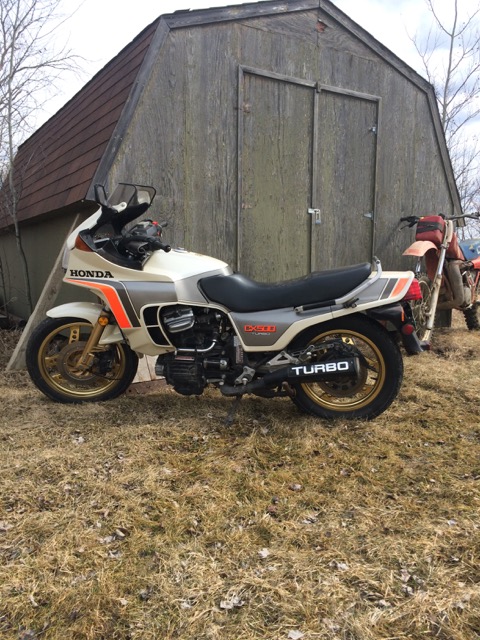 ...1983 Honda CX500 Turbo..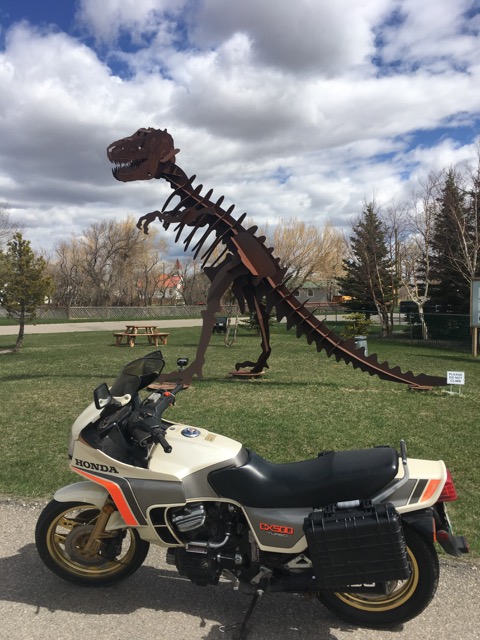 ... although the "CX" is a pavement oriented machine, comfortable with speeds up to 240KPH,...I installed some medium sized instrument cases as saddlebags, and it serves well
                                                                                                                                            as a "sport touring" offering..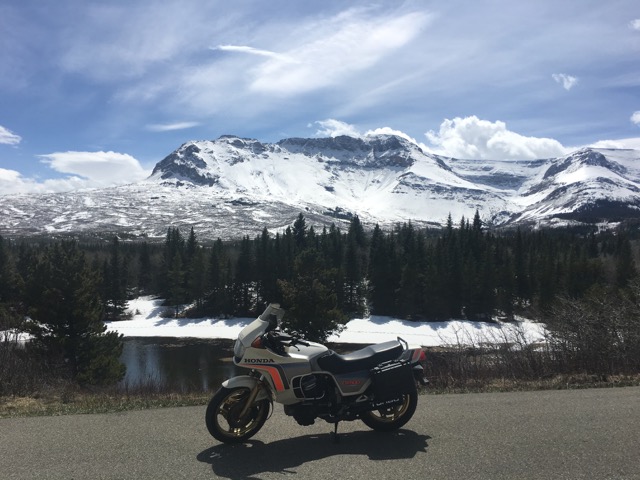 ...spring 2021 @ Sofa Mountain ,..central Rocky Mountains...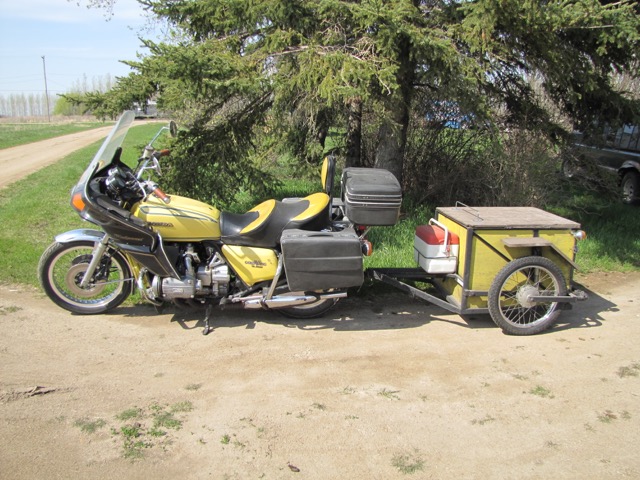 ...1976 Honda GL1000, "BumbleHorse",  with "baby rat trailer" ( homemade, of course)..
                                                                       JANUARY 2022
                                                                    ...This week,.Jan 2-8 2022,.we will look at a motorcycle-hauling trailer that I built in the year 2000,.
                                                                                               with the help of fabricator extraordinaire , " The Last Redneck "...
                                                                ...this trailer, now 21 years old, has been to Prince Edward Island,. Mexico,.Vancouver Island ( 10 times ) ,..
                                                                          logging thousands upon thousands of miles , WITHOUT failure...it's cost to build was $500...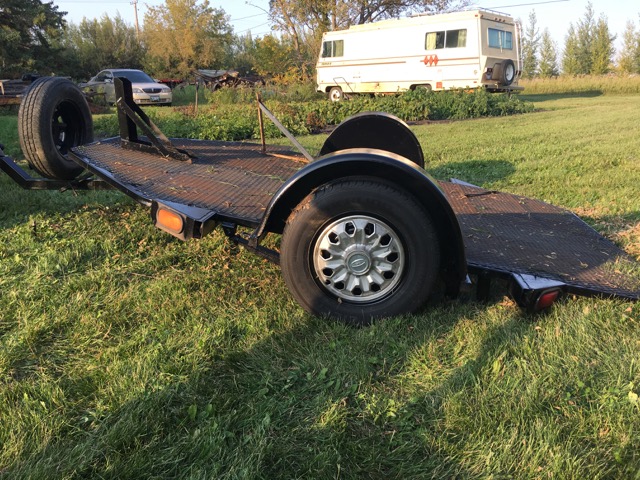 ...designed to be "ride-on, ride-off",.low profile, state, and lightweight...
                                                                                  ...to create an actual " suspension", we used a few leaves of automotive springs...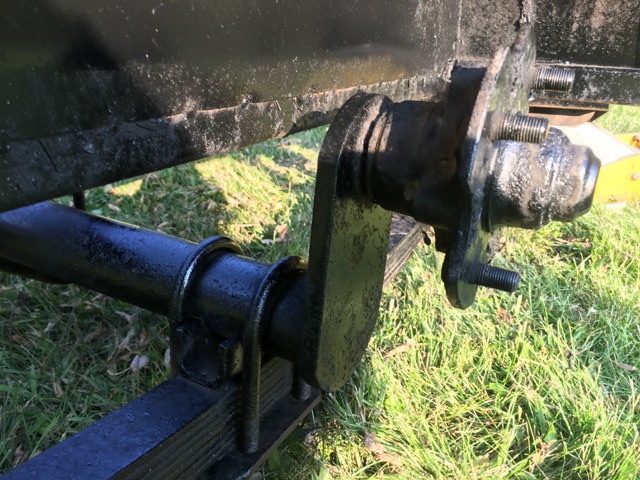 ...a drop axle was created by welding a plate to the end of a tube, then pressing in and welding a stub hub from a compact car...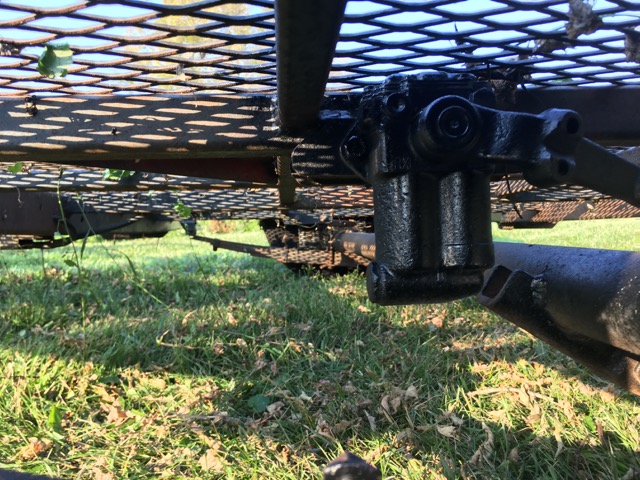 ...due to space considerations, and the desire for actual dampening, rebuildable lever shocks from a compact British car were utilized...
                                                                       ...entire frame is tubular ( bent by us ), the cradle holds front wheel of cycle, the "post " mounts the spare tire/wheel...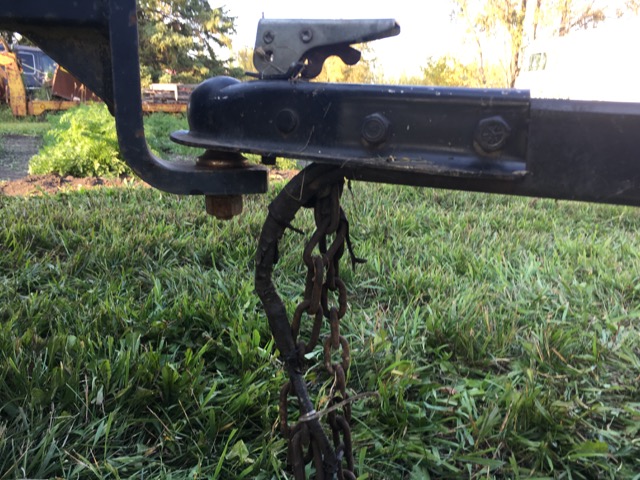 ...all of the wiring is routed through the frame tubing...
                                                                                          ...expanded metal makes a durable, lightweight deck,.small cradle is for my bicycle!...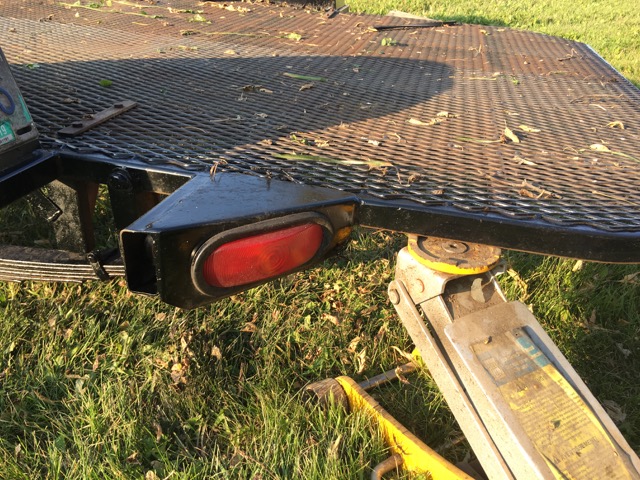 ...lightboxes were built on a 45 degree angle to enhance side visibility,.so incandescent lights were used...
                                                                                                            ...low profile 13" car tires are more than adequate for a trailer of this size...
                                                              APRIL  2023
                                                              ...after 23 years, roadsalt and heavy ice accumulation finally
                                                              took it's toll on the light bar on the rear of the lead "SuperB"..
                                                                ...I fabricated a new one from slightly thicker material,
                                                                   although I don't expect to be using it personally, in 
                                                                                           over 23 more years, lol..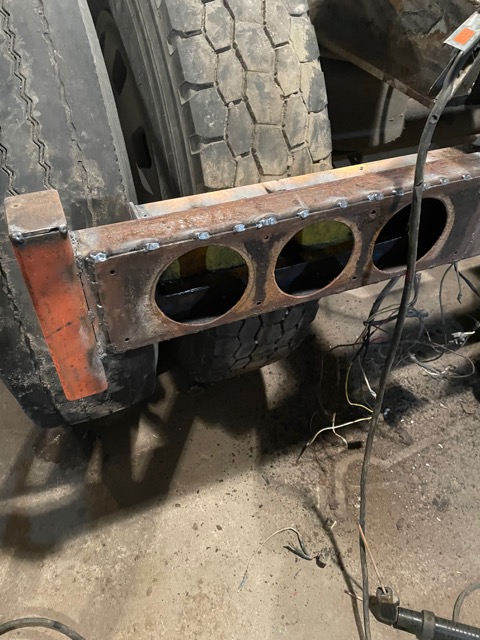 ...I built my version "un-watertight", as internal
                                                                      condensation was an issue with original ...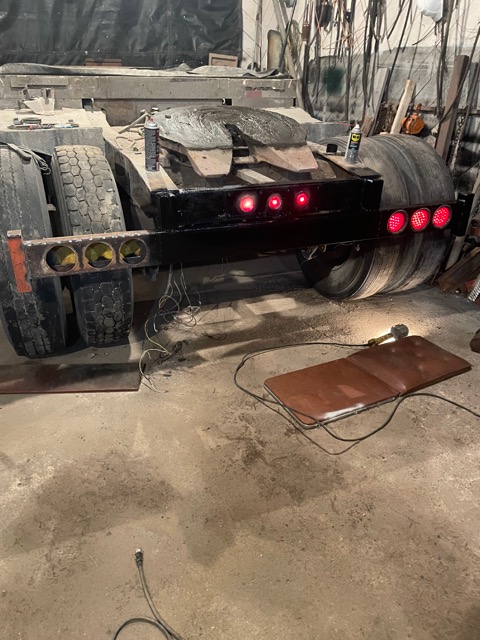 ...I used several coats of undercoating rather than 
                                                                     paint,.as it is more durable for this location...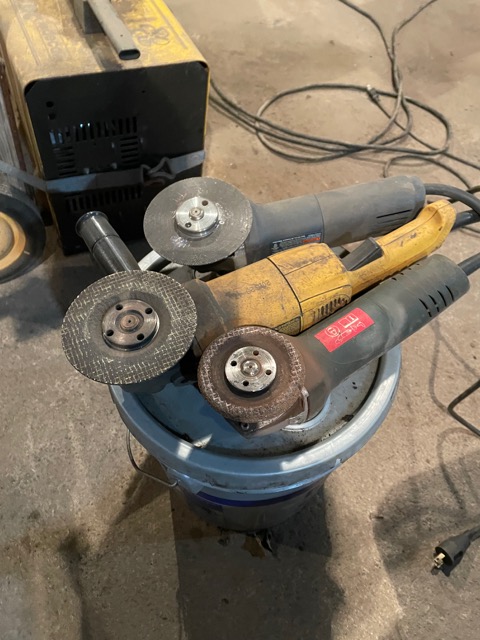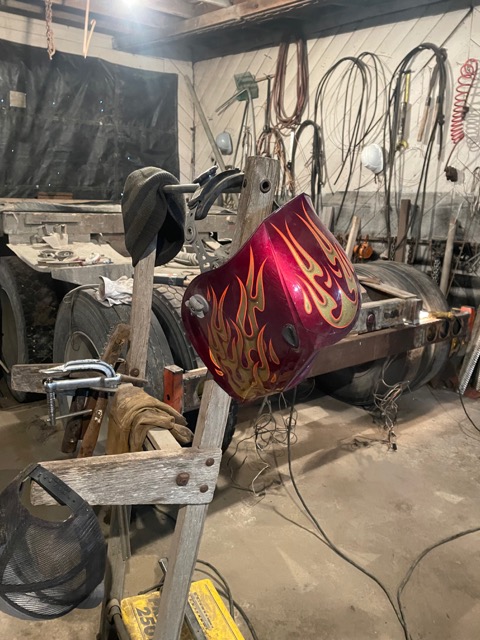 ...plenty of tools required,.for this seemingly simple
                                                                                                fabrication...
                                                                         ...surprisingly numerous wires involved...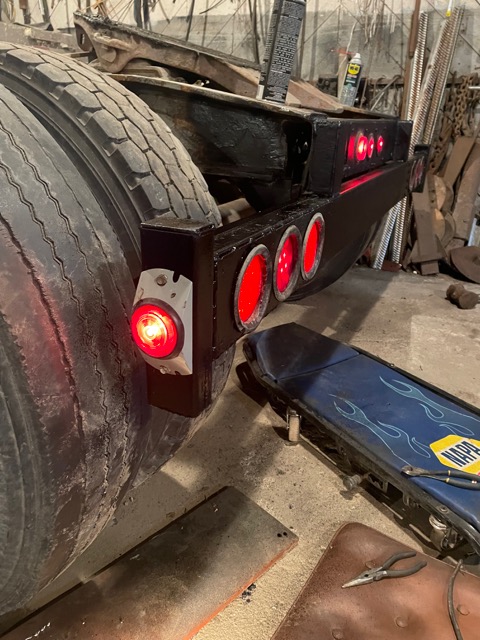 ...I mounted my version considerably lower
                                                                        than original, to allow use of shorter mud
                                                                          flaps,.which will carry much less ice...
                                                                     OCTOBER 2021
                                                              ...This week,.Oct 3-9,..Jim finishes working on rear of Big Baby, and begins some maintenance on the front end,..
                                                                                              ... Big Baby an her wagons also go for their Safety Inspection...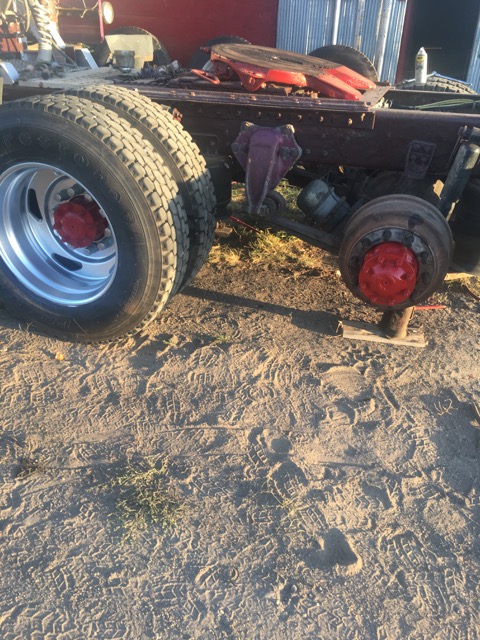 ...beginning the last three rear wheels...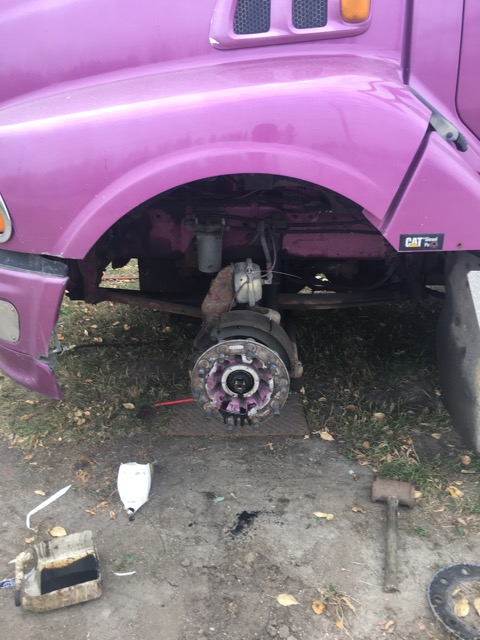 ...time to shift to front wheel maintenance...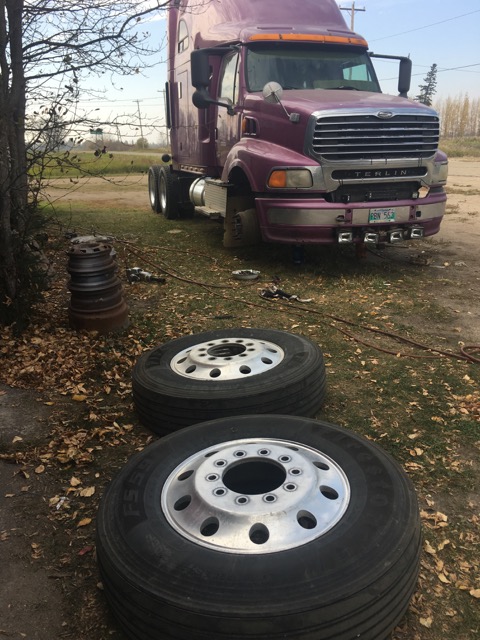 ...wheels get polished ,and checked for tire pressure...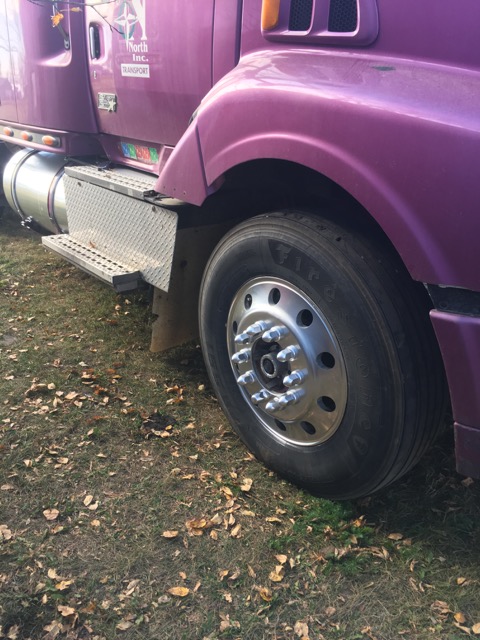 ...wheels are installed on opposite sides, to promote even tire wear...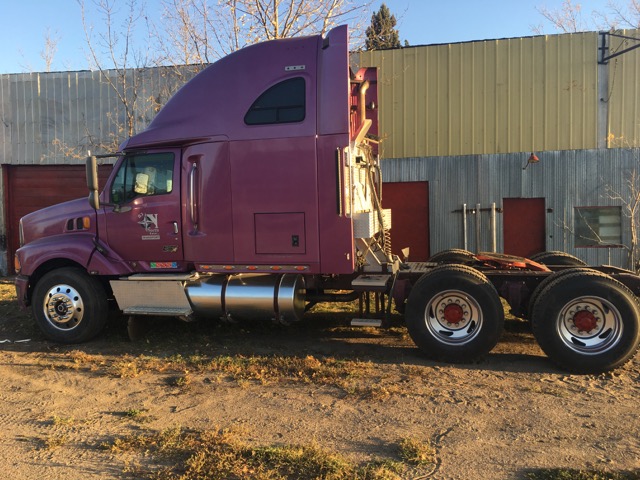 ...Big Baby is now shiny from end to end!...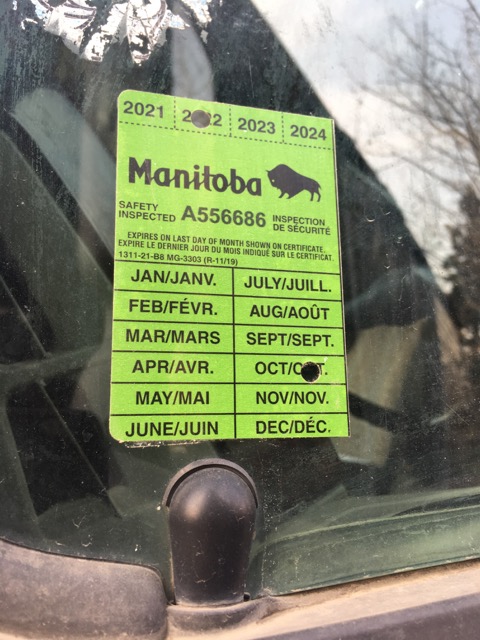 ...Big Baby and both her wagons passed their Safety Inspection today!...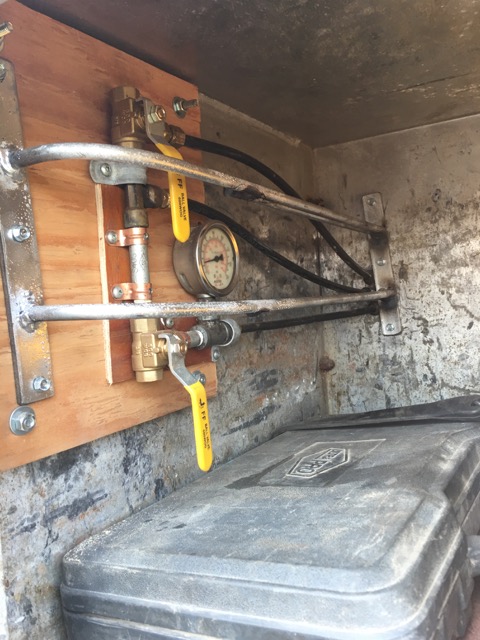 ...took a few minutes and manufactured a guard for axle valves...
                                                                             SEPTEMBER 2021
              ...This week,.Sept 26-Oct 2,..Jim takes a whirlwind tour to the "Badlands", with the TanVan and a " Gentleman's Adventure Bike",..then begins some maintenance work on Big Baby...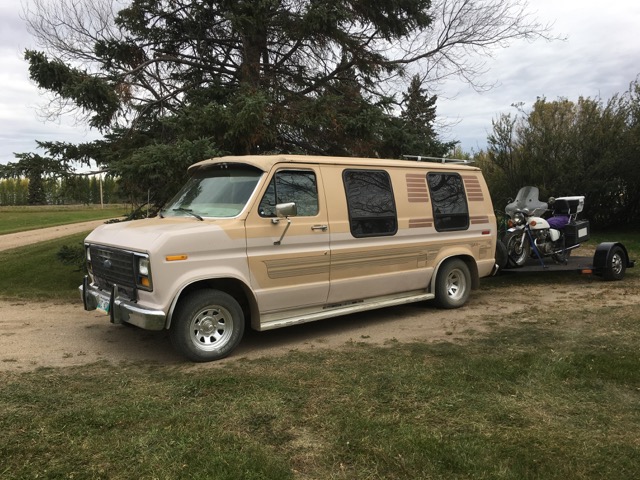 ...a quick 2000 km tour...for fun,.and to test the vintage metal of TanVan &vintage CB500T...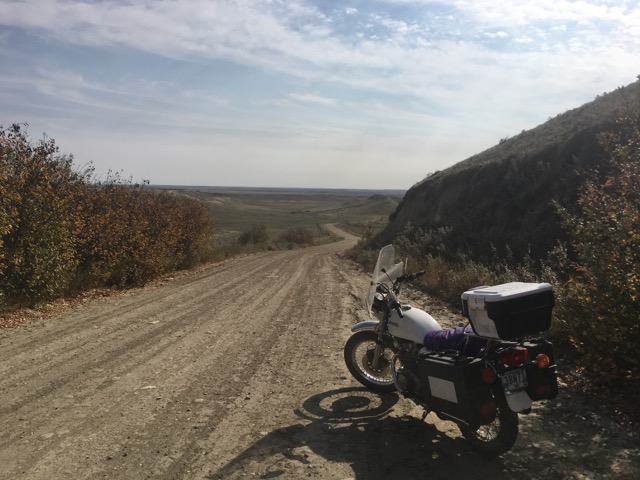 ...endless " roads " in the Badlands suitable for the " Gentleman's Adventure Bike "...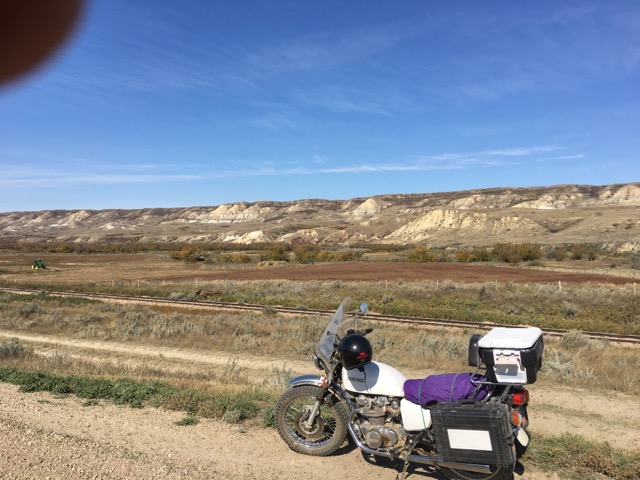 ...Badlands as advertised,..hot,dry,dusty,and empty!...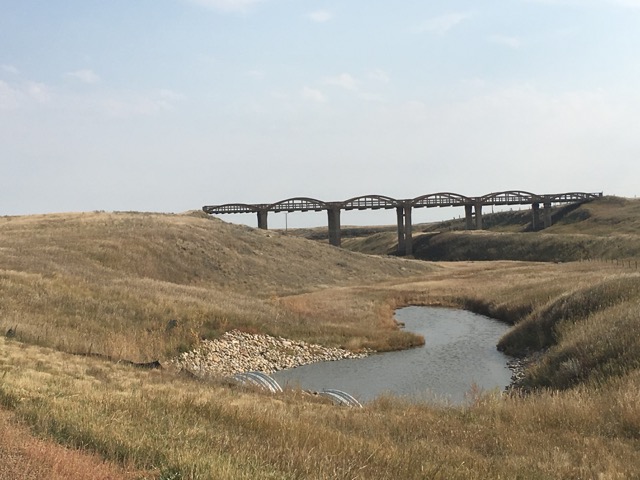 ...beautiful,ancient,abandoned bridge...no longer connected to any road...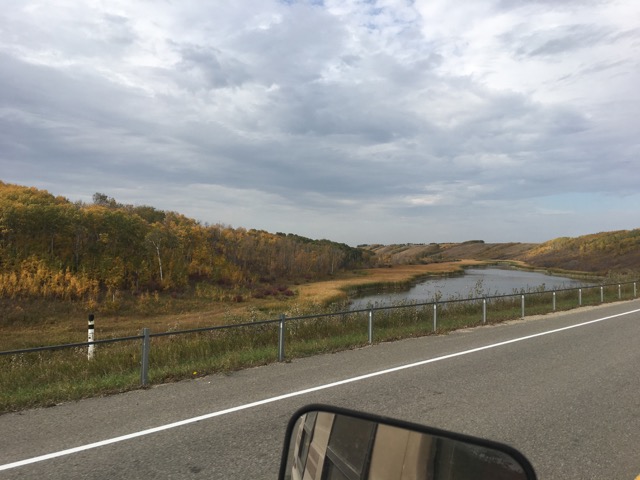 ...gultches & gullies have most of the Life,...now showing their autumn colours...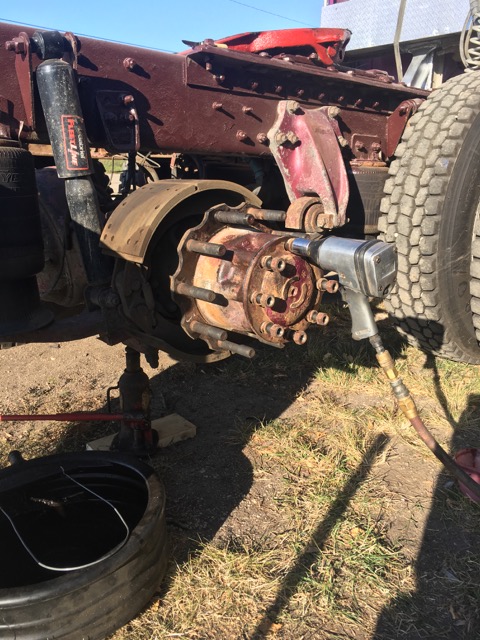 ...time for more maintenance on Big Baby,..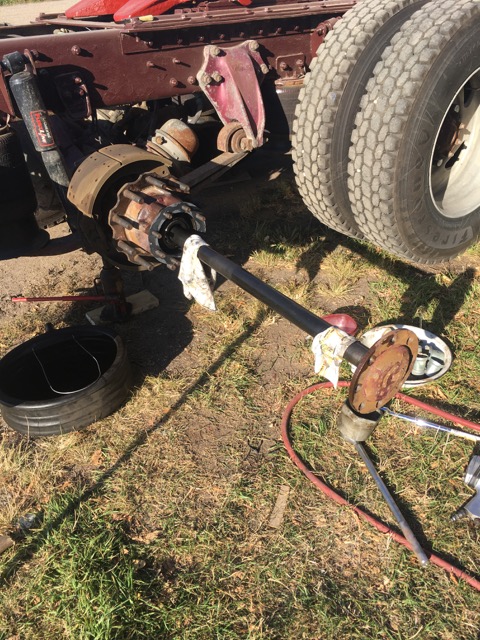 ...the drive-axles in Big Baby weigh over 60 lbs each!...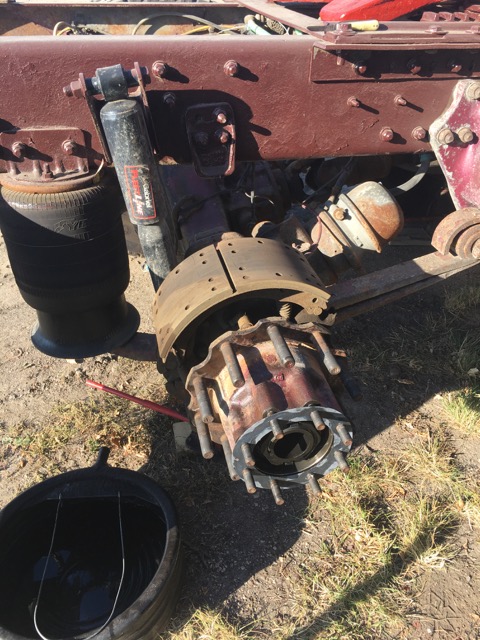 ...replacing all wheel seals & inspecting bearings...at 2.2million miles (3.5 million km ),..Big Baby's wheel bearings are expected to go much farther!...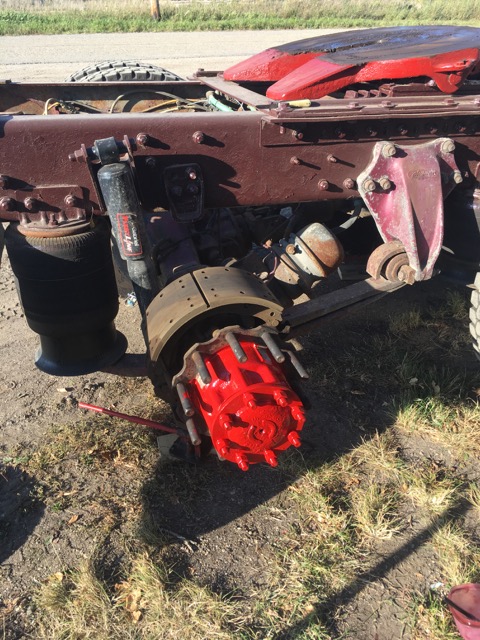 ...seal replaced, bearings checked, re-assembly begins...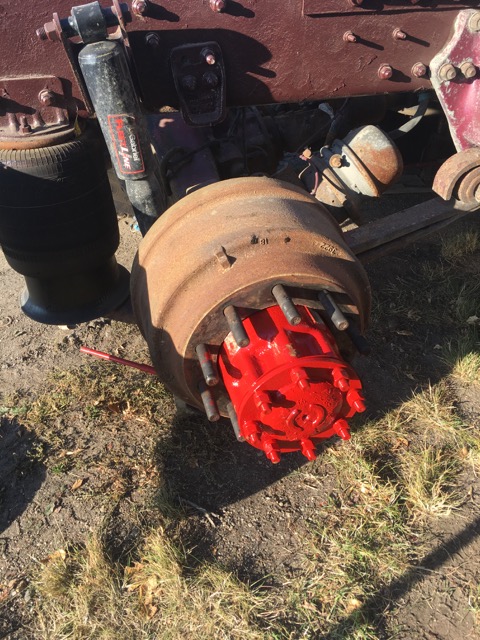 ...brake shoes & brake drum will run until next year...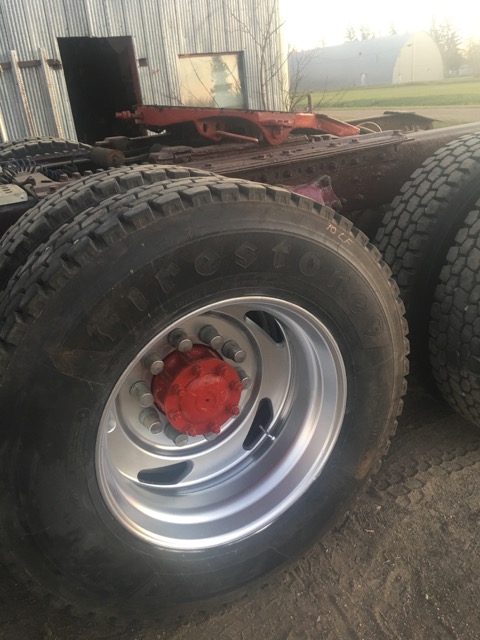 ...one wheel completed,.three to go, and then some attention to the steering wheels...
                   ...This week,.Sept 12-18,... Jim finishes a number of projects on " Big Baby ",.and begins maintenance on the rear trailer of " Super B "...plus a detour to the garden 
                                                                                                                 to preserve some of the seasonal bounty!...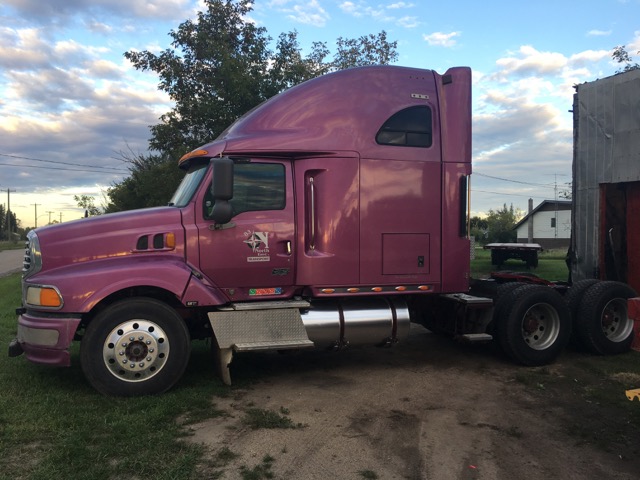 ...fuel tanks made nice & shiny!...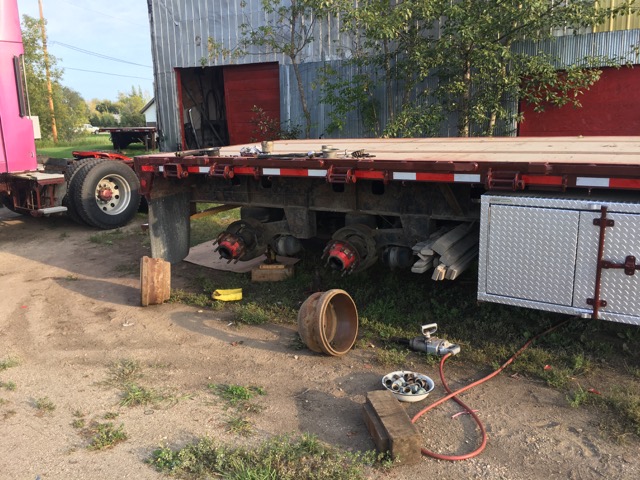 ...new paint & tape applied,..time to begin maintenance of chassis and axles...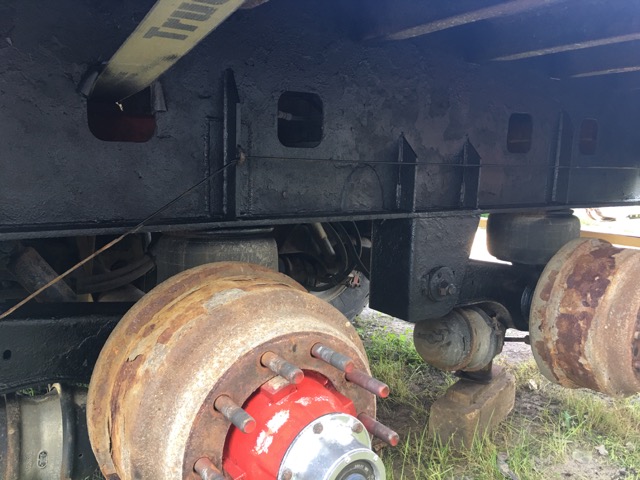 ...chassis descaled with fresh undercoating applied...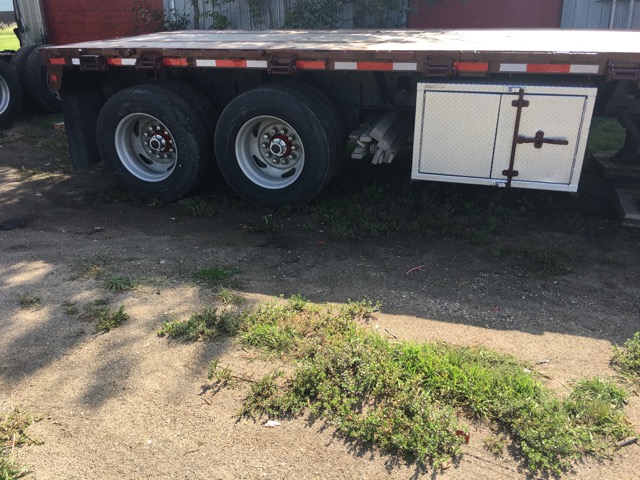 ...passenger side finished up!...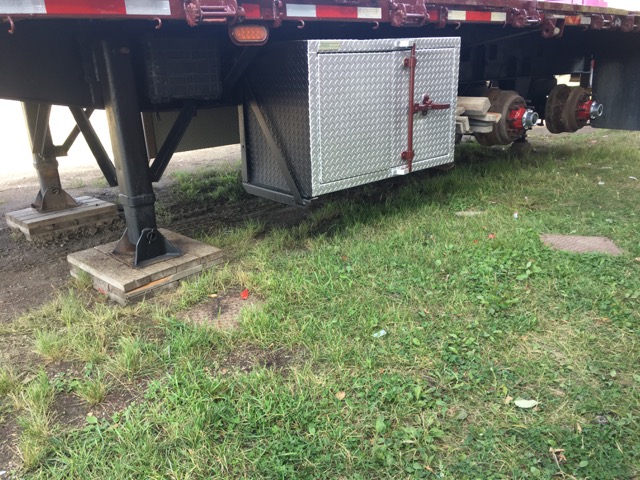 ...alittle fresh paint & undercoating goes a long way toward appearance...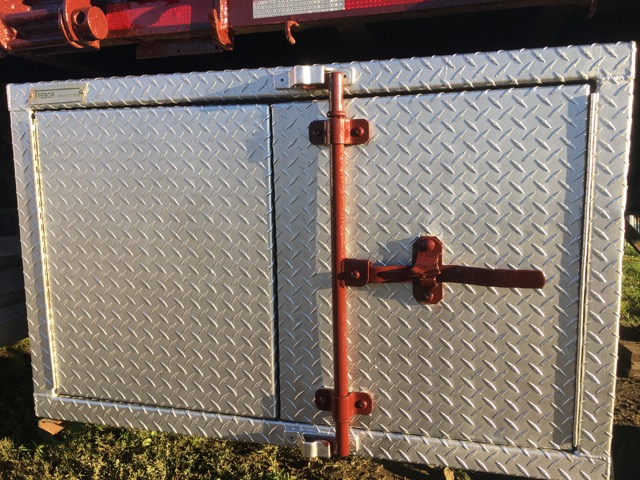 ...made the storage boxes all shiny...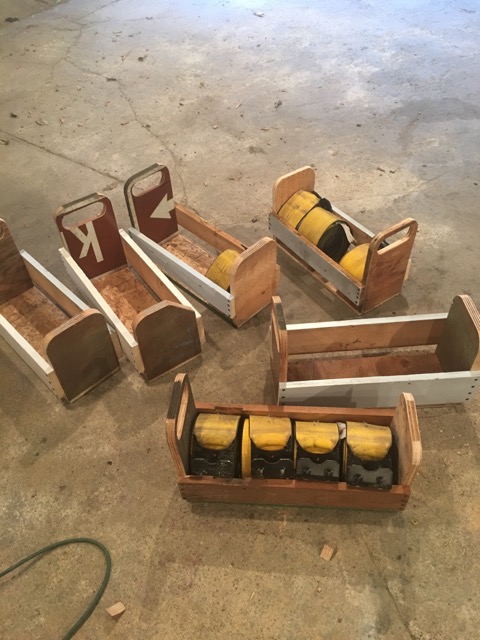 ...spent alittle time building some strap boxes,...( after 48 years of lumber strapping, it seemed only fair! )...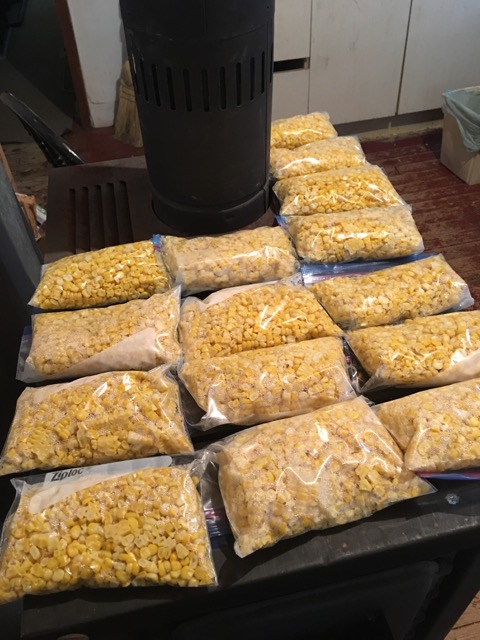 ...made a detour to the market garden,.put some corn in the freezer,..( for the impending 9 month manitoba winter! )...
                               ...this week,.Sept 5-11,..Jim begins maintenance repairs on " Big Baby' ,.our class 8 highway tractor,.positions the rear trailer of the "Super-B "for repair...
                                                              and checks the Cranberry patch for ripeness...finding a nice big nail with his rear tire , in the process!...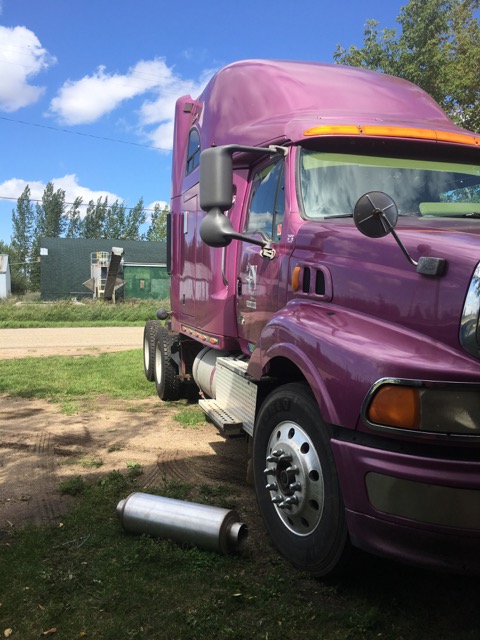 ...muffler& exhaust system was about 10 years old,..time for replacement!...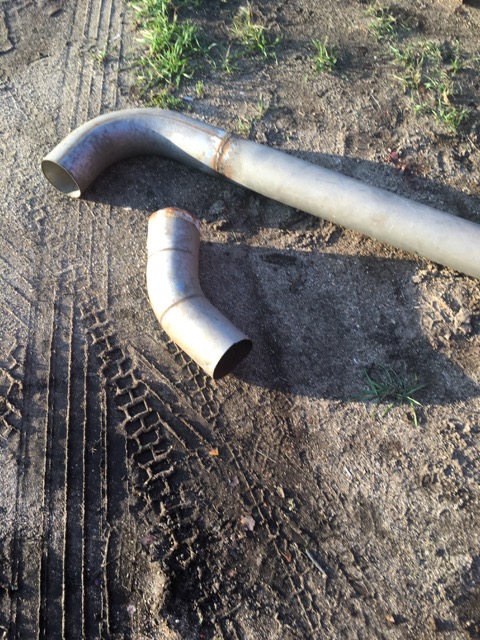 ...recieved the muffler free from a friend whom was cleaning out his shop!,..the other pipe sections Jim obtained by barter, from" The Last Redneck"...
                                                                                                                       in exchange for two old batteries...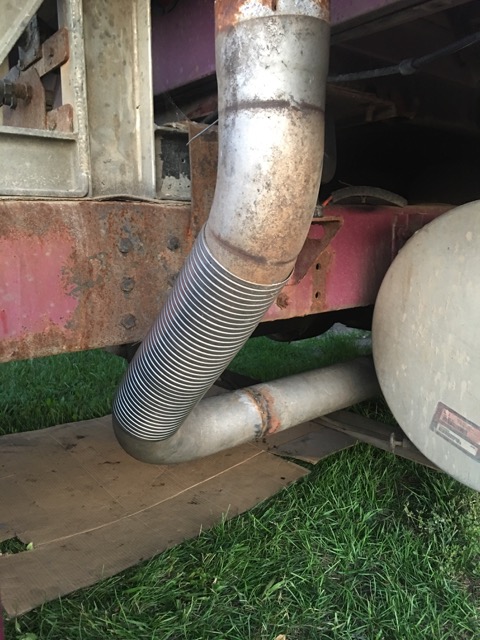 ...pipe sections trimmed & set into place,..now to add" Sealclamps"...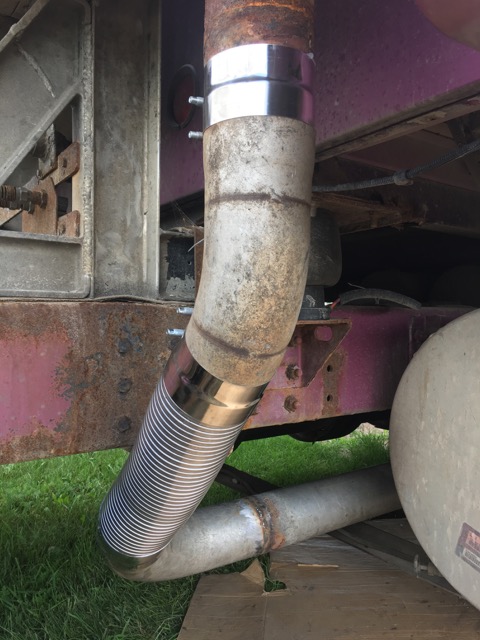 ...the stainless steel Sealclamps are an excellent product, to properly finish an exhaust system...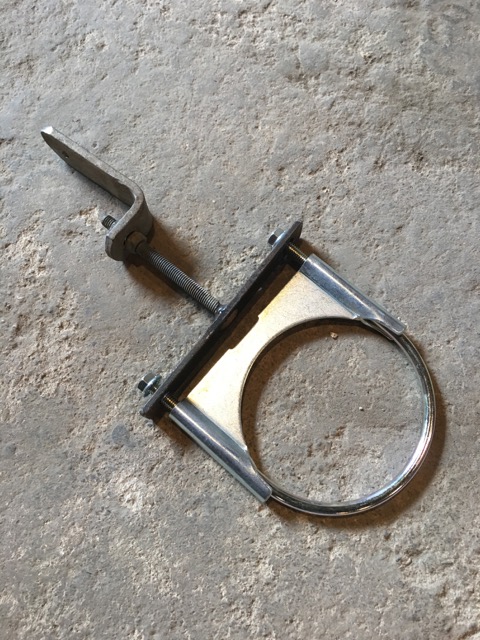 ...with the replacement muffler being somewhat shorter than original,. a new rear hangar had to be fabricated...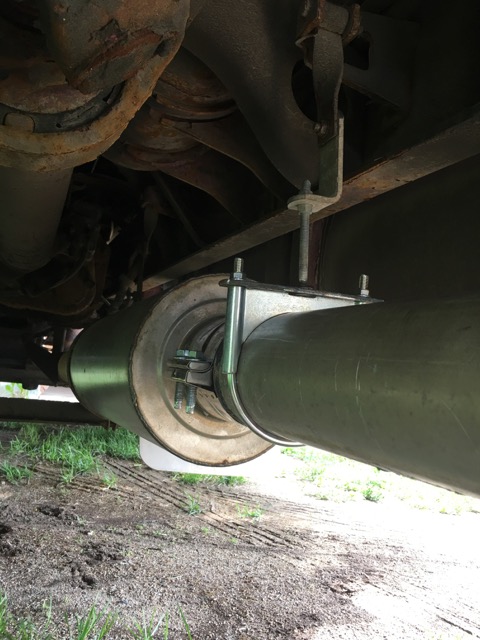 ...new hangar in place...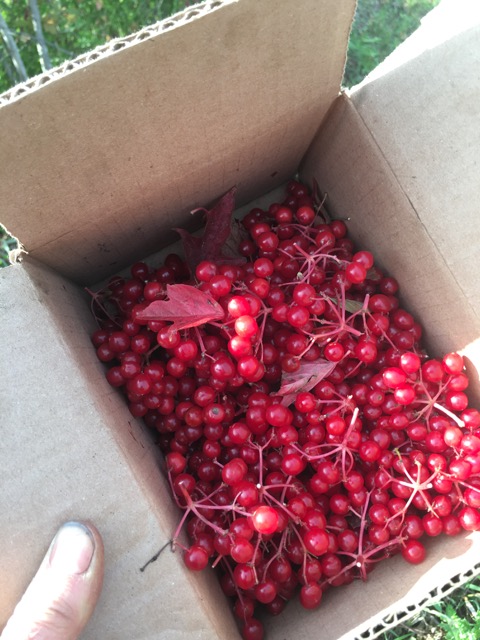 ...the Cranberries are finally ripe!...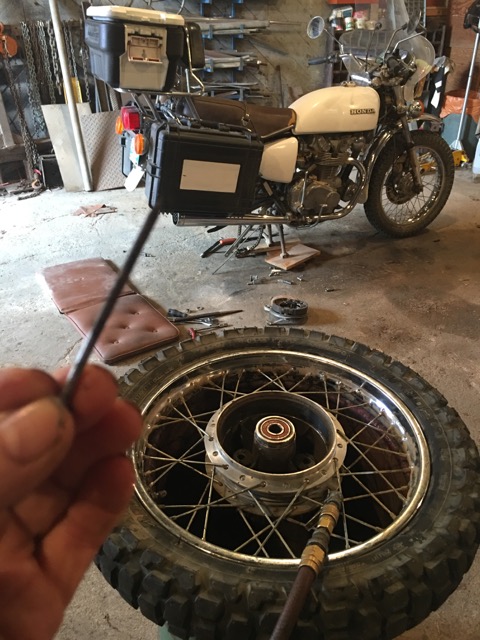 ...found a nice big nail on the Cranberry run...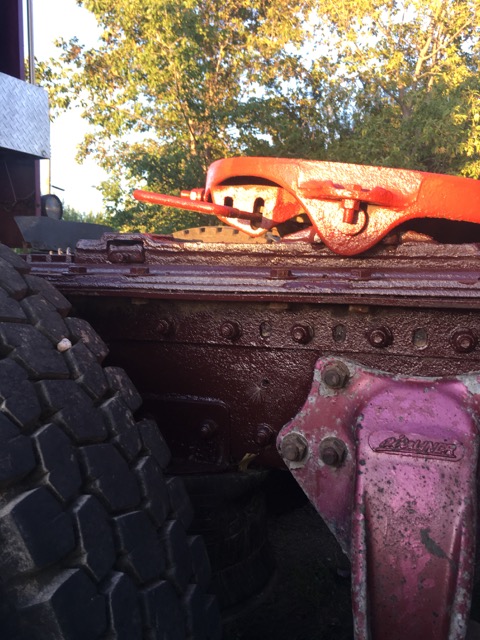 ...after 22 years of service on" Kina-Duh's" garbage roads, "Big Baby" was in need of alittle fresh paint!...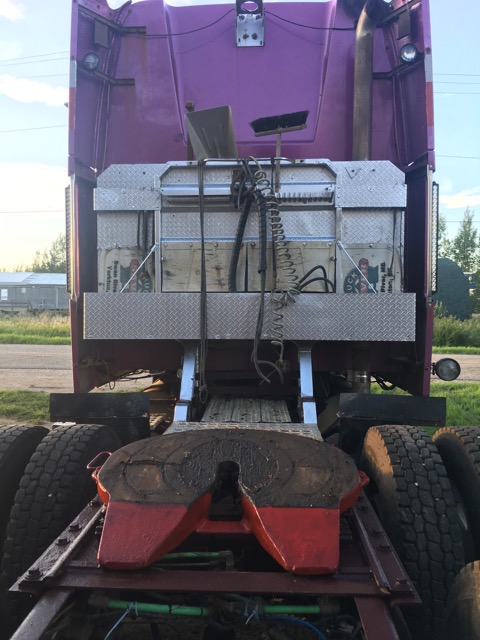 ...Jim shined-up the headache rack while he was at it!...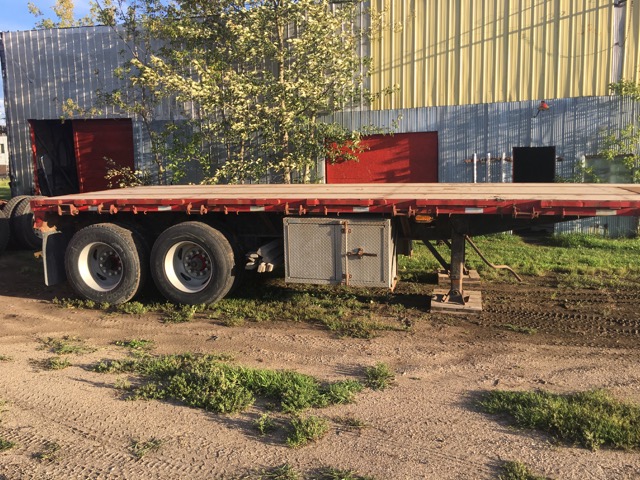 ...the rear trailer of our "Super-B" has now been put into position for maintenance...
                                                                       AUGUST 2021
                                  ...this week,.( Aug 29-Sept 4)...Jim continues work on the " Super-B",..with a few rides to the countryside in search of ripened Cranberries!...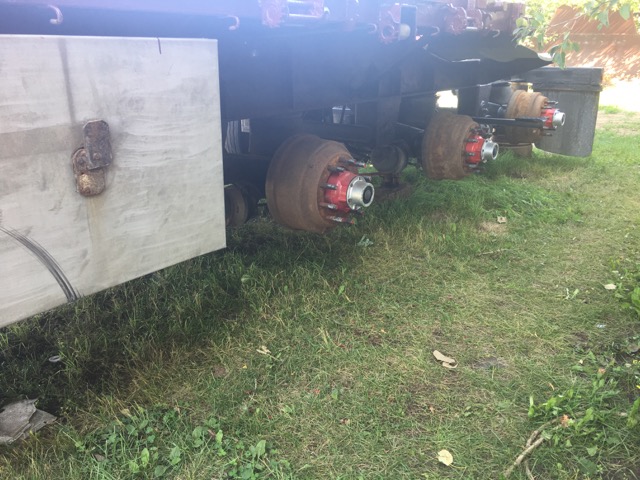 ...with the passenger side wheels completed, focus shifts to the driver's side,..all seals replaced, all bearings inspected, some brake components replaced...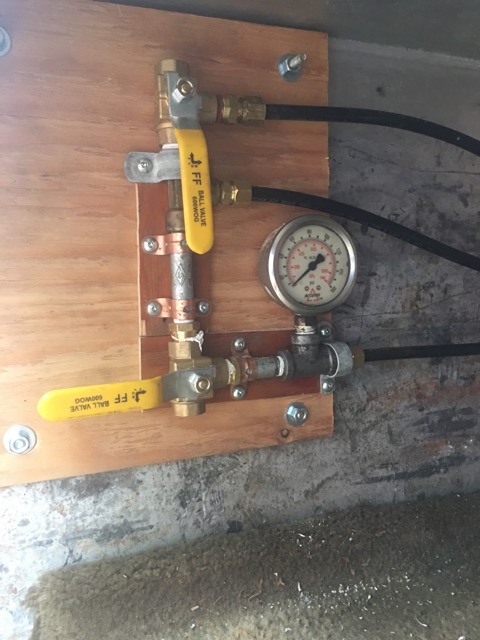 ...the air system for the axles is now mounted inside the storage box...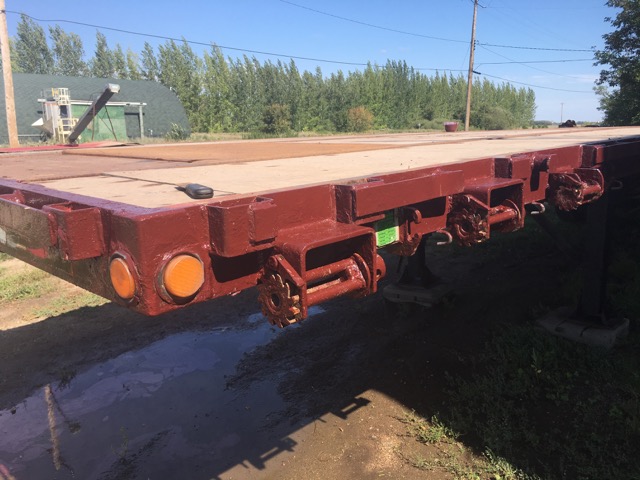 ...Jim tried to create purple paint, although it seems more like brown!...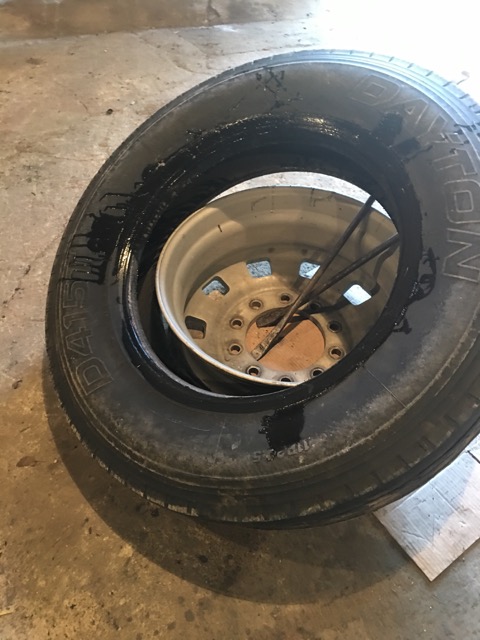 ...a few tires were in need of replacement,..and this one was leaking at the bead,..with 30 tires, a Super-B transport requires fairly steady tire service!...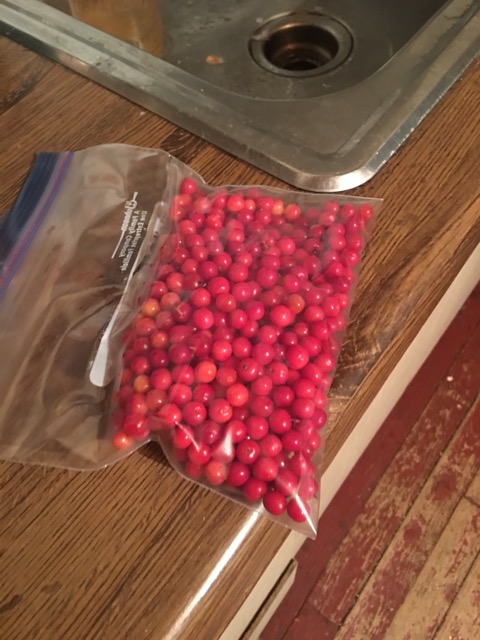 ...the Cranberries are not quite ripe!,..perhaps one more week...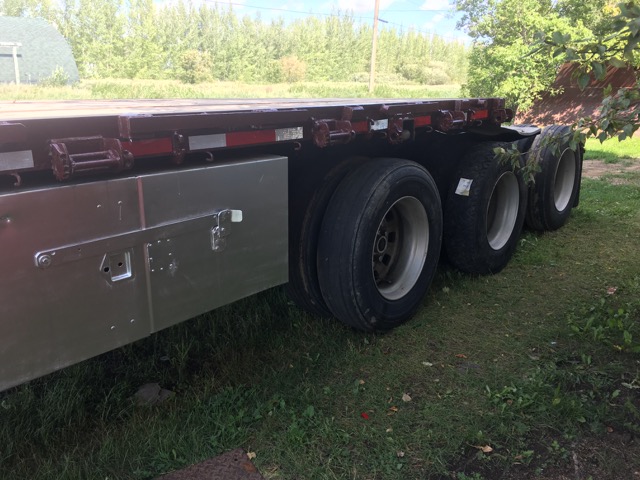 ...drivers' side wheels re-installed,..and some shiny new paint on storage box...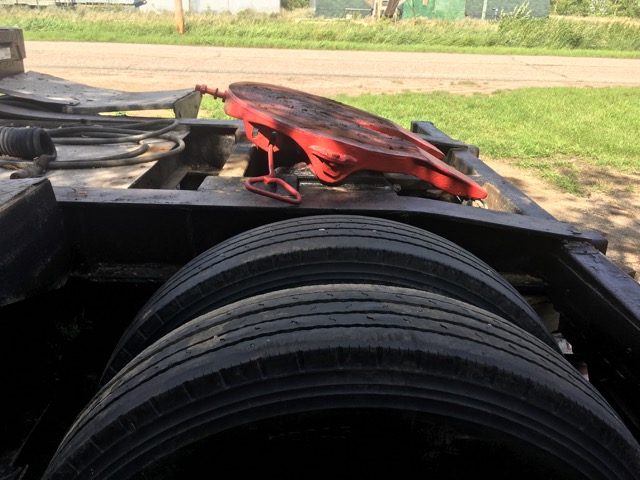 ...5th wheel cleaned up, and treated to some fresh paint...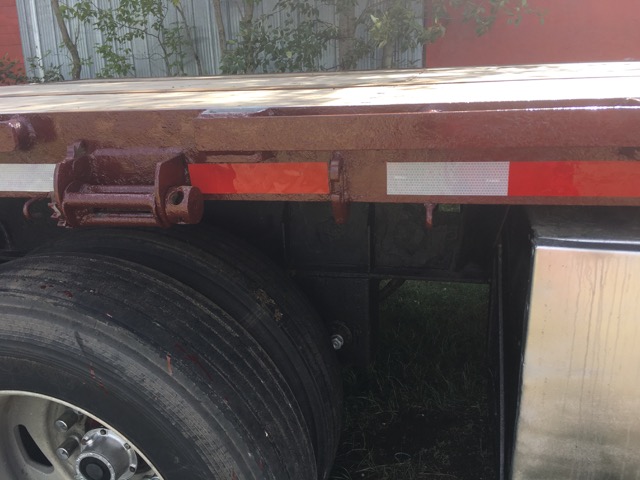 ...new official "Department of Transportation "reflective tape ,..(to complement the strange purple/brown paint!)...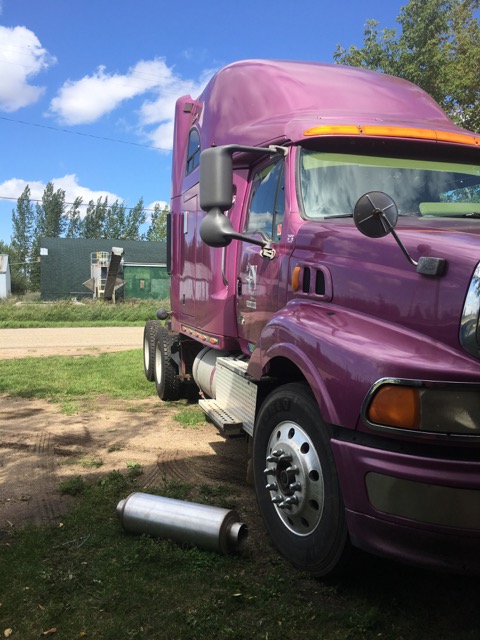 ...Jim was tired of fixing the trailer!,..so began some maintenance on ancient ( 22yr old )highway tractor ,..including a new muffler & exhaust system...
                         ...this week ( August 22-28 ), Jim made more headway on the "super-B ",..and also got sidetracked onto a couple small projects on the " Tanvan "...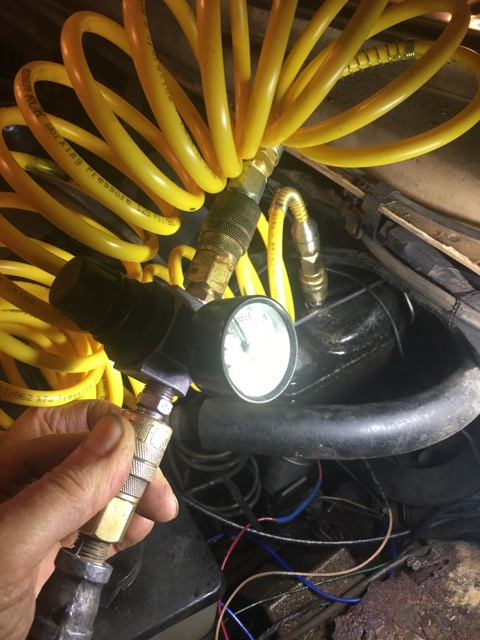 ...Jim built a DIY " pressure-cap " for the master cylinder ,..to push out a last stubborn bit of air from the brake system...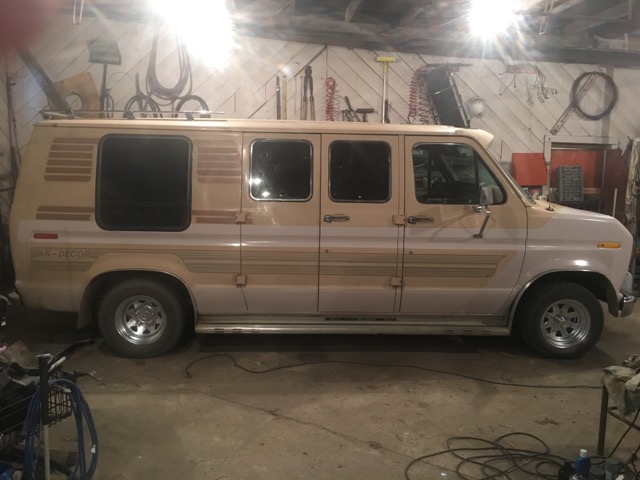 ...He also decided to paint the wheels on the Tanvan silver!...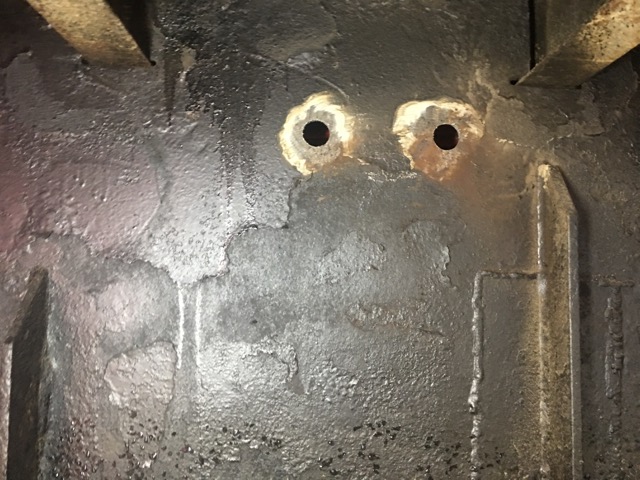 ...more work on the lead trailer of our "Super-B"this week,..had to make a hole in the frame web for the lifting strap of the DIY lift-axle...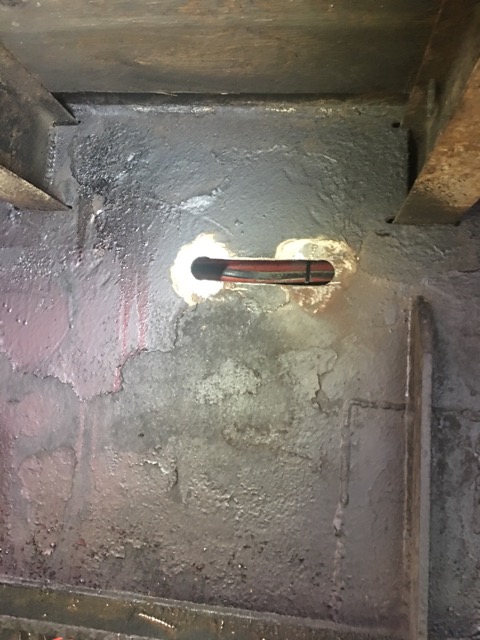 ...awkward spot to work, but a side grinder equipped with a cut-off disc handled the job...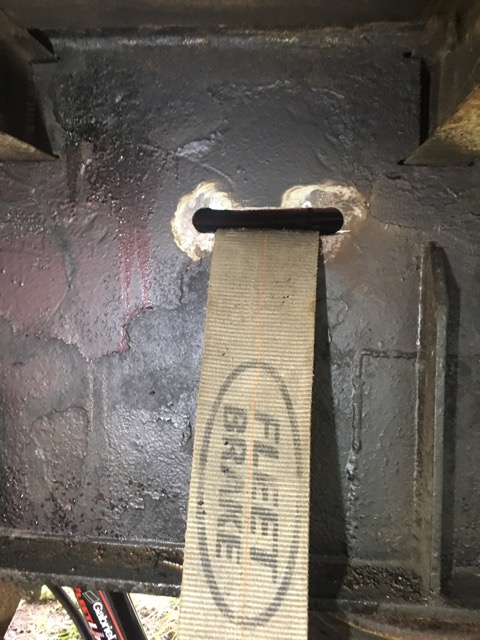 ...strap alignment was OK,...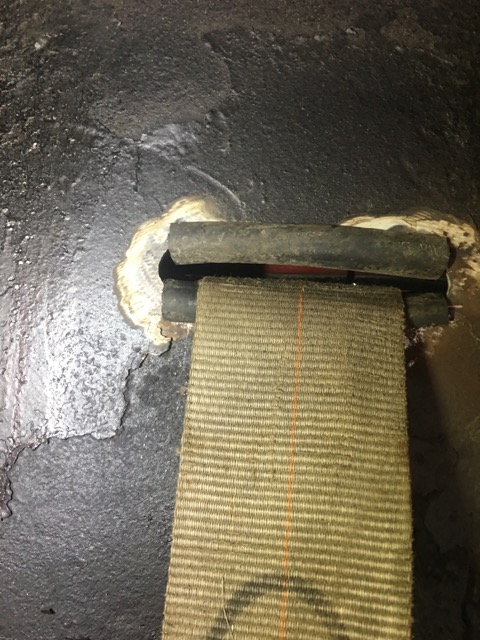 ...now a little protection for the strap...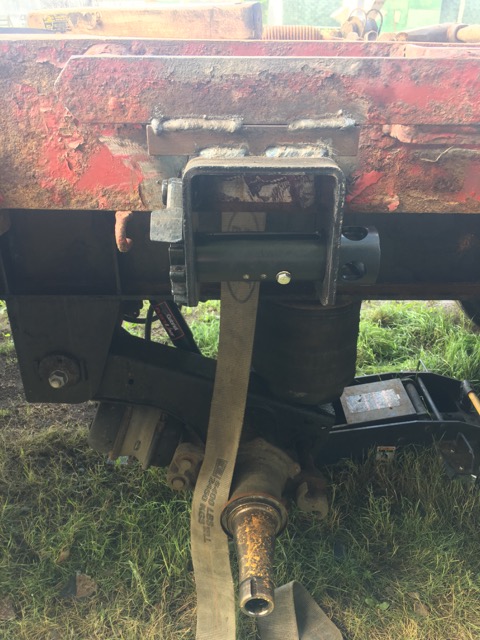 ...welded a traditional cargo strap winch the siderail...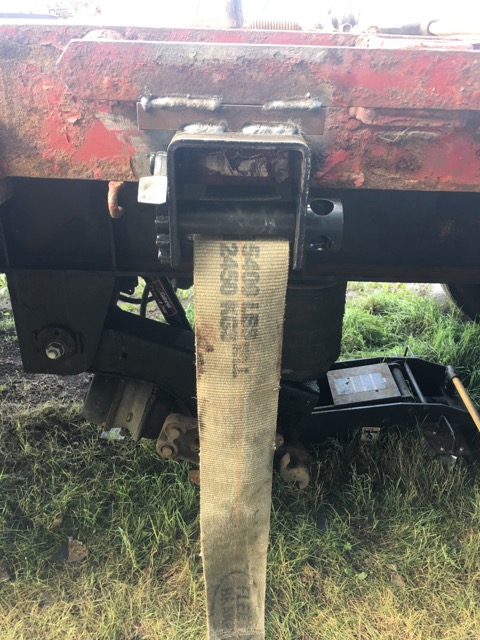 ...when this strap is tightened,..the axle will lift, ( if the air is drained from the airbags)...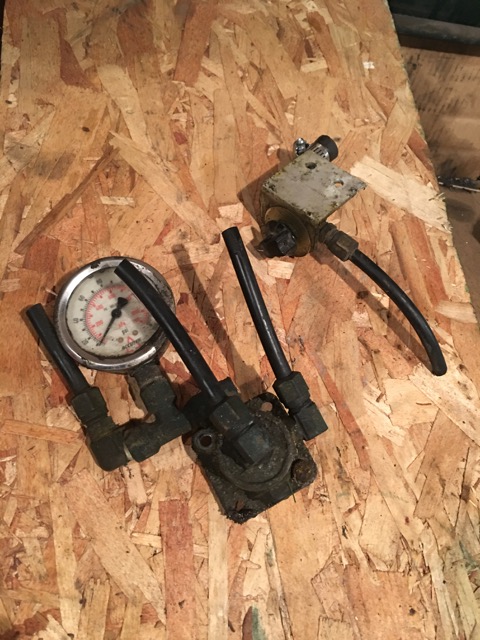 ...removed the original air system which was not designed to allow lifting axles,..and also was not particularly durable,..( malfunctioning after only 22 years of service)...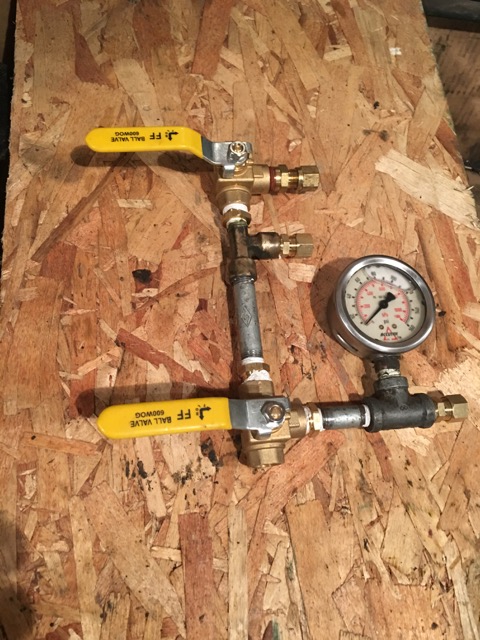 ...built a new 3 phase air system utilizing practically indestructible 3 port ball-valves...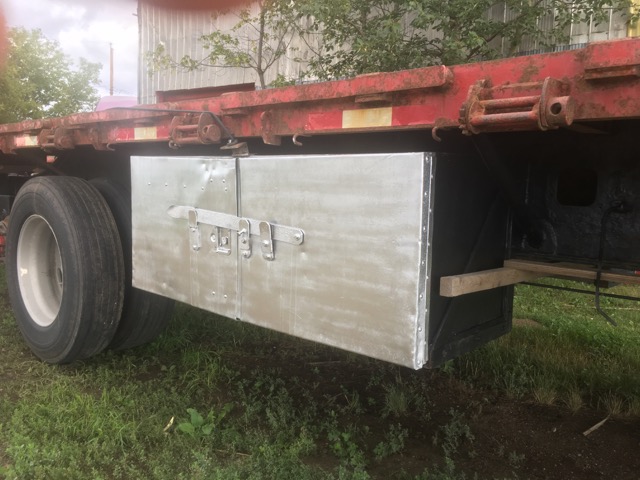 ...put some shiny paint on the storage boxes,..the air valve system will mount inside the driver's side box...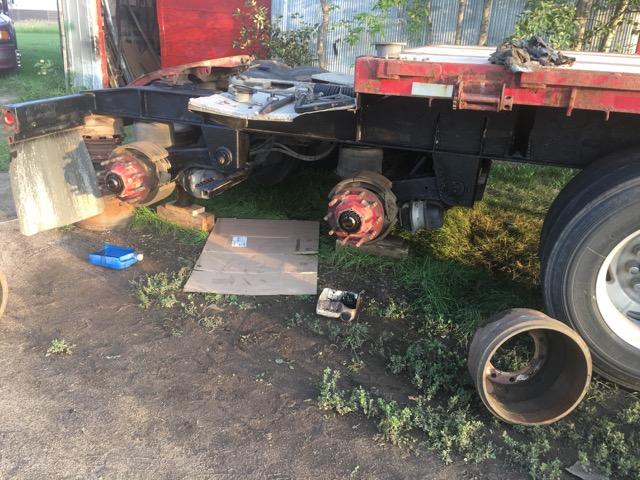 ...with the front axle assembled,..all worn parts on 2nd and 3rd axle will now be replaced...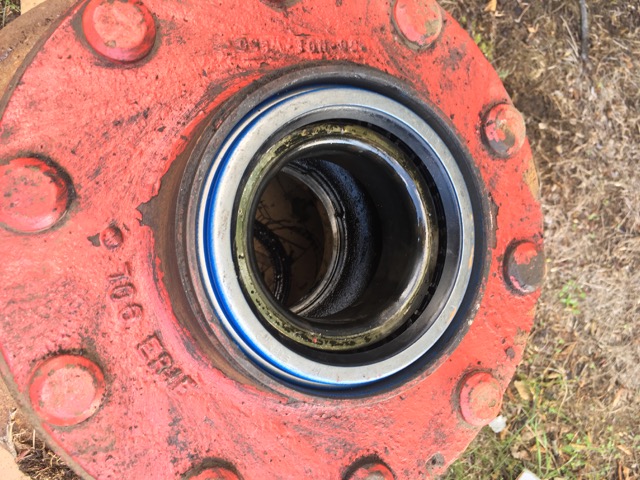 ...because of poor quality of modern parts, all wheel seals are simply replaced each fall,..and bearings closely inspected, ( even though hubs are dipped weekly all year)...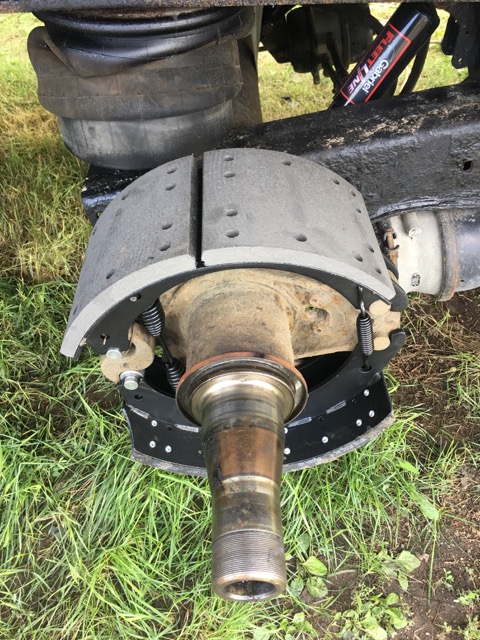 ...this axle is receiving new brake shoes and hardware...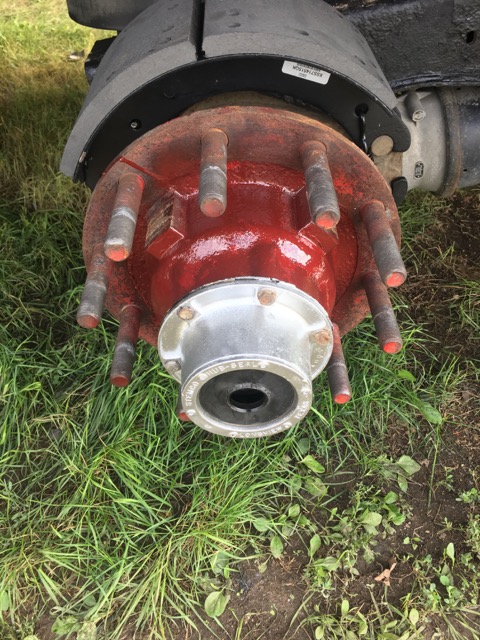 ..." outboard "brake drums make service work much easier,..although Jim has a ( DIY) wheel dolly that can can lift entire wheel assemblies...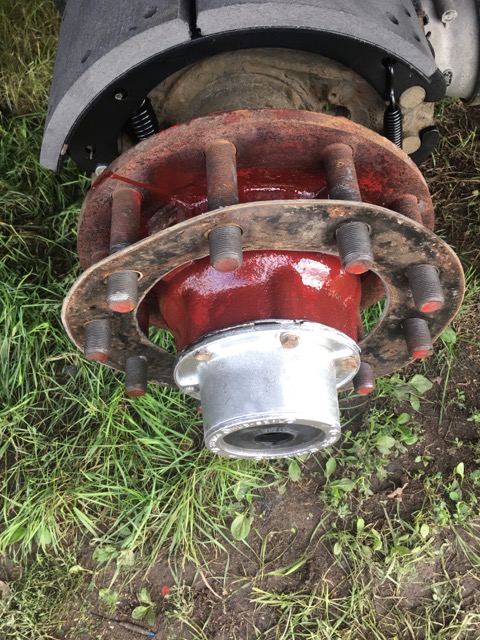 ...plastic/nylon spacers are used between all components to slow the rust or oxidization process...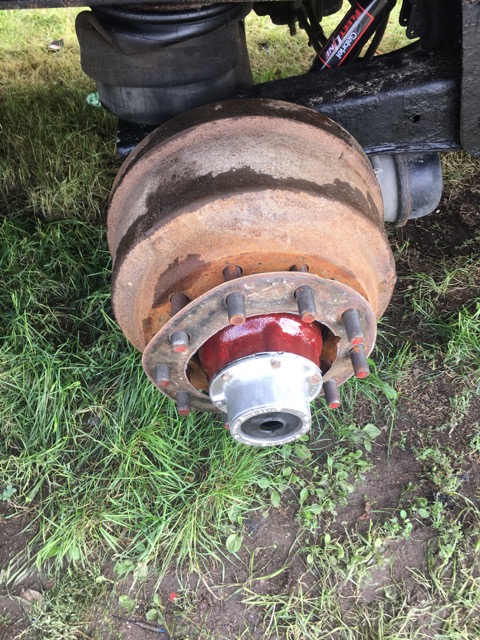 ...outboard brake drum and spacer installed...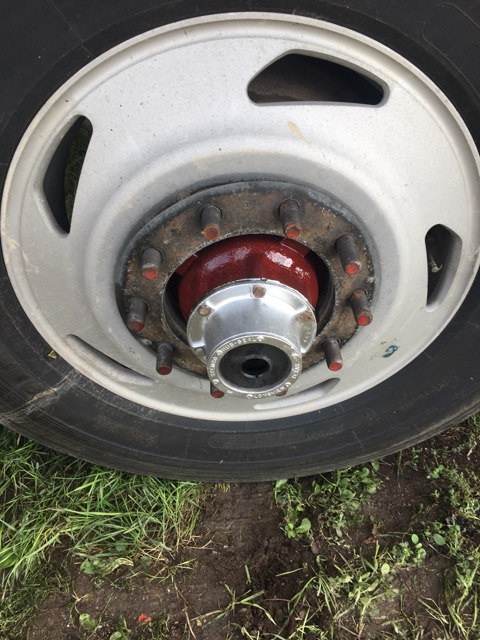 ...inner wheel and plastic spacer installed,..Jim switched to aluminum wheels ( rather than steel ) decades ago, for less weight, and far better durability...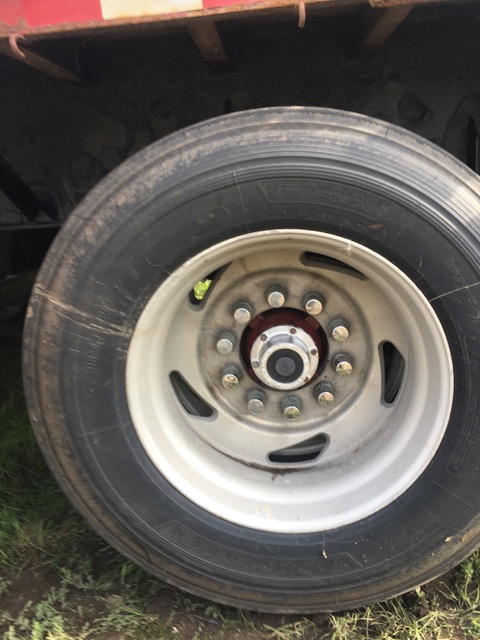 ...outer wheel installed,..plastic nut caps protect stud threads somewhat from rust...synthetic oil is used in hubs during winter to reduce cold drag,..but replaced with
                      regular gear-oil in summer, as synthetic oil cannot tolerate water, which tends to creep in from condensation when bearing assemblies are cooling...
                                                                                                             ...one wheel assembly  completed...only 9 more to go!...
            ...this week found me with my fingers in a lot of projects,..could'nt seem to focus!,..while my painting equipment was unpacked, I thought I might as well touch up
                                                                                                                  some sore spots on the  "Tanvan''...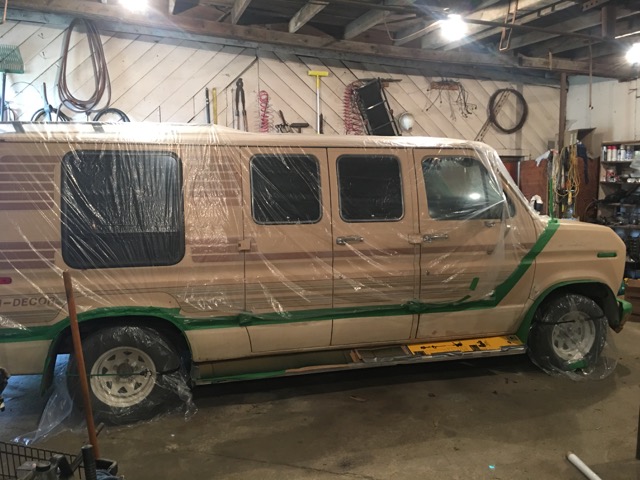 ...the rocker panels were losing their coating, and the paint on the entire front end had been destroyed by gravel & bugs...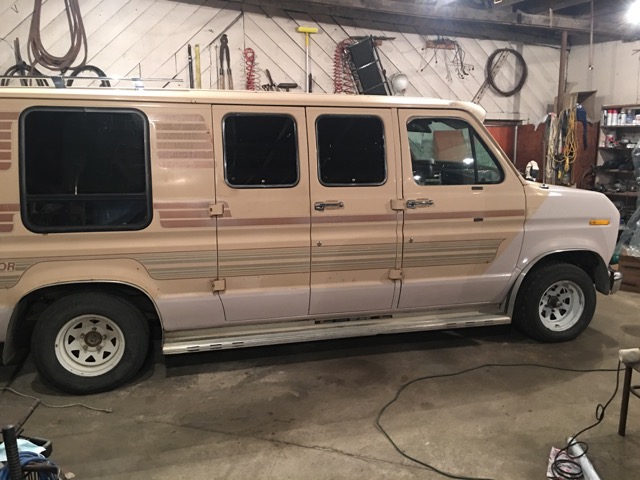 ...I didn't like the result,..the colours seemed alittle " lopsided "...so I masked it again, and added more of the lighter color...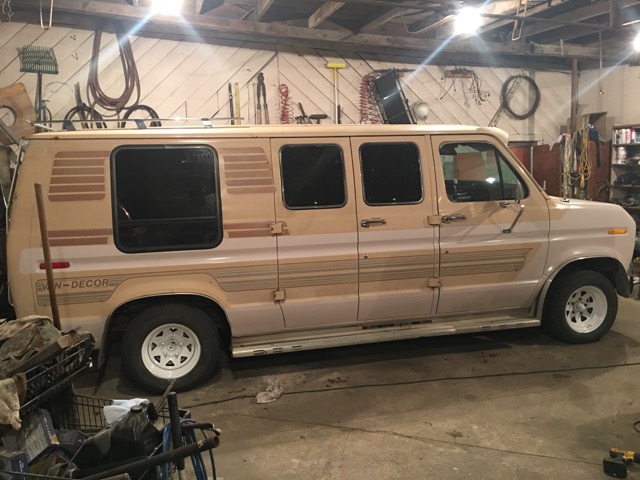 ...still no beauty queen, but i can live with it now,..repainting the wheels helped abit...
                                               ...I also decided to build another " Gentleman's Adventure Bike",..and to road test both of them for a few hundred miles...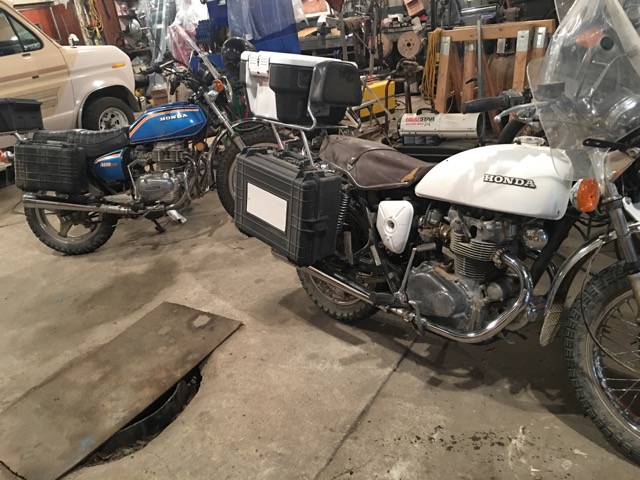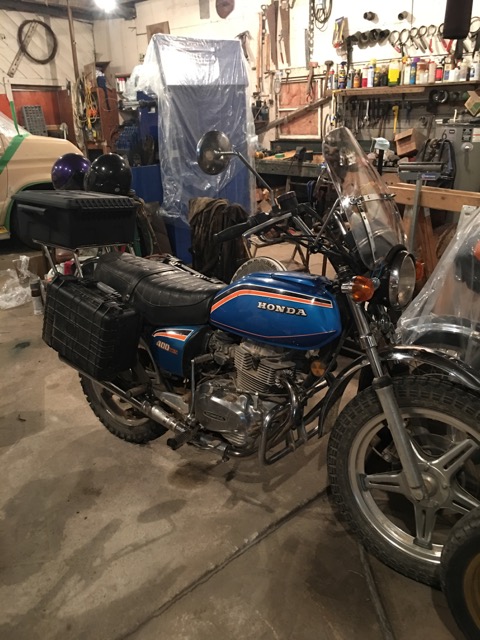 ...the candidate was my little CB400T, I had raised the front fender and installed " universal "tires already last year...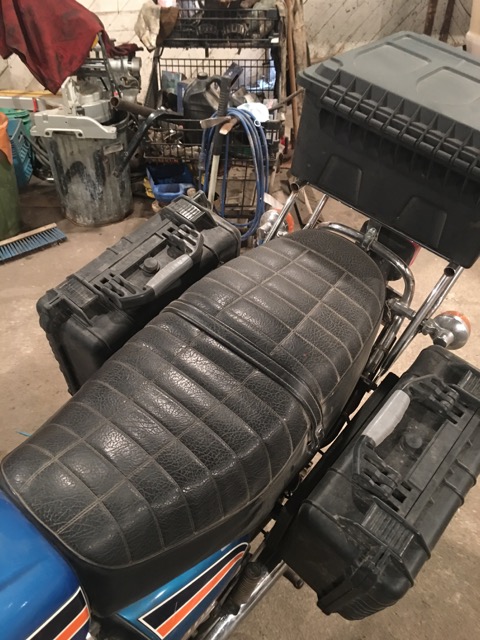 ...so I only had to install saddlebags ( instrument cases from hardware store ), and a topcase, (plastic ammo box )...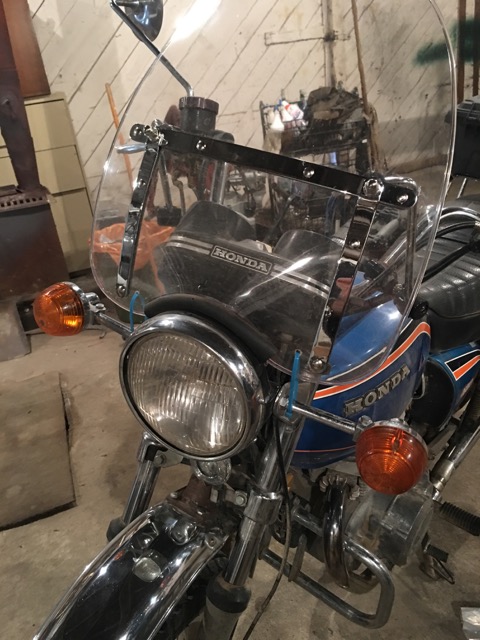 ...and a little windshield,..the crash bars are original...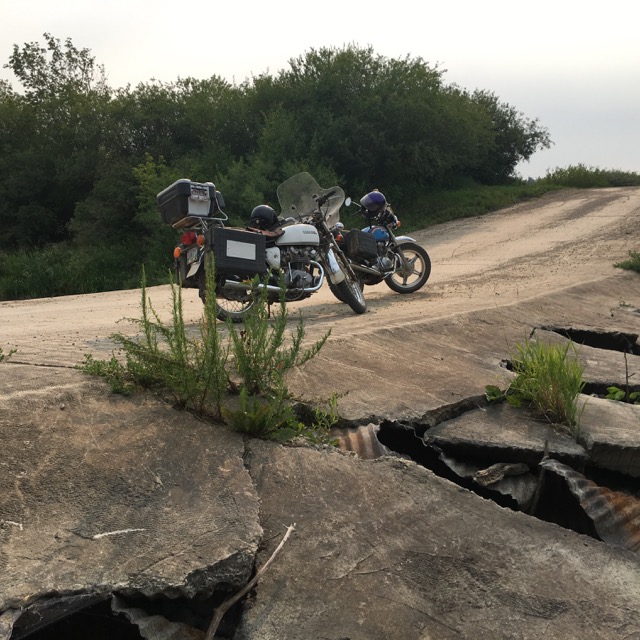 ...both machines are quite at home on gravel ( or dirt),..the 400 would be bit small to ride double,..but is easily capable of highway speeds...
                                                                                                         ...and I did make some progress on the " Super B" !...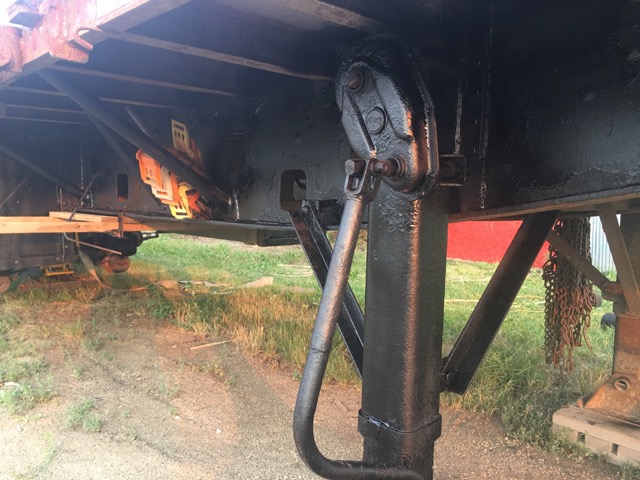 ...I spent a little time de-scaling & undercoating the chassis...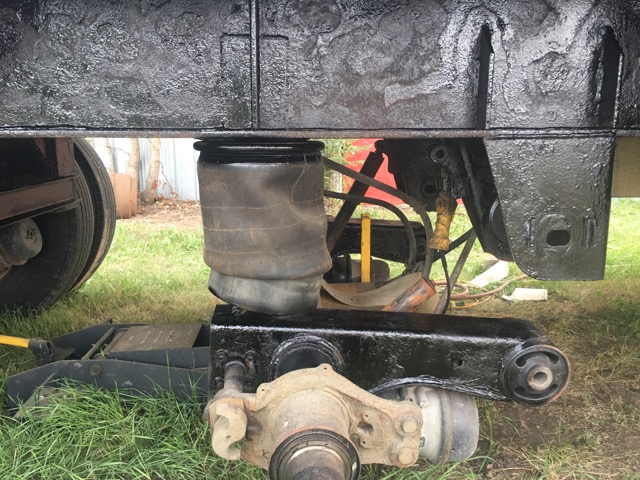 ...with the bushings in place, the suspension arms are ready to be re-installed...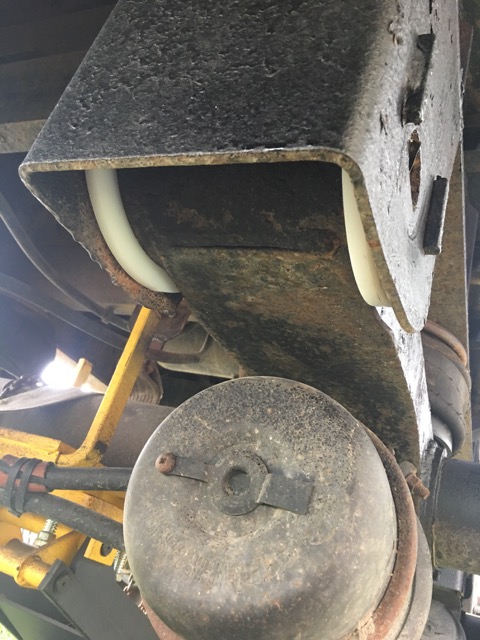 ...with the arms in place...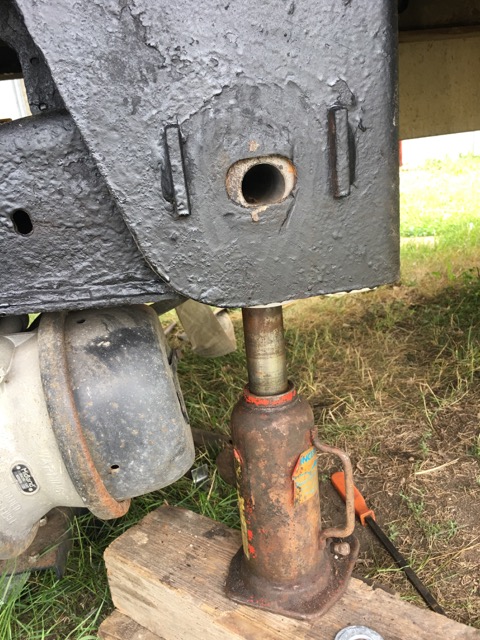 ...the bushings are ready for caps & bolts...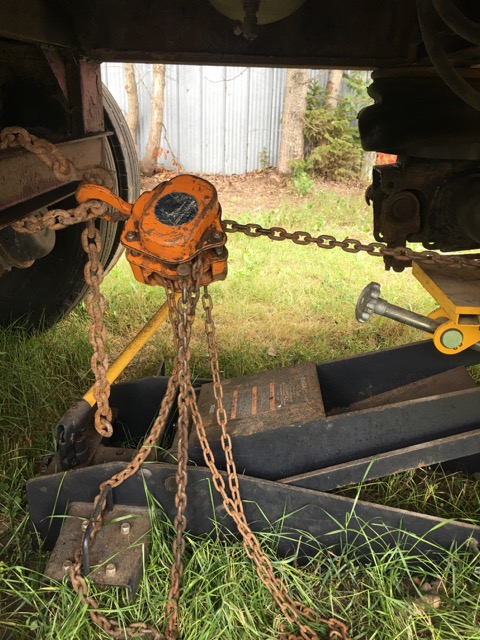 ...unfortunatly,..axle alignment on these rascals usually involves a chain hoist for a little extra persuasion!...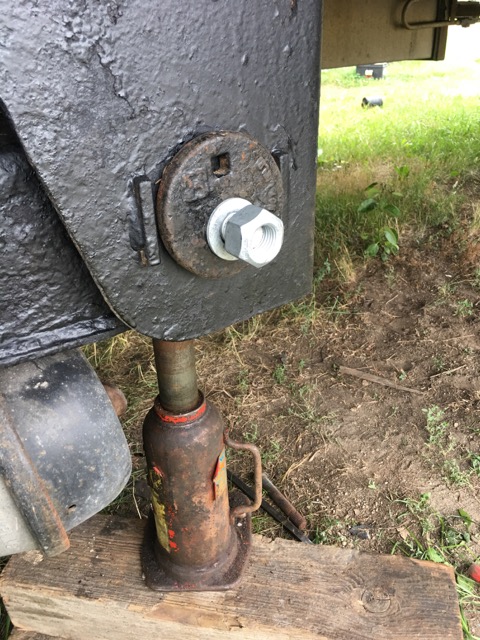 ...securing the big retainer bolts is the last portion of the bushing business...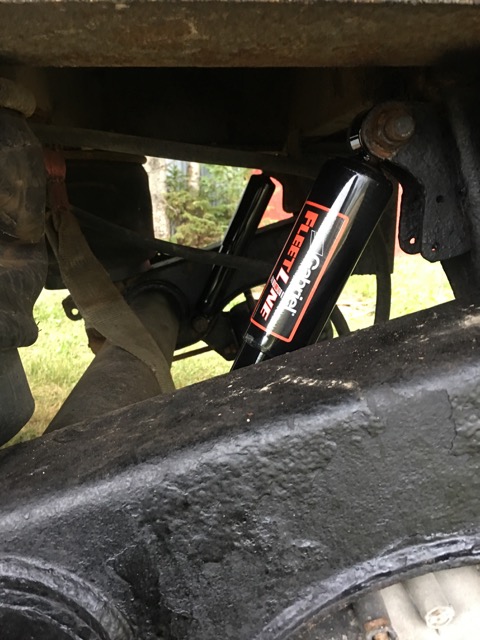 ...new shocks completes the actual suspension work,..now to install a DIY axle lift!...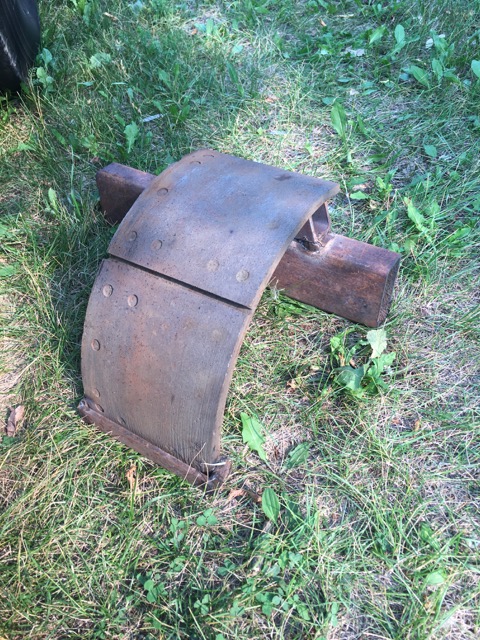 ...one main component of the axle lift sees the utilization of an old brake shoe...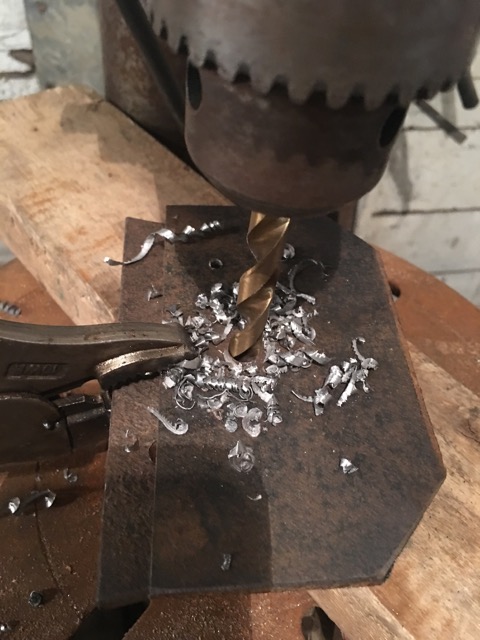 ...a plate for attactching the reusable lifting strap is made from some salvaged metal...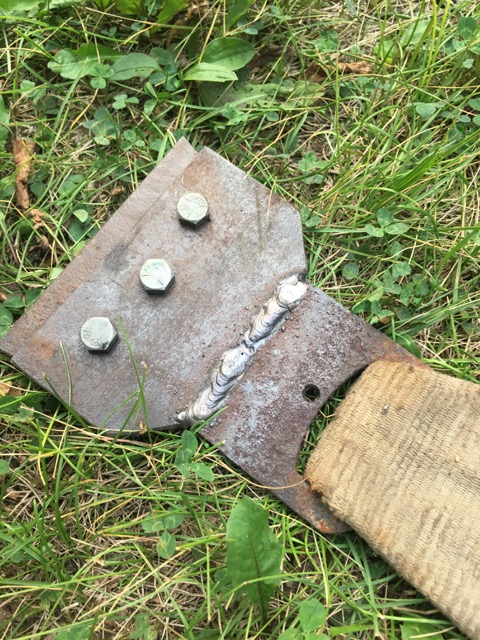 ...over time,.the strap may fail,..but can be unbolted, and replaced...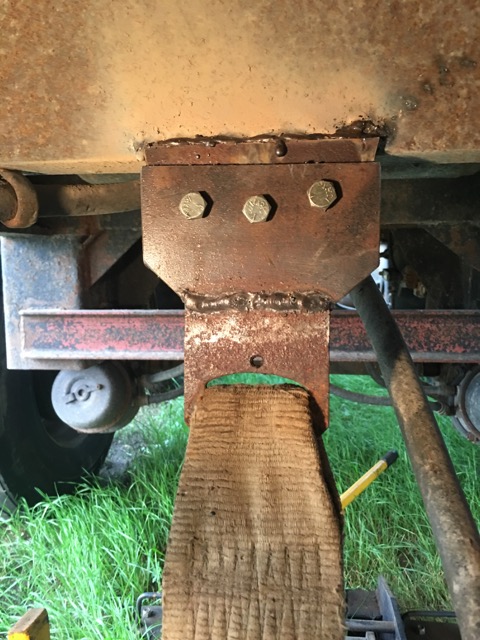 ...the strap is welded to a crossmember, then routed under the axle,and up over the component made from the brake shoe,.then out to a winch on the siderail...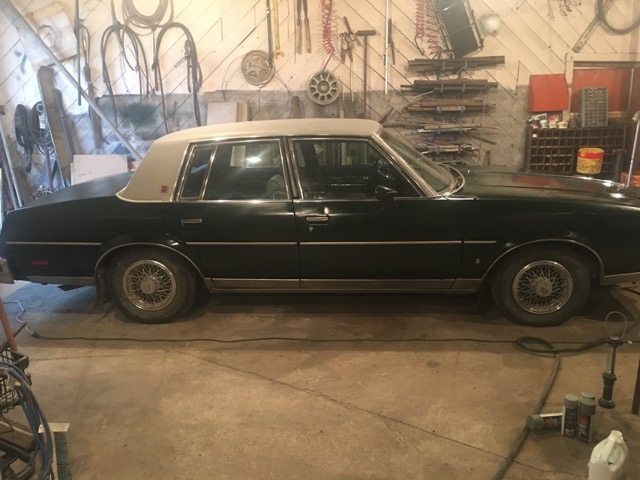 ...while it is true that new paint is tantamount to hypocrisy for me,.there was significant surface rust beginning,..enough to justify a new coat for the old girl!...
                                                                                     ...$30 for paint,.$12 for tape...I have owned my own equipment for several decades...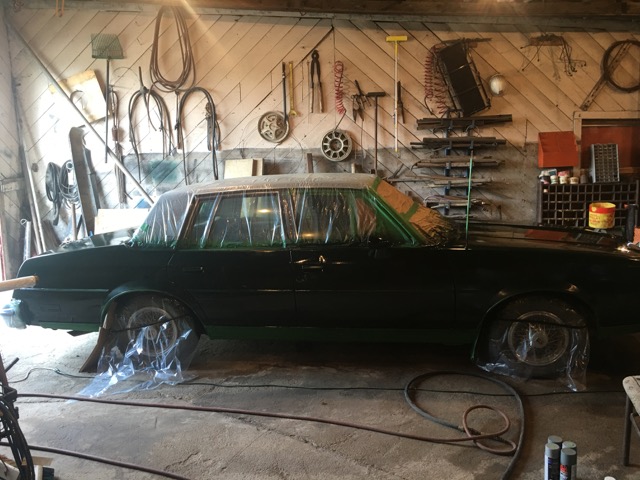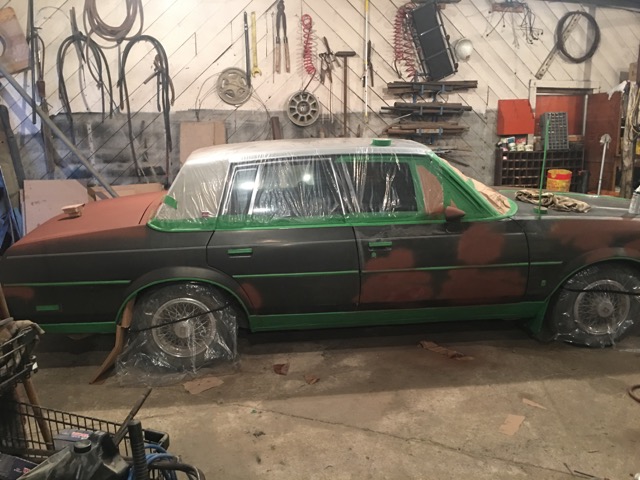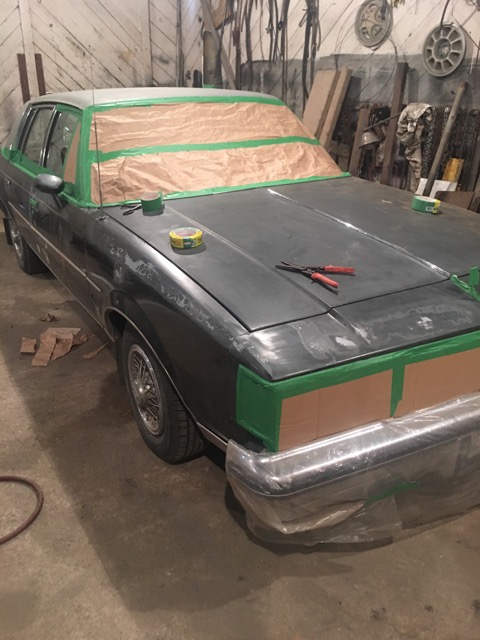 ...hot, dry, smoky days made the interior of the shop look inviting,..and the local hardware store was giving away paint...so I began a repaint project on my old car!...
                                                                                           the maintenance project on our " Super-B" continues (slowly ) as well...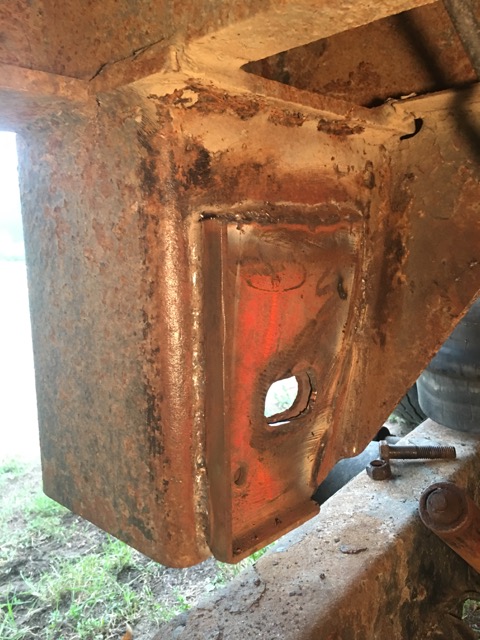 ...the inside wall of the bushing carrier had developed some cracks, so after re-welding , I covered the area with a heavier plate...
                                                                         JULY 2021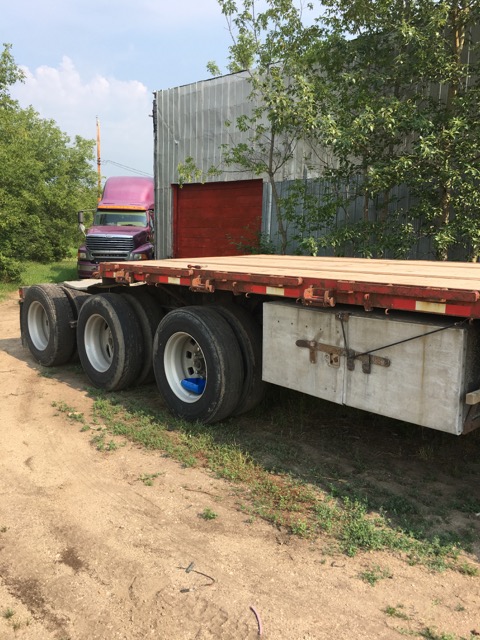 ...time for alittle maintenance on our antique ( 22 year old ) " Super B " trailers...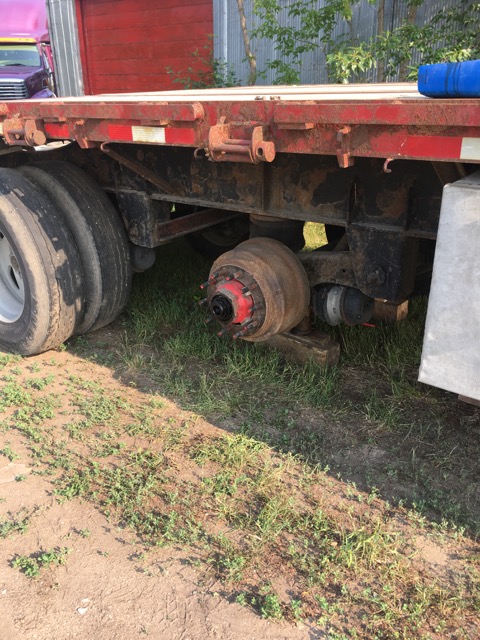 ...the leading axle of the front trailer  is subject to considerable " side-draft", as the 5th wheel is essentially mounted over the rear axle...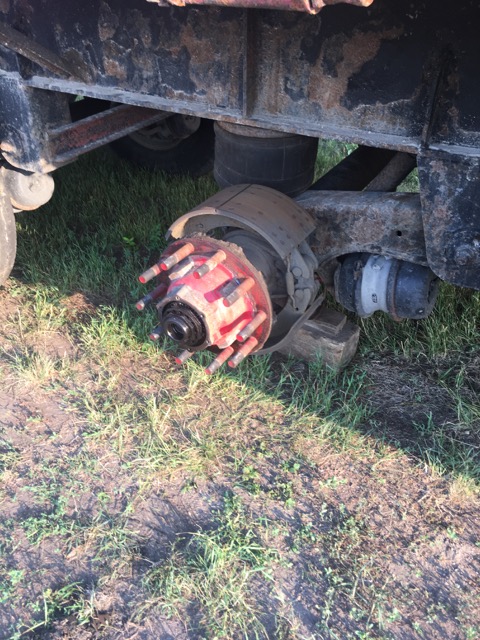 ...first step is to remove wheels, brake drums, hubs,and all brake components, for accessibility  and weight reduction, as entire axle assembly needs to lowered...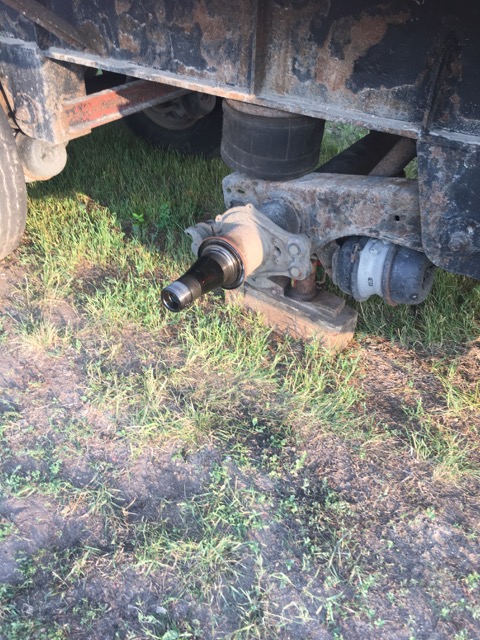 ...next is to remove the large bushing retainer bolts, lower the axle assembly, and press the bushings out with 40,000 lbs of hydraulic pressure!...
                                                                                                                                              ...July 31 2021...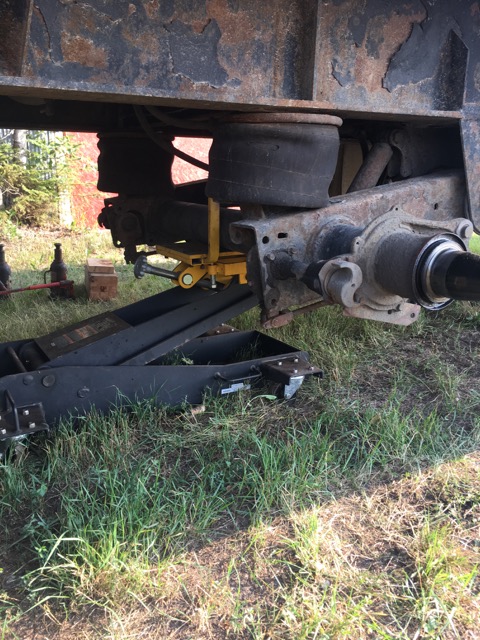 ...my giant transmission jack doubles nicely as an axle jack...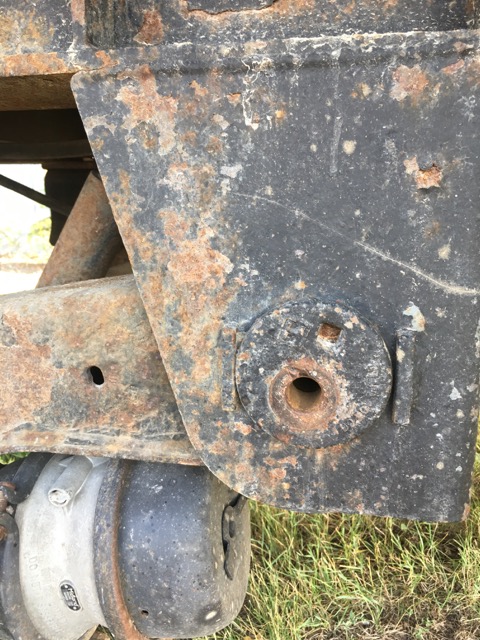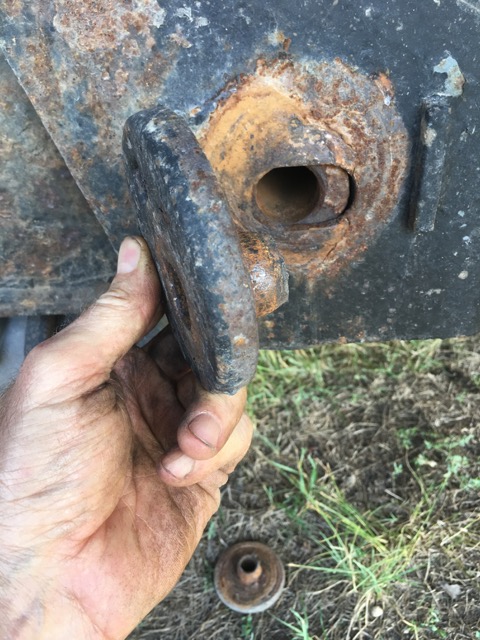 ... bushing retainer bolts and alignment caps removed ...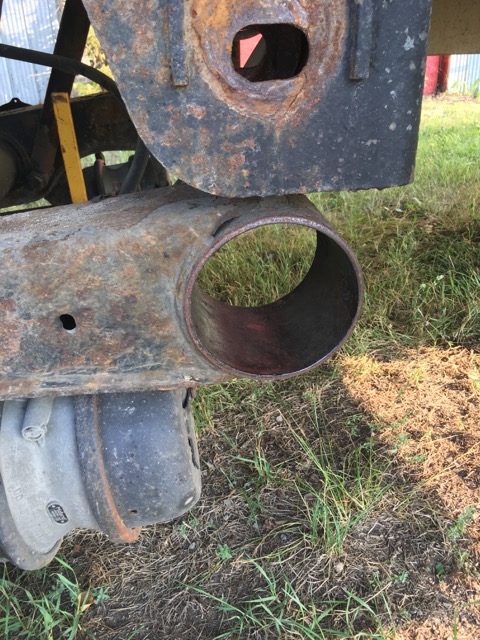 ...suspension arm with old bushing removed...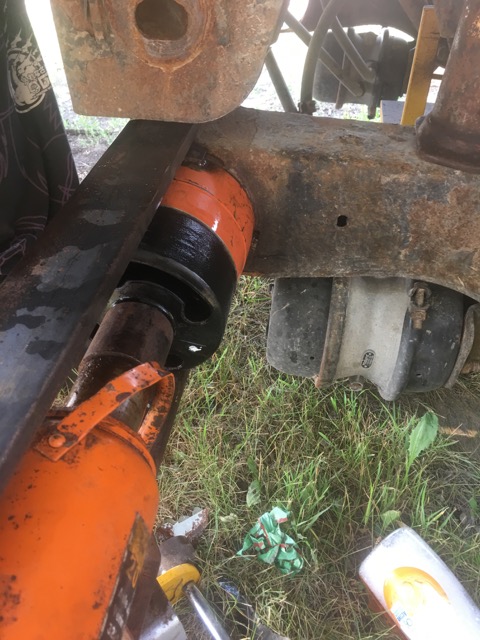 ...pressing in new bushing with homemade press and 20 ton hydraulic jack..., and soapy water!...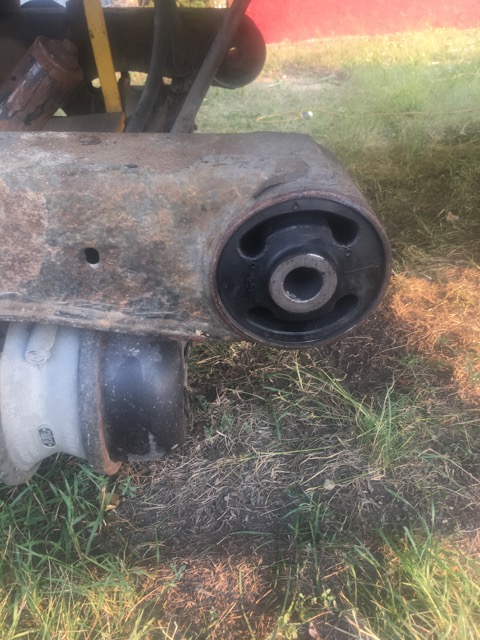 ...new bushing installed...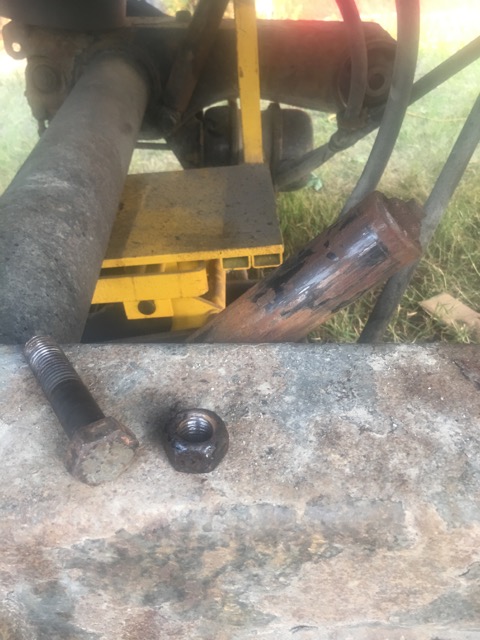 ...picture shows shock absorber broken in half,..decades of criminal ,so called " Governments"in Canada has seen our road systems basically destroyed,.(progress!)...
                                                                                                              ...just a little offering in the department of " Old vs New"...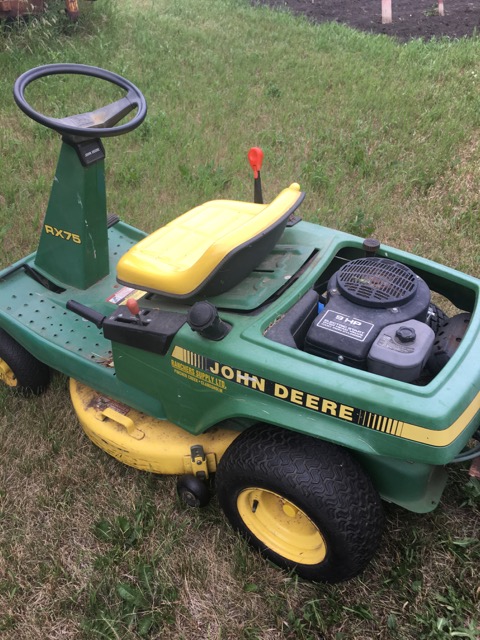 ...this is my little " Ridem ",..built in the late 80's,.still alive and mow'in...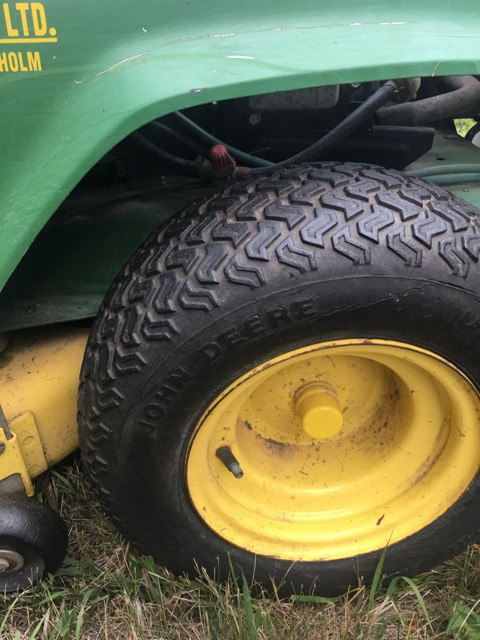 ...probably trimmed a thousand acres by now,..yet 3 tires are original!...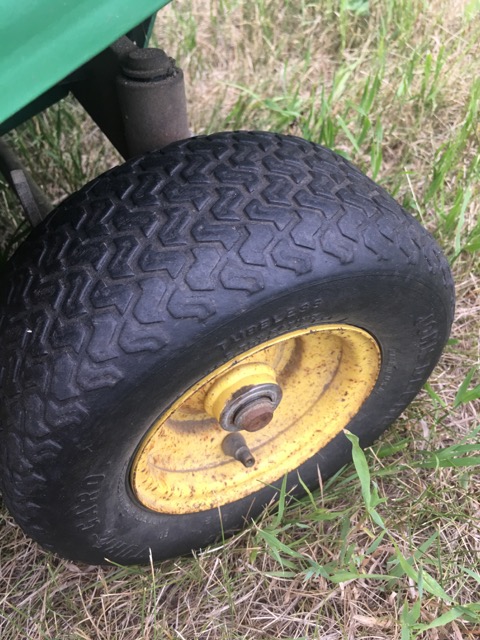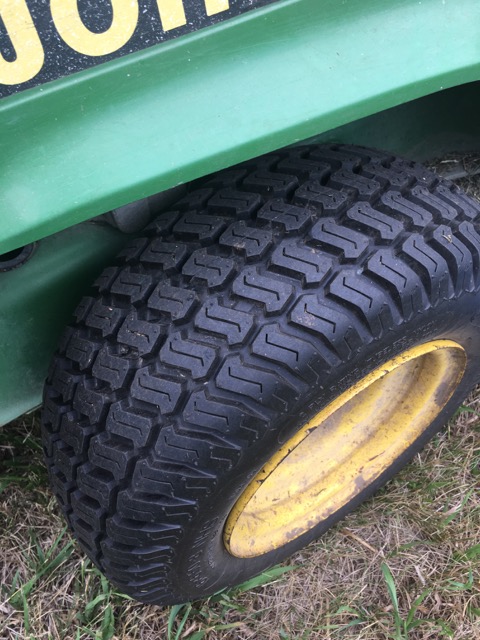 ...first new tire installed just now, (July2021 )...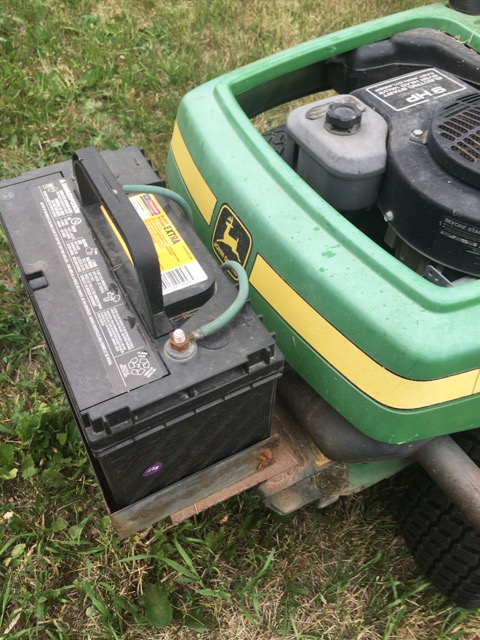 ...starting was sluggish with original small ( expensive ) battery,.starts instantly now, ( and has more traction!)..I replace all 5 of the batteries in our highway tractor each 
                             fall , on a preventative maintenance ideology,. so I have plenty of spare batteries. ( temps hit - 40 here,.no place for weak truck battery experiments! )...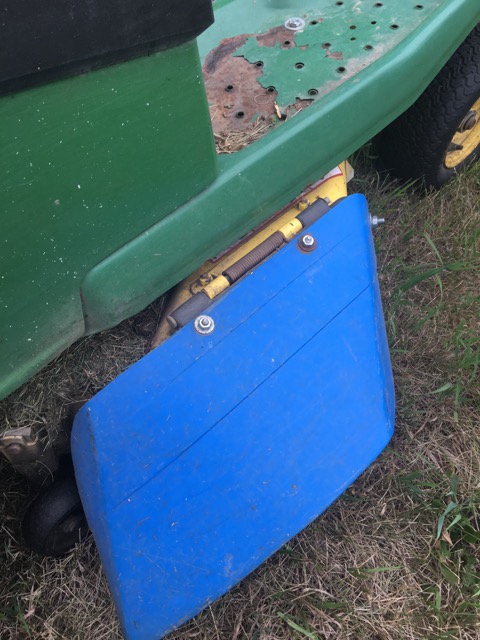 ...grass chute was smashed from decades of collisions,. so I built one from a heavy plastic barrel,..over it's life I replaced the transaxle ($240) , both belts, blade, and                                              mandrel bearing, ($110),.and a spark plug ($5?), plus one tire, ($35)...not bad for over 20 years of service...
     ...250,000 miles on two wheels, and a Blacksheep attitude prompted me to build my own " Gentleman's Adventure Bike",..cuz I reasoned that if I could cross the interior
                            mountains of Vancouver Island on a logging road, with a full dress Goldwing,..I could pretty much go anywhere on a modified CB500...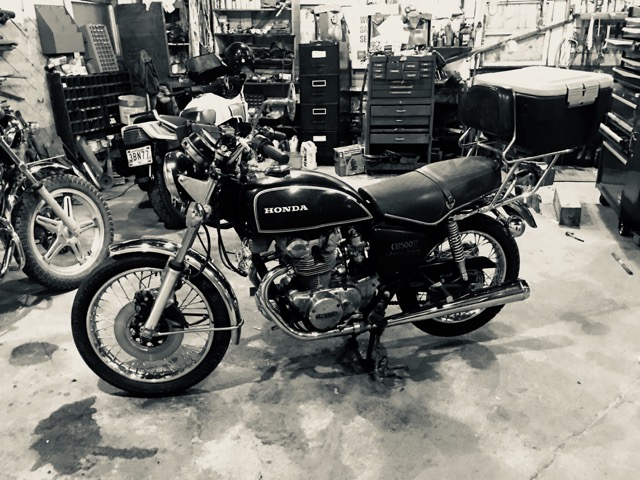 ...got this little gem by "horse trading",..an old horse trailer ...I suppose I have $500 invested,..while it does have the weakness of chain drive rather than shaft,..
     it uses dependable carburetors instead of flimsy fuel injection, and has ignition breaker points instead of CDI...it will also run with a dead battery..or NO battery..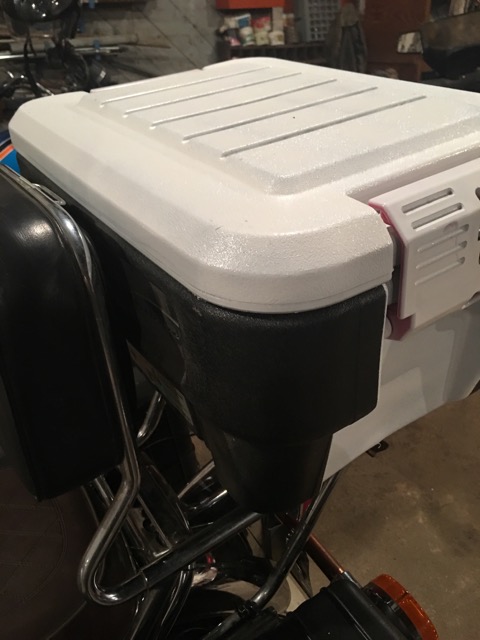 ...the rear luggage rack was originally used on my 400,..the "travel trunk" is a $12 storage item from Canadian Tire ( chain store),..it's cheap ,light, and waterproof...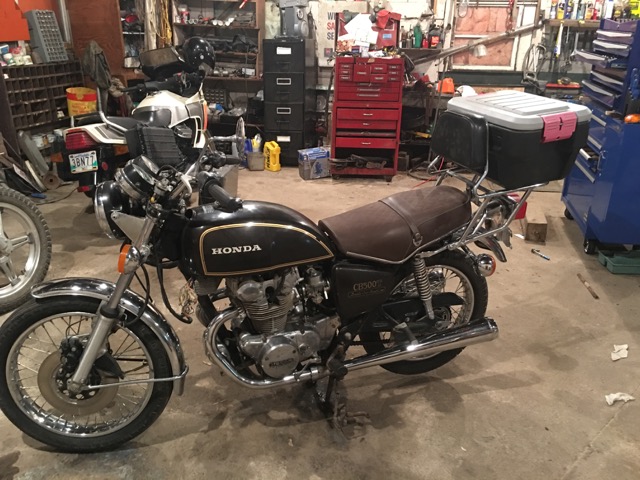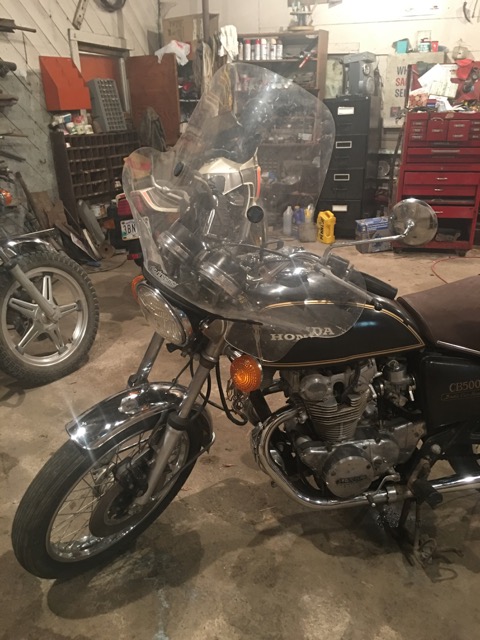 ...the windshield was also borrowed from the 400 in it's days as a street bike..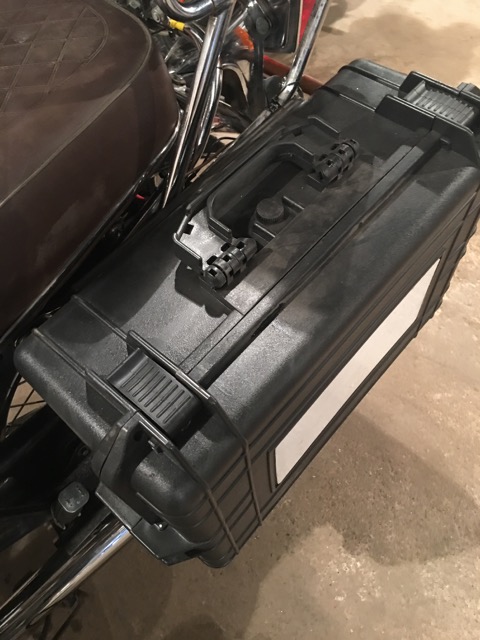 ...as this machine is large and powerful enough carry two people,and I live with the hope that one day I shall be reunited with my partner..I used larger "instrument cases'
                           in this build,..high quality, waterproof, economical ( $60)...they have legs like suitcases, and could be made detachable ,..but I was just too lazy...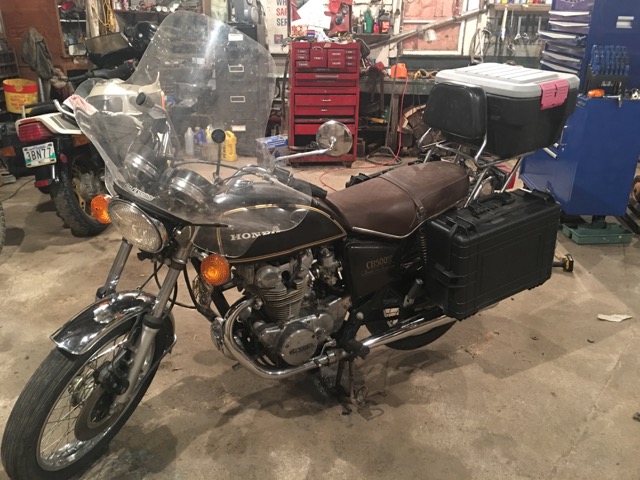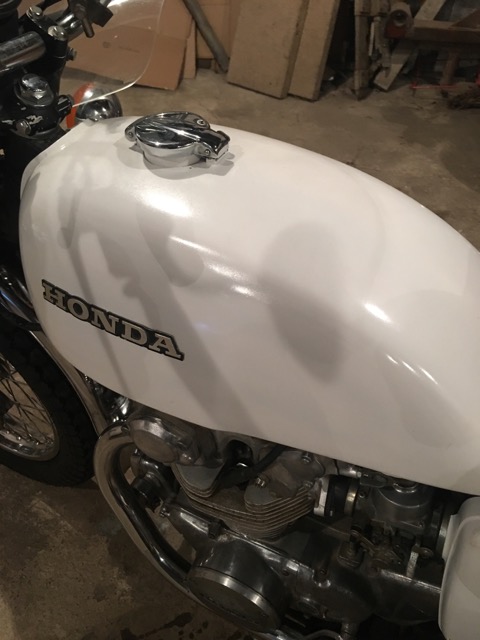 ...on a whim, I decided to change the color to white..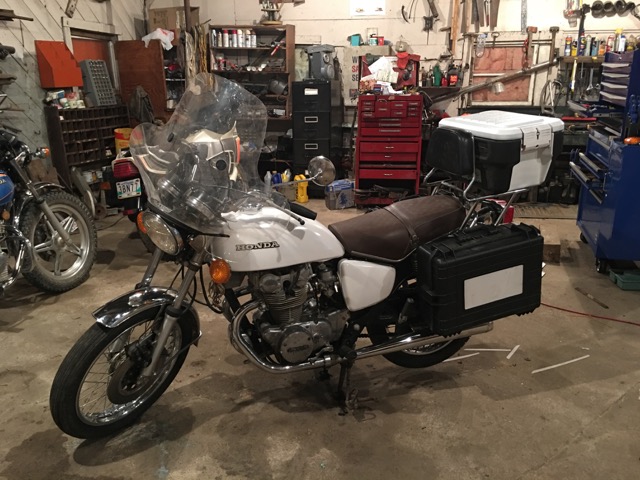 ...a white sheepskin cover for the seat will complete the color scheme..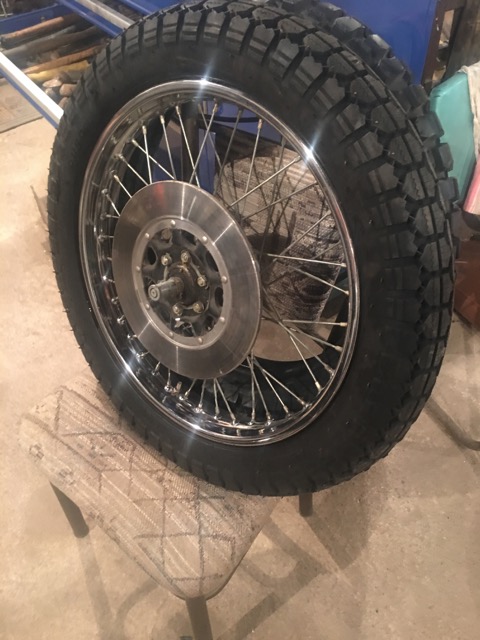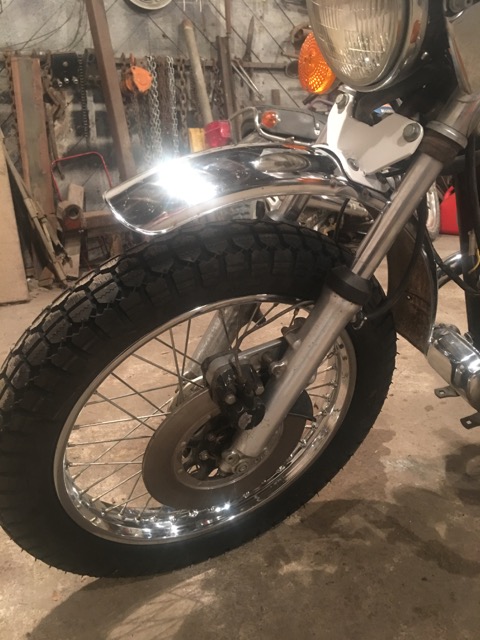 ..the original smooth street tires were exchanged for "dual purpose" offerings..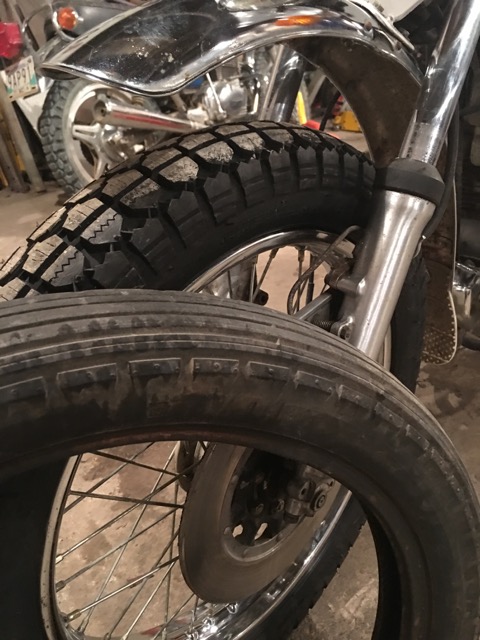 ...incredibly, the original tires were still serviceable , if perhaps alittle dry...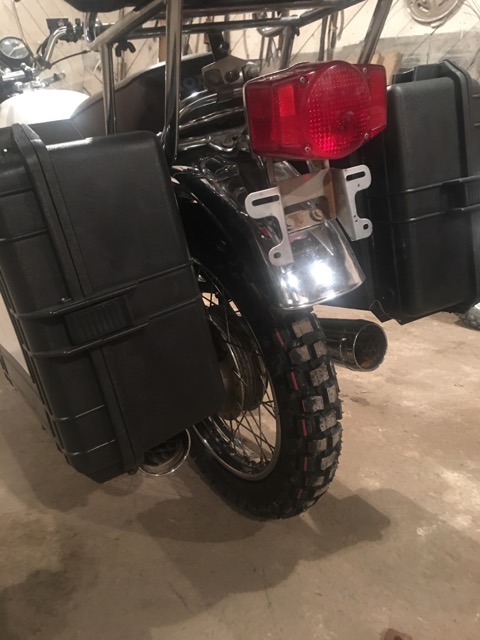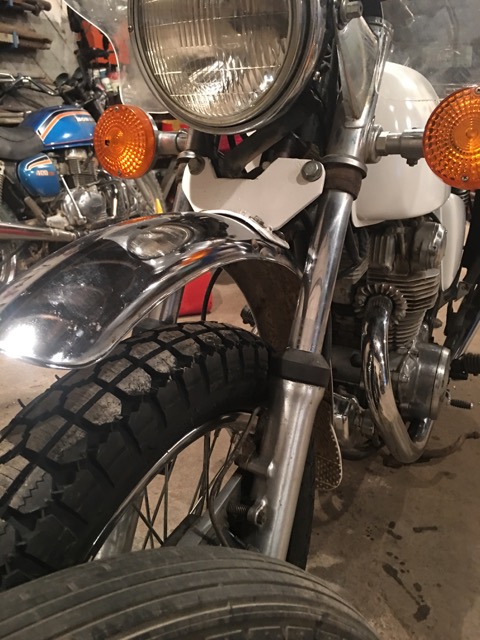 ...while the ground clearance was adequate for the riding I do, I needed to raise the front fender for mud clearance...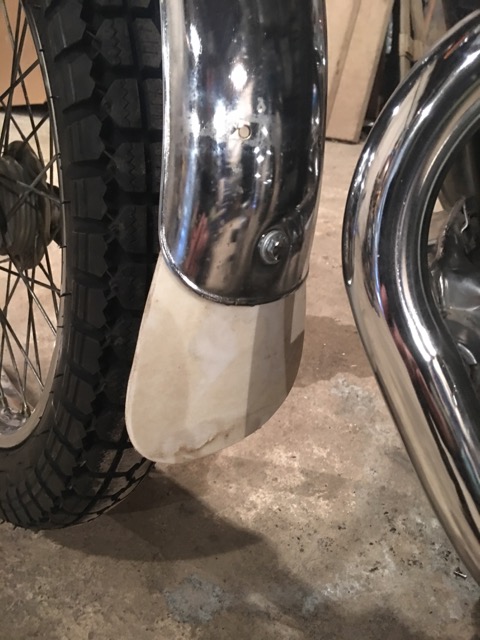 ...the fender was simply extended with a piece of nylon tractor trailer mudflap...
    ...so,..in closing, this is a capable, dependable, serviceable entry into the " Adventure Bike " market...for an investment of under $1000, while contemporary ideology
     suggests one must spend $10,000+....this pretty much typifies the difference between thinker/doers...and poser/followers,..this rift is apparent in all aspects of modernity...
                                                                                                       exposing this rift a main aspect of Prolitarianpioneer.com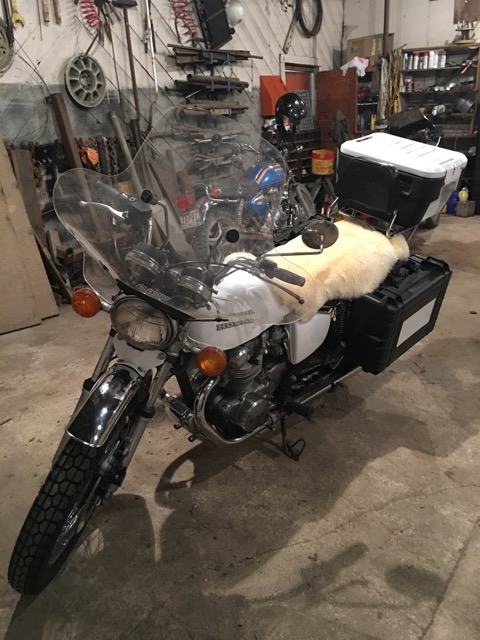 ...sheepskin for the seat is the final touch!...
                                                 ...A little peek at my $20 "baby rat trailer"..
                 ..yet another aspect of my addictions,..both motorcycling and narrative challenging,..I built this little rascal in 1993, from parts salvaged from our local dump..
               ...( in those olden days, one could still recycle...while it has now become illegal),..seems abit contrary to their "Eco-Scam-Green-Bullshit-Dogma"...but I Digress..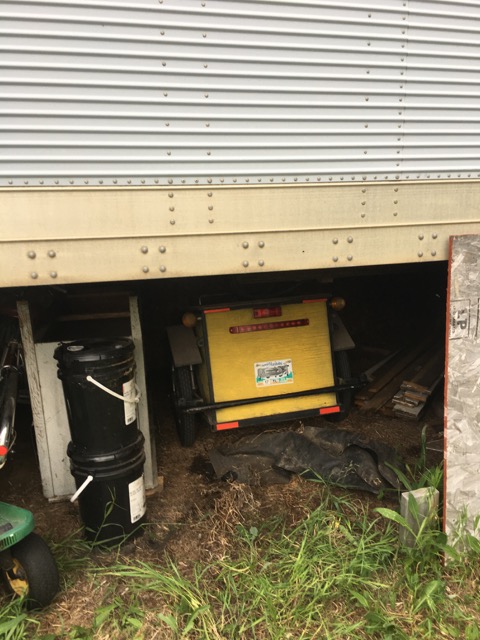 ..the little fellow has been hibernating patiently under my storage trailer now for many years...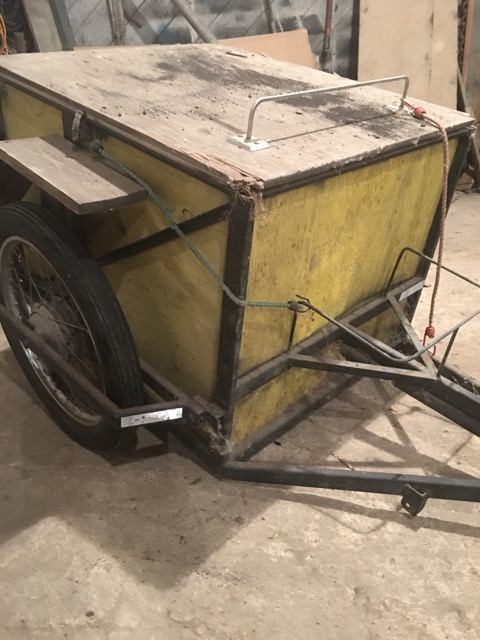 ...hmmm,..he is looking alittle crusty & dejected...28 years old, countless thousands of miles...haven't used him much since I began "Showcase Touring"...
                                               ...(I trailer the machines now behind my various motorhomes,.ride general areas..and return to motorhome at night)...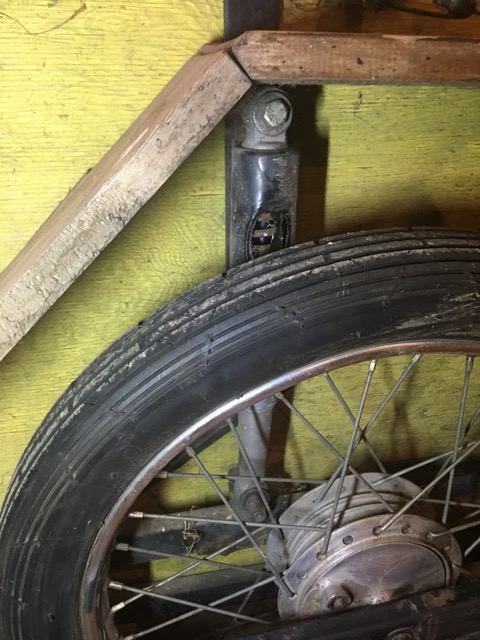 ...most of the mechanical bits were donated by a discarded carcass of a 90cc Honda...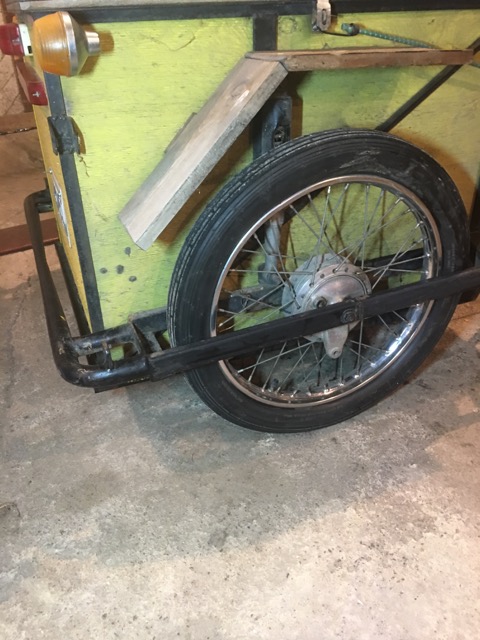 ...it was gamble whether or not the spoke wheels ( designed for vertical stress ) could withstand the sidedraft of this application, but they remain unscathed...
                                                                                                             probably due to the short wheelbase of the unit..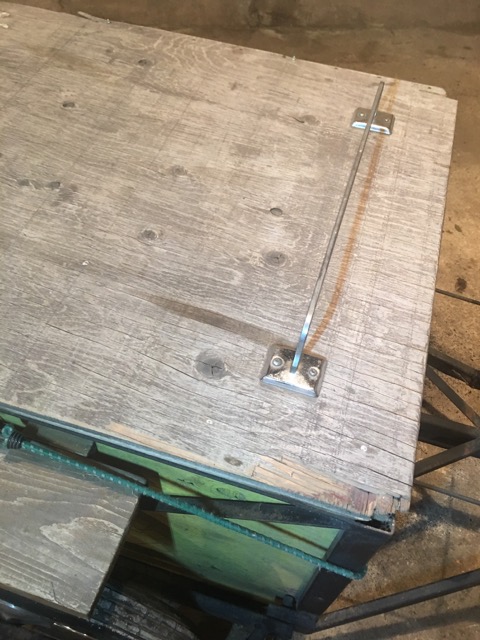 ...the "lid", a chunk of thrown away 1/2" plywood, looks a little rough cuz it was torn completely off, landing on the highway, during minor tornado in southern
                                                                                  Saskatchewan,..circa 2003..the old towel rack is for drying garments while touring...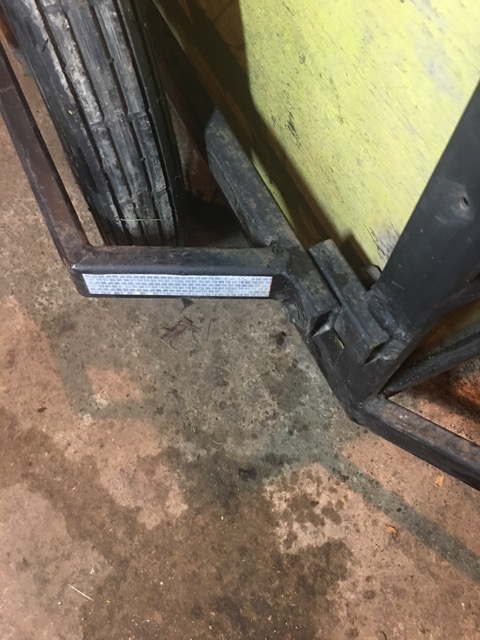 the suspension system utilizes a " horseshoe "design to allow maximum suspension travel ,while allowing super low centre of gravity,.the pivot points are merely
                                           3/8 bolts without bushings, but have survived due to very little actual rotation ,..the frame  metal is just random scrap iron...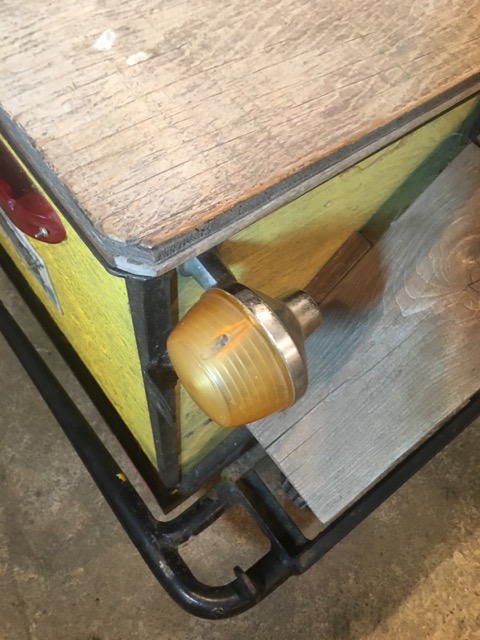 ...the signal lites are from the aforementioned Honda 90,..the sides and floor are chunks of discarded plywood,. the fenders are pieces of old 1x6"boards, varnished..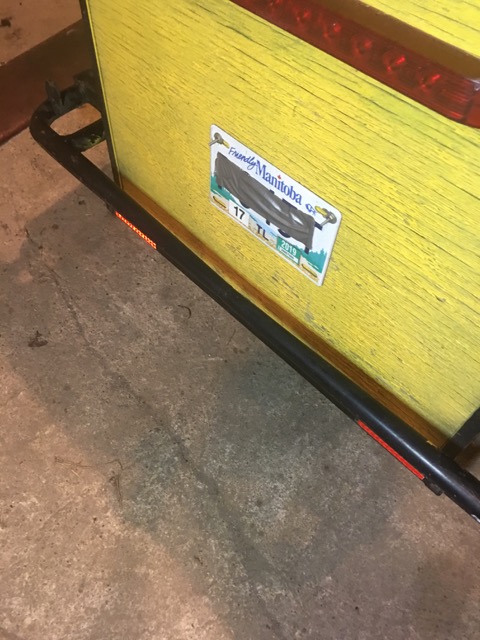 ..the pipes forming the rear section of suspension frame are legs from discarded school desks...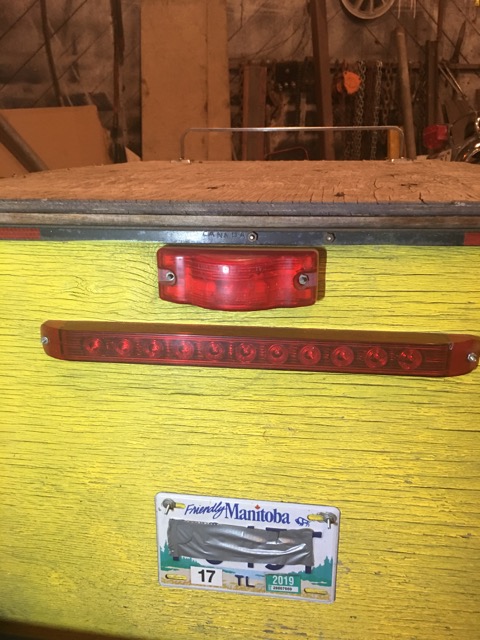 ...the small tail light on top is original,...it cost $6...the LED brake lite was added in 2005..($25)...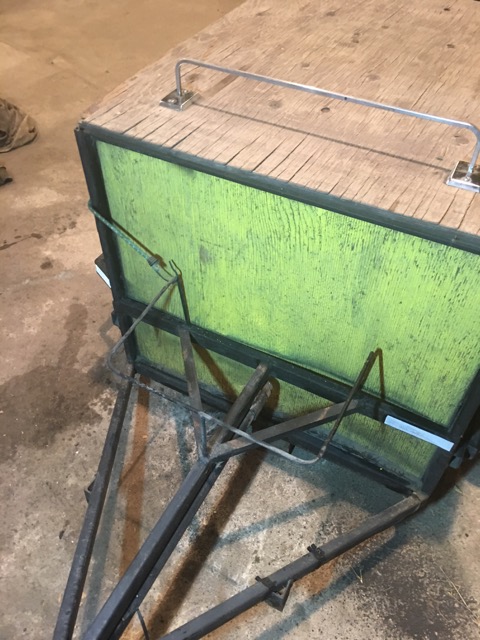 ...the frame work on top of hitch is to hold cooler..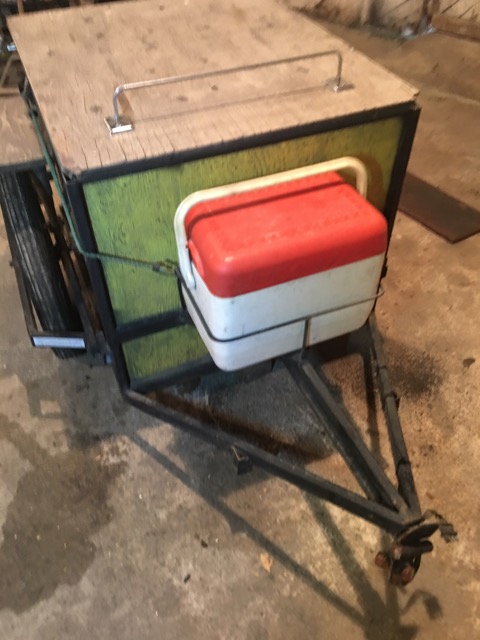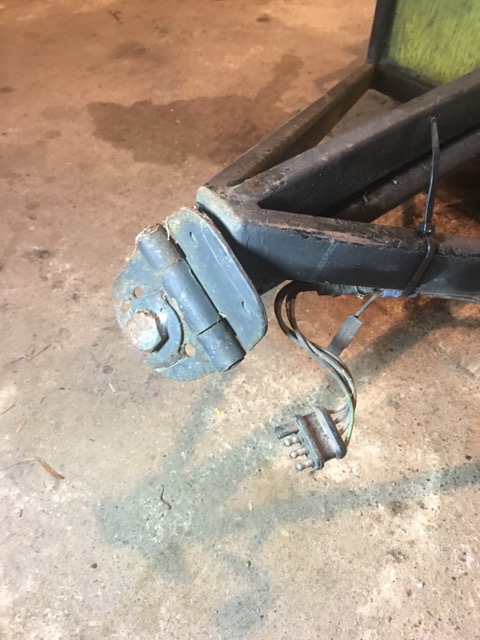 ...the "hitch " is an old barn door hinge cut down and welded to a rotatable tube to allow bike lean independently  from trailer...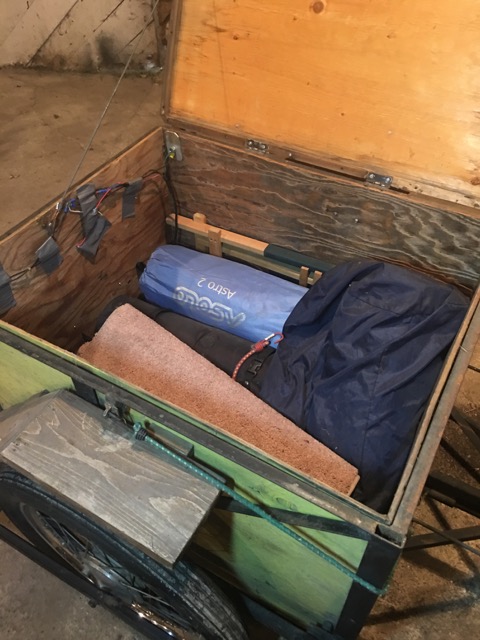 ...while the little guy has been proven to carry up to 250 lbs,.. over time Igraduated to lightweight mountaineering style equipment to keep load weight down....
                                                                                                                and leave room for jackets, helmets, etc,.and souvenirs!...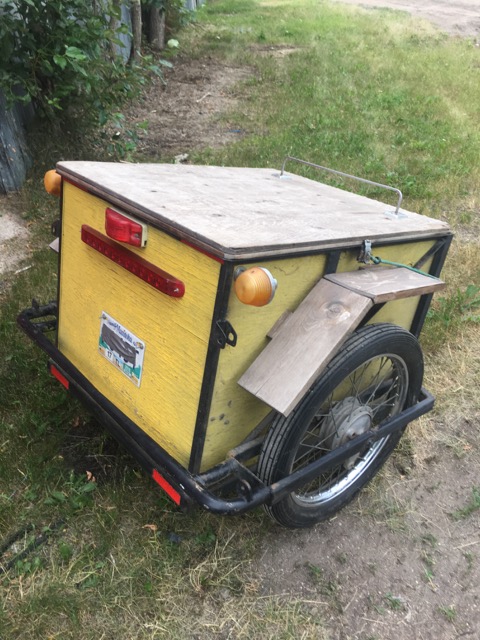 ...so,..$6 for a tail light,..&  $14 for hinges and latches =$20 trailer,..subsequently wore out two sets of tires,.and added $25 brake lite,..28years service, no breakdowns..
                                                                            June 2021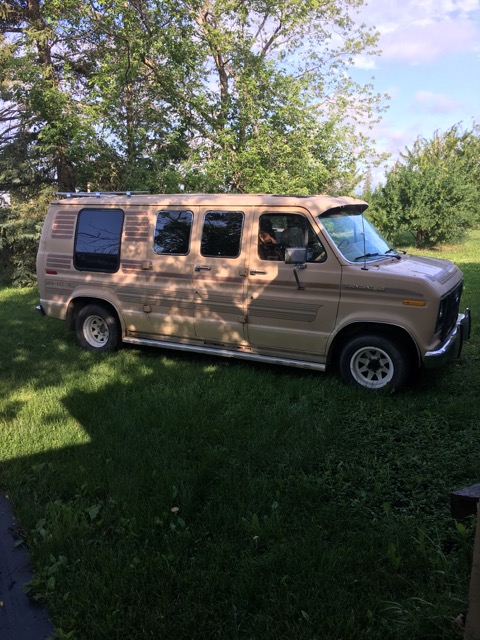 ....okay,.now June 2021...Tanvan has now made 3 trips to the west plus general usage,..I sold the turbine rims&tires and bush guard for $500,.so I'm back to zero...
        turns out the old girl wouldn't run cuz it had an improper carb installed, plus the fuel pump diaphragm had ruptured, filling the crankcase with gas. Fortunately the
                                       351 Windsor has a nearly indestructible bottom end,. so I merely changed oil, then proceeded to install an electric fuel pump...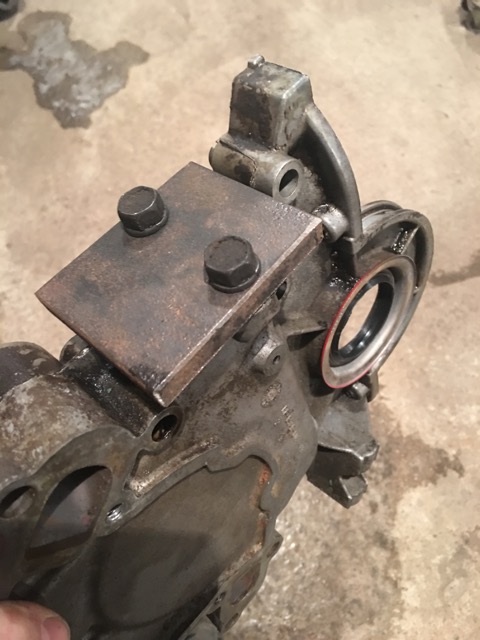 simply blocked the mechanical fuel pump hole with a plate...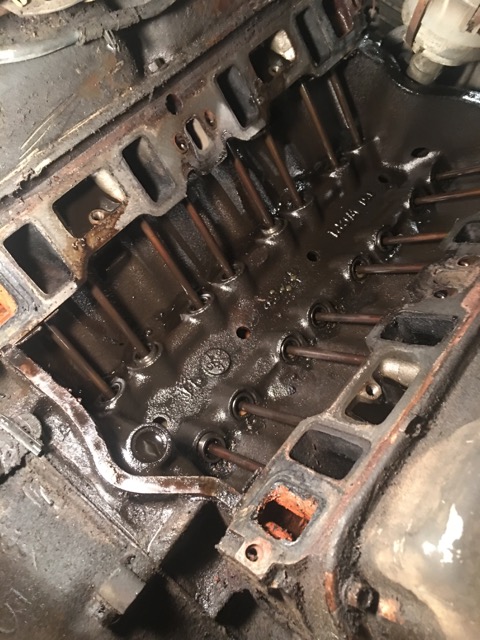 ... in addition to removing tons of smog creating garbage,..I installed a dual plane aluminum intake...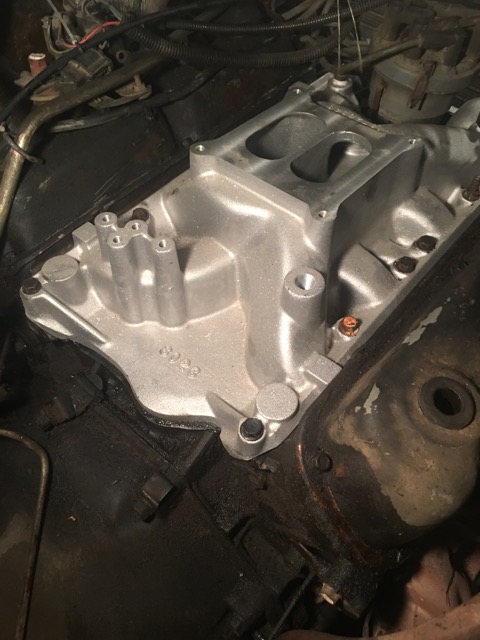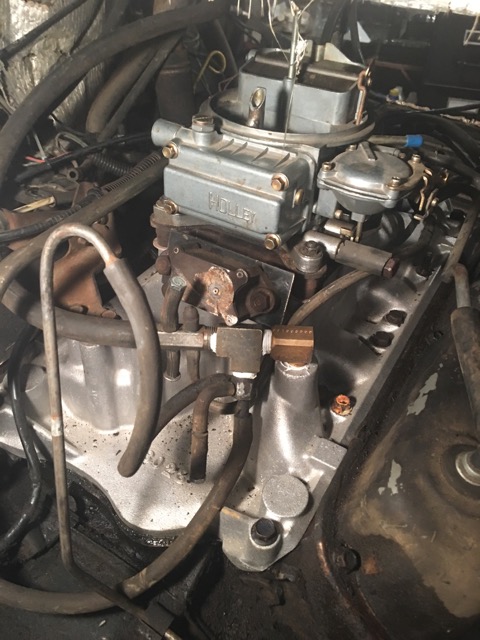 ...and a Holley four barrel...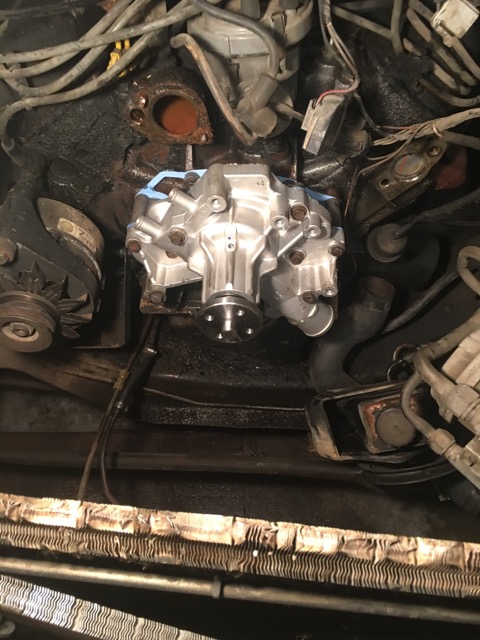 ...plus a water pump for good measure...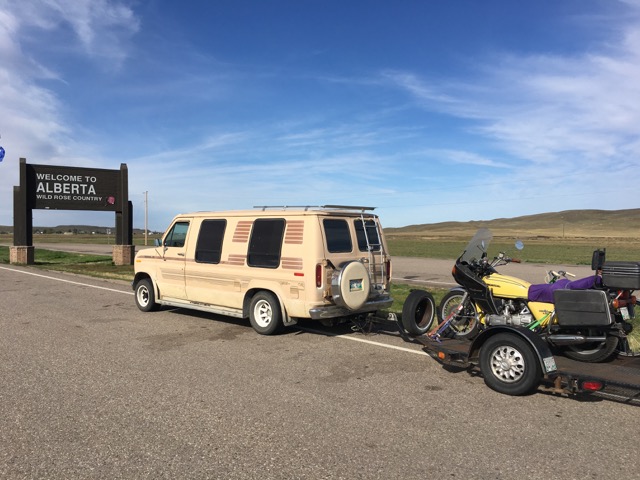 ...I also installed a 2&1/2 inch exhaust system, new front callipers,pads& master cyl...the giant rubber and rims are from Old Blue..
                                                                    ...last trip mileage was 13.7 towing a trailer...investment is now $1000,..or $46 per month to this point...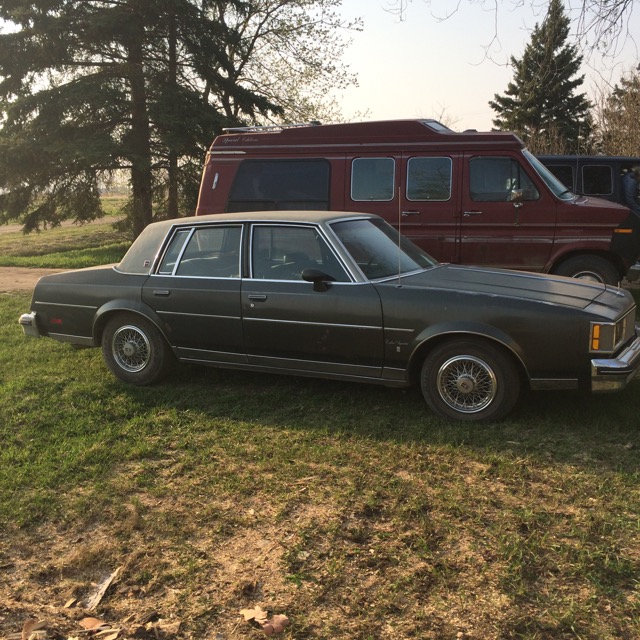 ...1983 Olds Cutlass Supreme, 305, 4V, Turbo 350, 50,000 miles, cost $3000, ( has to last 60 months)...
                                         (..update..June 2021,..replaced starter,radiator,water pump, four sets of tires,..investment now $4200,..$19.50per month to date..)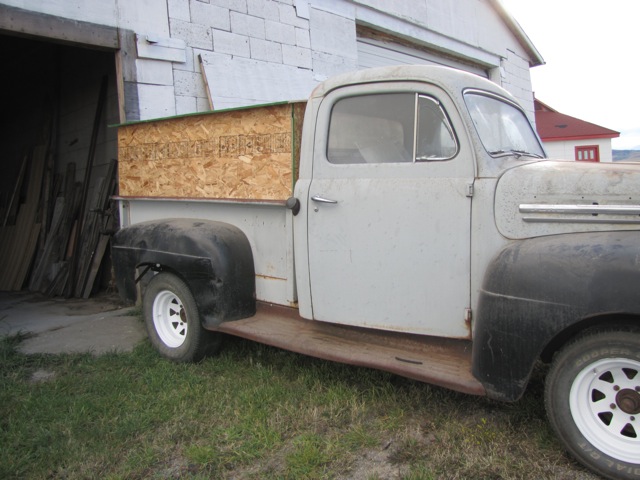 1952 Ford...cost ?...has to be rebuilt...
This section is just for fun...a collection of "Prolineer" equipment...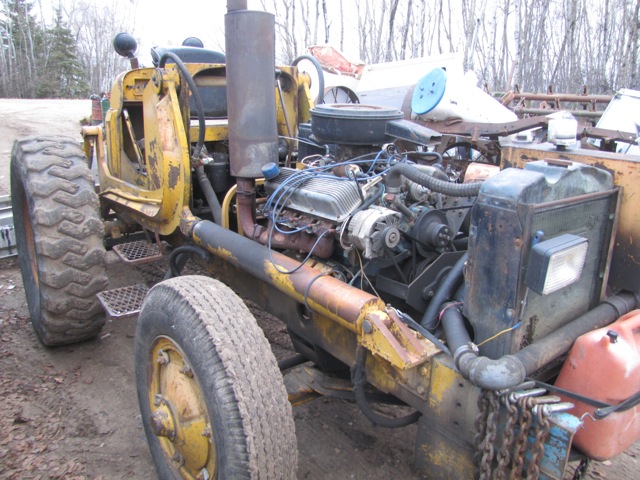 1950's small wheel loader...with 400 cu in V8...Yeah it runs real good!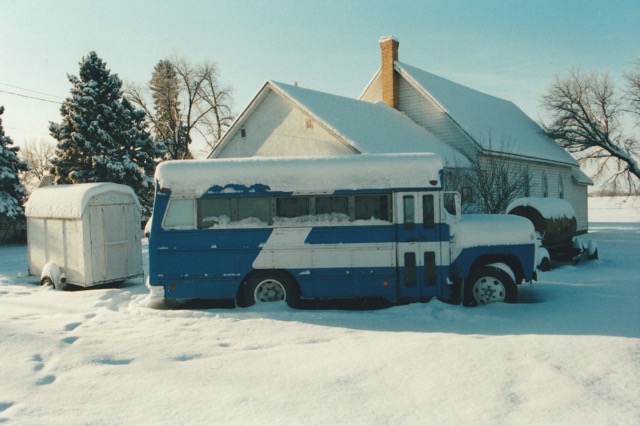 RatBus&Rat Trailer @ Made&FoundManor...1993
1967 Ford School Bus...5 speed manual, 330 cu in FE block, factory balanced, roller cam chain, full skirt pistons, 3600 rpm normal operating speed...THEN relieved, with added 429 heads & 428 scj cam...Yeah, it runs real good!
Mileage is unknown...hundreds upon hundreds of thousands at least... five trips to the west coast under my steerage alone. There is no apparent reason that it will not remain serviceable for at least another couple hundred years .
(Yes, it is not a tender modern vehicle)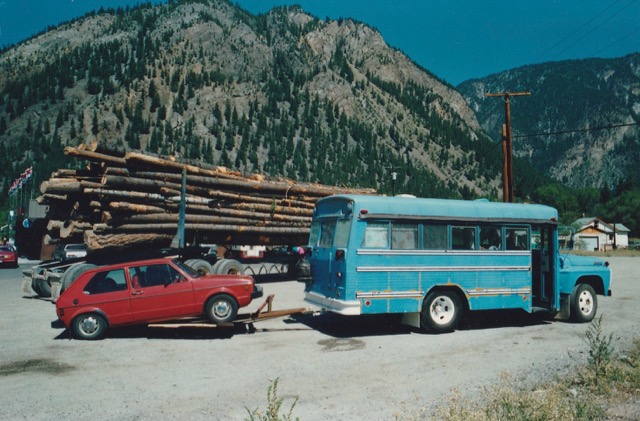 RatBus&Rabbit...Okanogan ...1986
The "Rat Bus" has been modified continuously by me since 1984...the tiny 8:25 rear tires were replaced with 9:20's for little more ground speed. On three occasions I have removed leaves from the rear springs to achieve a softer ride
                                    ..our antique Cockshutt 40 unloading reject fence posts...a trial approach to winter wood supply..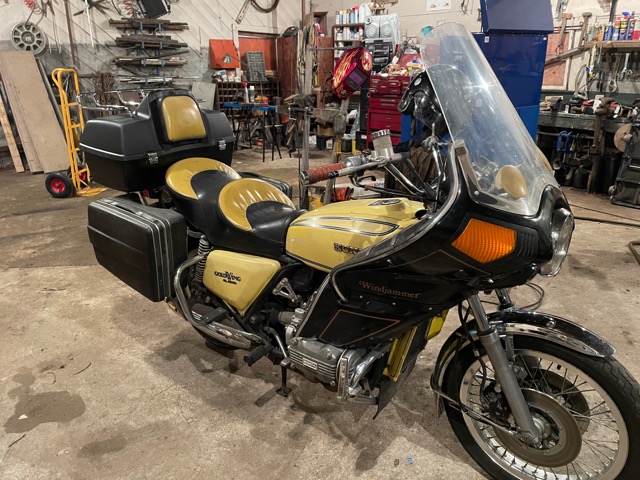 ..fall 2022,.antique Gold Wing " BumbleHorse ", sporting a " new " topcase from 90's Aspencade..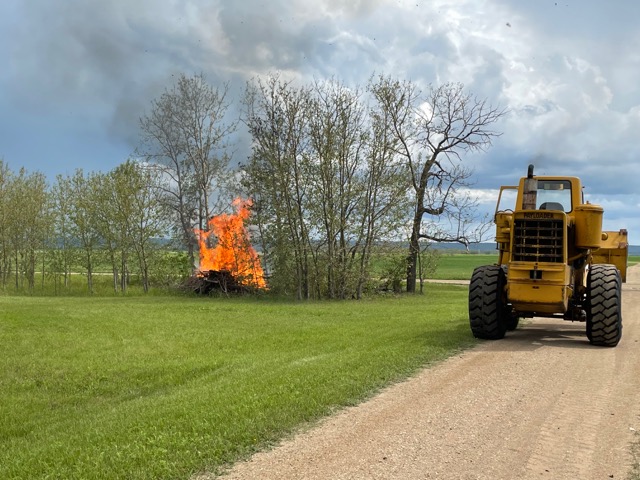 ..our giant antique wheel loader " Tonka ", standing guard by a rubbish fire on our property..
                             ..The interesting story of the "Rat Box " trailer..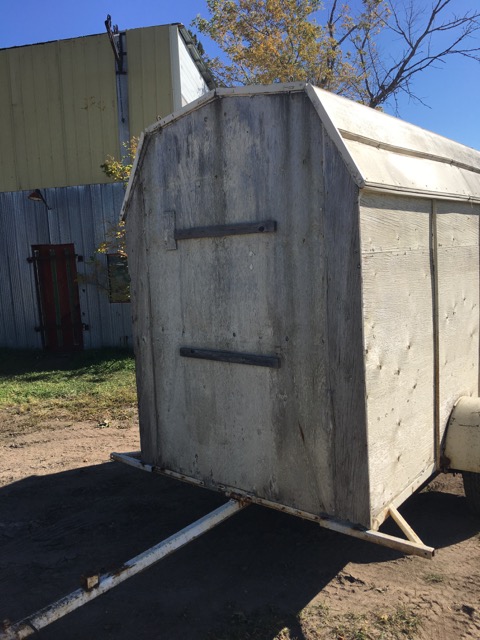 ..This little old fellow was built on a whim in the early 90's..
                            ..built almost entirely from discarded materials,.on a flat floored trailer that I got in trade for a $40 car..
                                           ..the " roof ", is 6 sections of discarded garage door panels retrieved from the garbage dump..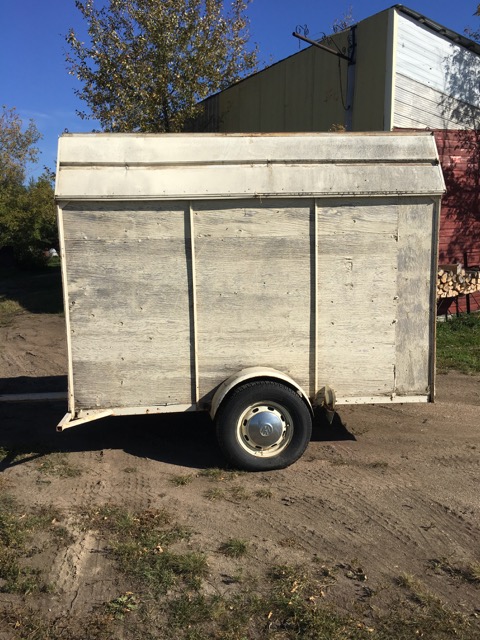 ..the walls are made from discarded 1/4" plywood,.the metal frame is 1" 1/8" angle iron ( new )..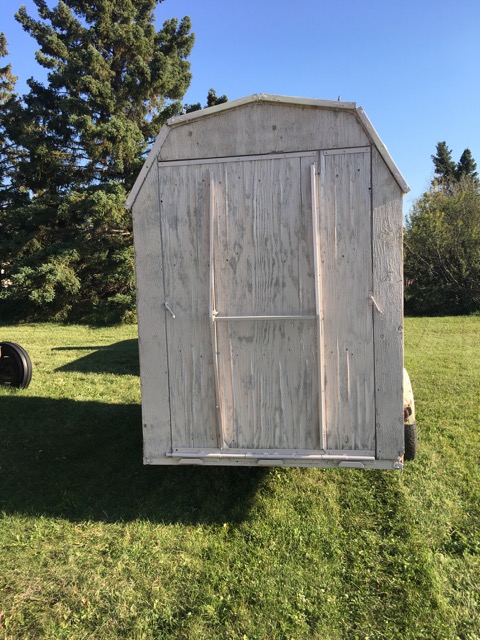 ..the wheels are high quality 1950's Volkswagen units, bearings have been repacked twice in 40 years!..
                       ..the door was made " drawbridge" style , originally for ease of loading and unloading,.but became invaluable when 
                        the trailer began to be used as a motorcycle hauler..the 4x8 sheet of plywood that forms the door was also purchased new
                        ..thrown together in a couple days, it has now travelled many thousands of miles in its 40+ years ( I write this in 2023 )..
                                                  We challenge the heavyweights too!
  The phoney conventional narrative, and subsequent production of inferior, garbage equipment is not confined to the domestic markets,..it is rampant in the heavy duty arena as well.  I have spent a lifetime in the  heavy transportation industry, have designed and patented world leading equipment, and continue to research and design in that arena,...so I am well qualified in my assertions and challenges of " modernity".
  One of the pieces of equipment utilized in my research is a 1999 "super B" double trailer configuration. It's replacement cost is now approximately $150,000,..the PROBLEM is that modern trailers are so poorly built, they are simply not worth purchasing,..so, of course, I decided to rebuild my own trailer, improve it even more than original, and see what it ACTUALLY costs. ( Yes I am capable of welding, machining, wiring, etc, etc,..but so are most Prolineers )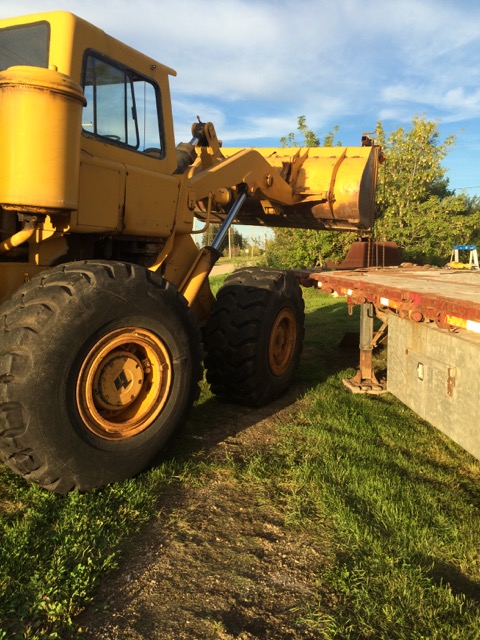 New upper 5th being held in place for welding by " Tonka",( my $100,000+ giant wheel loader that I purchased for $4,500, then repaired for less than $1,000,..it's story will        
                                                                                                                                              reach these pages eventually...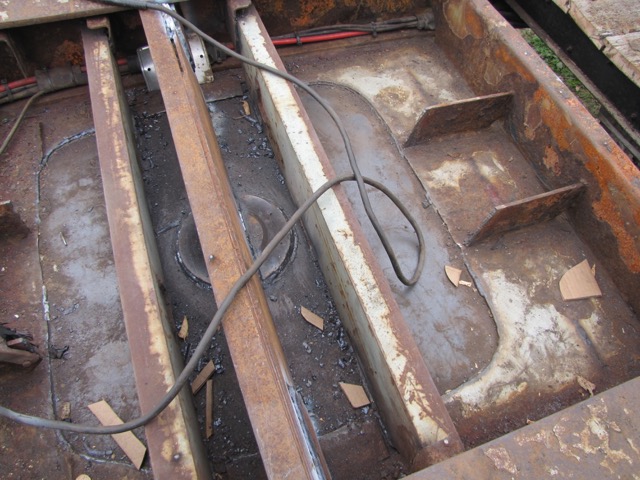 Even though these trailers were built in 1999, and are twice as strong as "modern " garbage, the upper 5th wheel plate was only 1/4 of an inch thick,...I replaced it with a much sturdier 3/8" offering, and made the supporting crossmembers twice as heavy as well...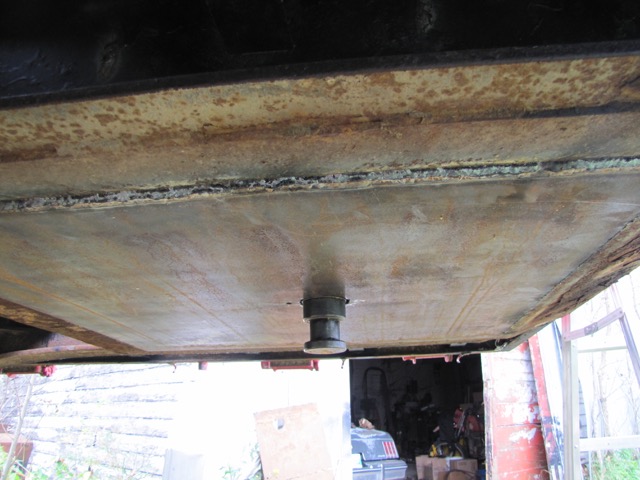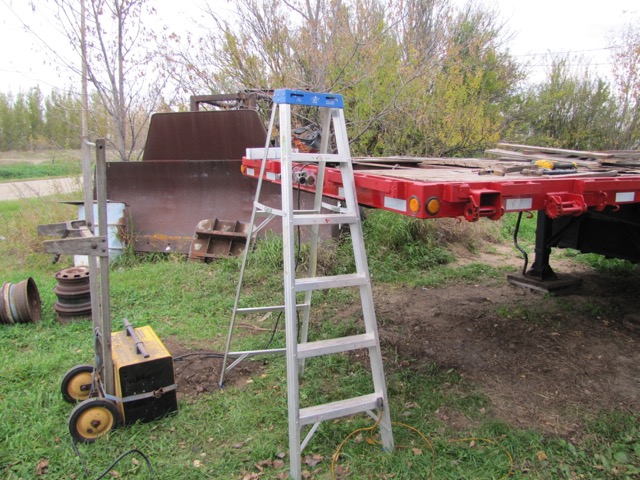 Plenty of exercise climbing up & down!...the original (20 year old ) oak flooring was becoming dry and brittle,and would be replaced by experimental polymer  coated 15 ply 
                                                                                                                                             Douglas Fir plywood,..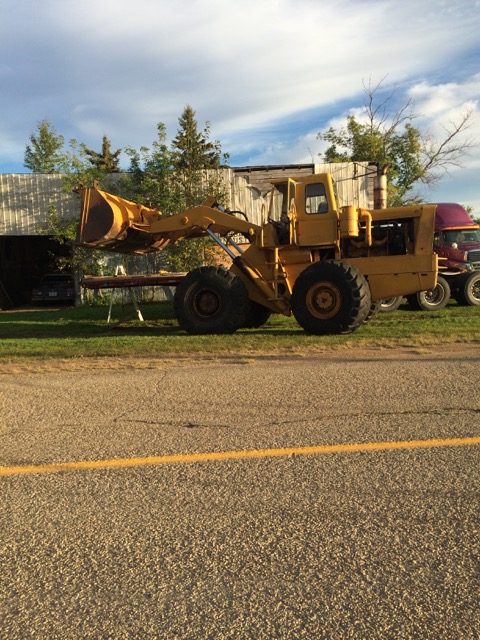 Another upper 5th being held in place...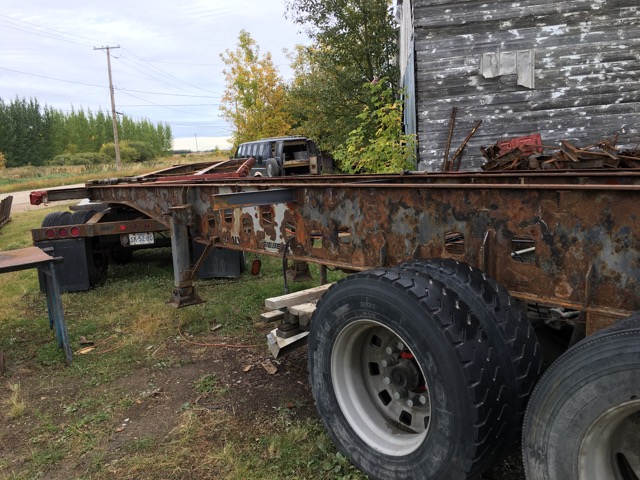 Slowly removing outer rail and crossmembers, a plasma cutter is essential for this job, but they are now very reasonably priced, ( and every Prolineer should have one in his/her
                                                                                                                                                        tool collection..)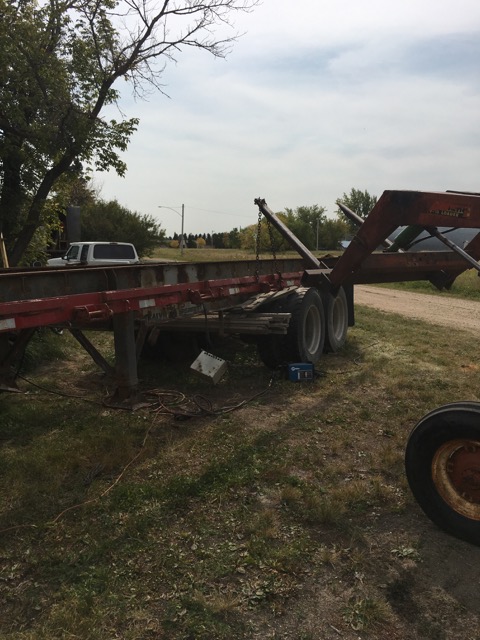 An outer rail being lifted by my antique $1500 front end loader, ( yes, that's another story to come)...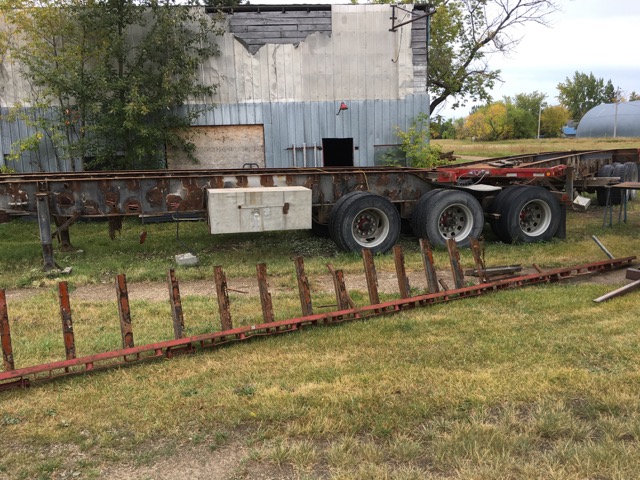 This is that point in a project when you wonder if you should have started, lol...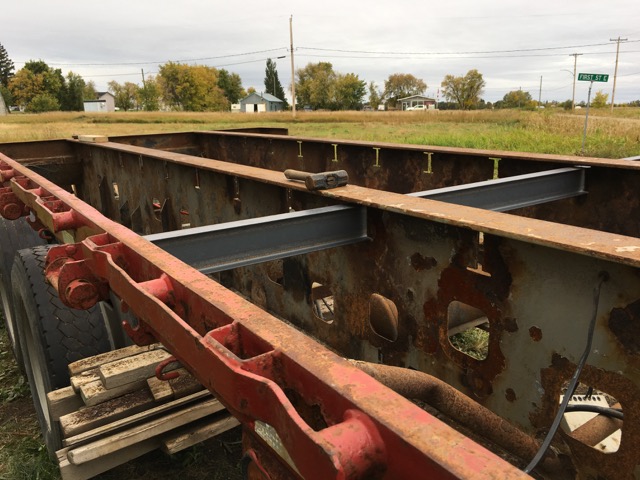 By far the most arduous & time consuming part of the project is removing the endless crossmembers, and trimming the precision holes in the main frame web,...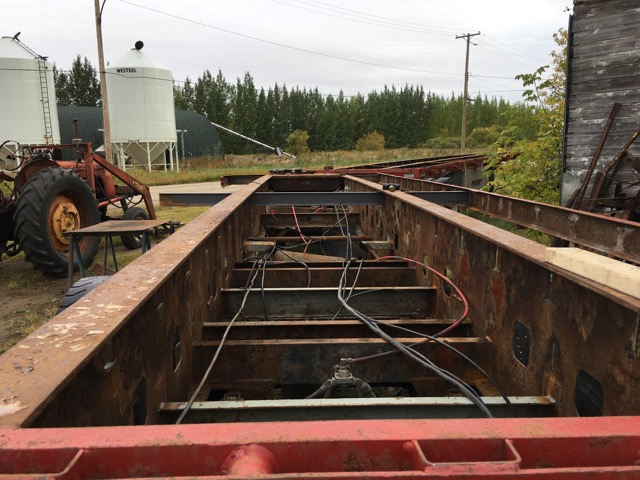 Without crossmembers for attachment , the air lines & wires look like a bird's nest!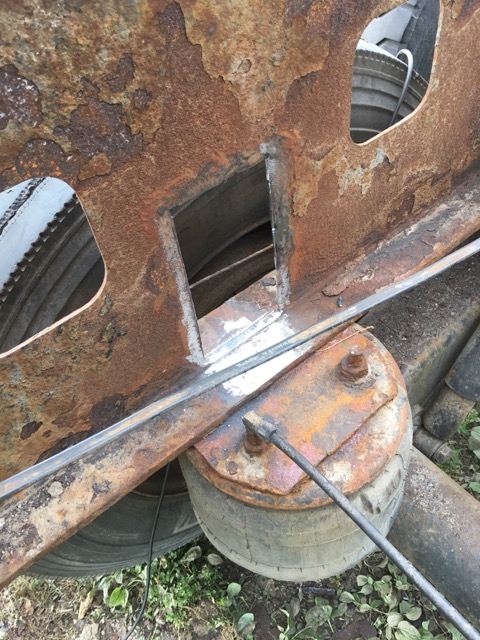 Original crossmembers above air bags were tubular, always a bad idea in Kina-Duh, so we are replacing them with sturdier, rust proof channel irons...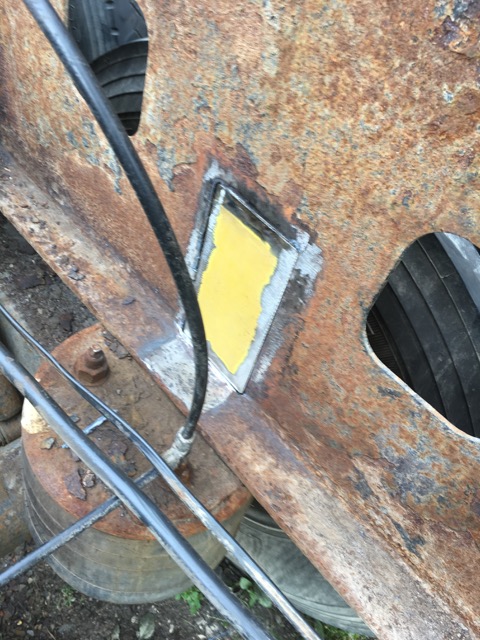 Frame web was rust damaged where tubes were mounted, so area was over-trimmed and had new metal welded in,...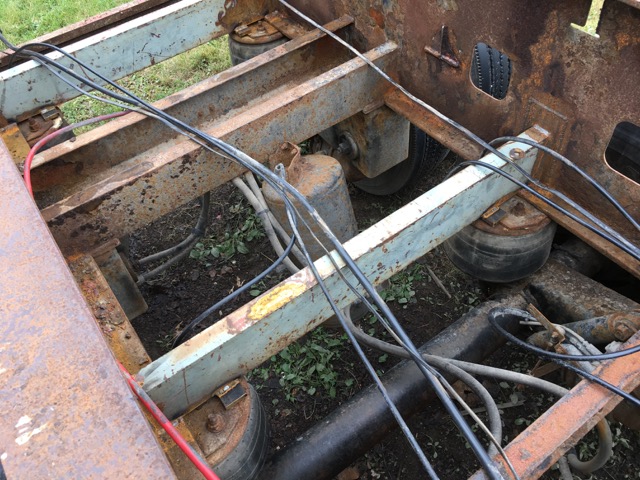 New lower crossmembers appearing ...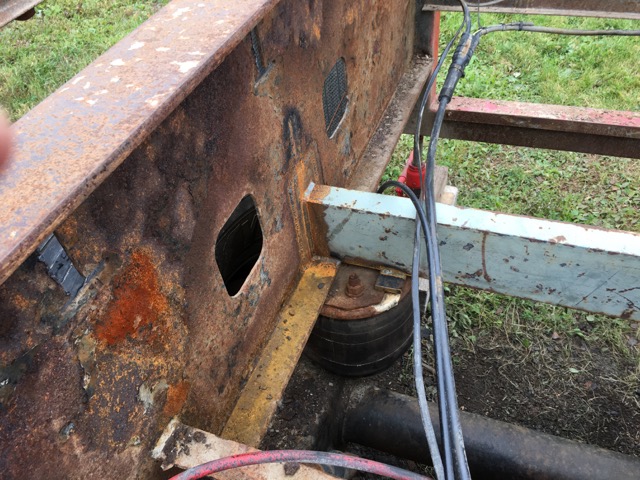 This photo clearly shows the heft & depth of frame and web, easily twice that of rubbish being sold today,..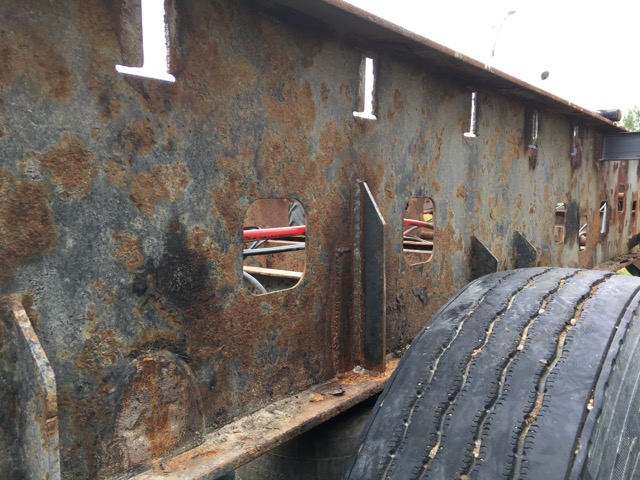 Taller gussets were added on exterior web at crossmember ends,...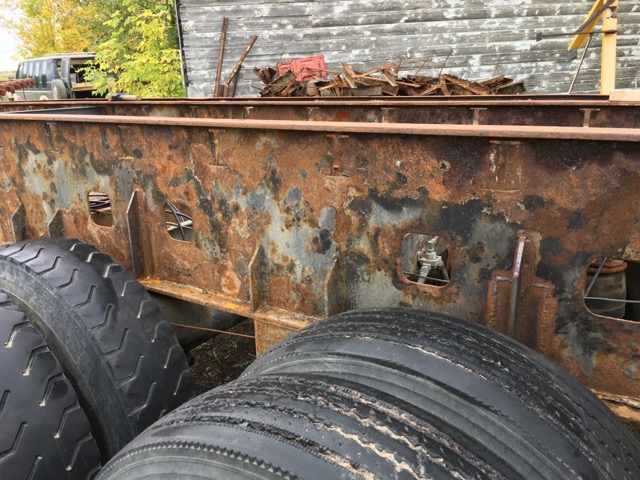 Main frame rails slowly getting trimmed clean enough to begin installing floor crossmembers,..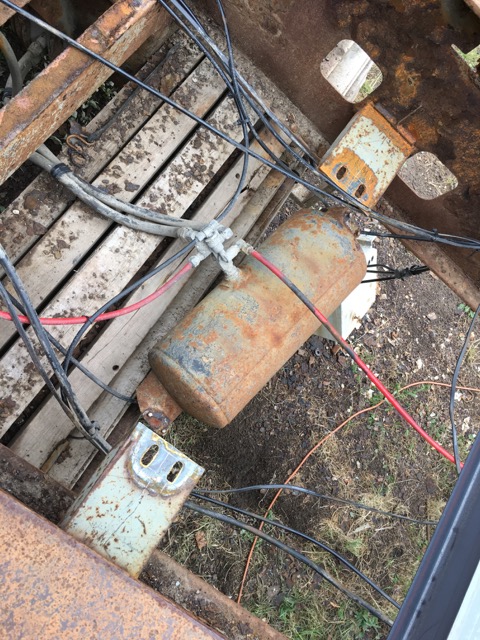 Original air tank mounting brackets were insufficient to survive another 20-40 years, so new sturdier ones were installed,...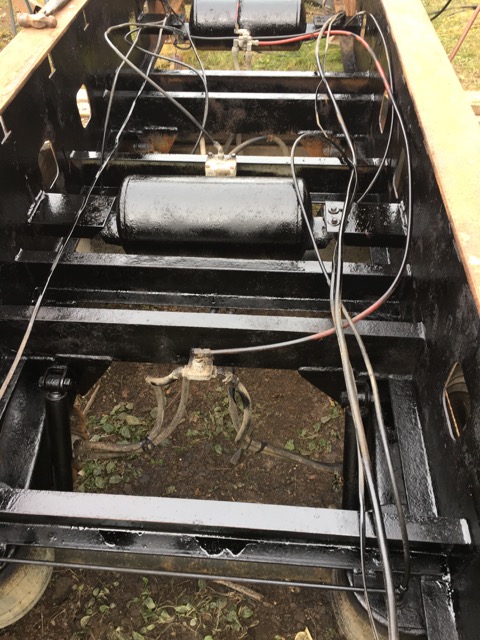 A gallon or two of undercoating makes the whole project look more hopeful,...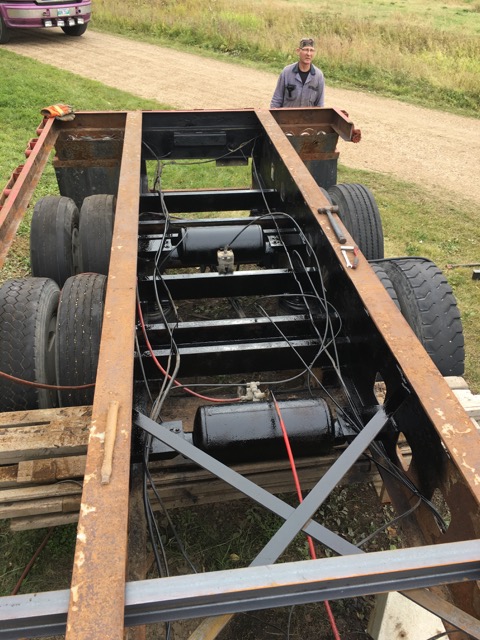 New, wider "X" braces were also installed,...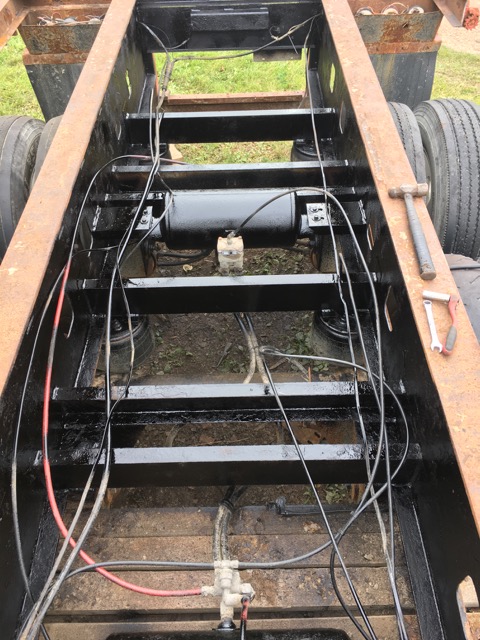 Step by step,..slowly beginning to resemble a trailer again,..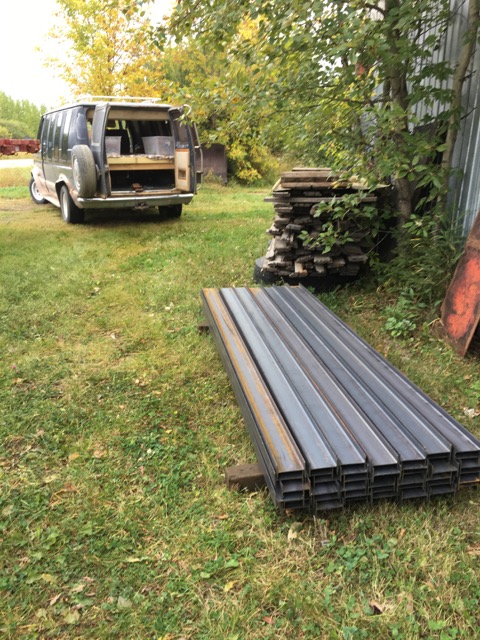 The pile of 44 new steel floor crossmembers, hauled easily under the bed by Old Blue,...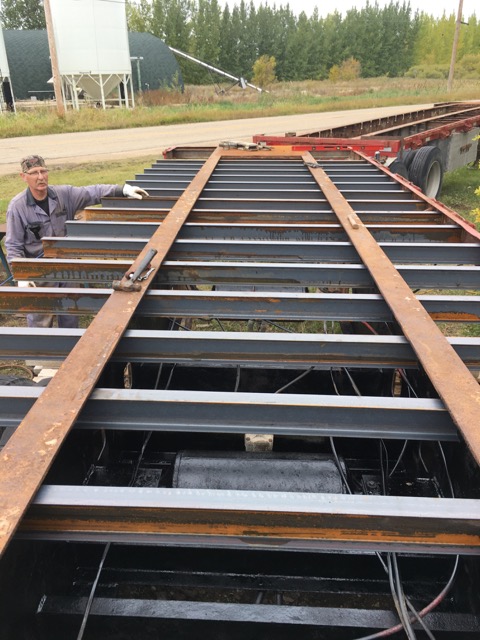 Enlisted the assistance of "The Last Redneck ", career welder and fabricator extraordinaire , with twice the patience of yours truly, for the rather large job of aligning & welding     
                                                                                                                                                floor crossmembers,...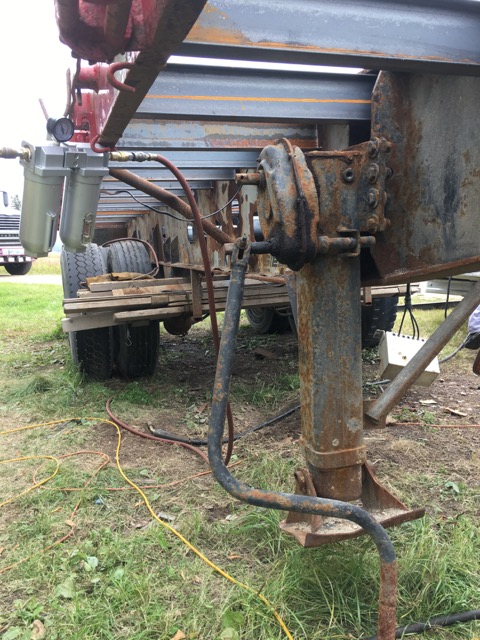 Clean, dry air is a prerequisite with plasma cutters,...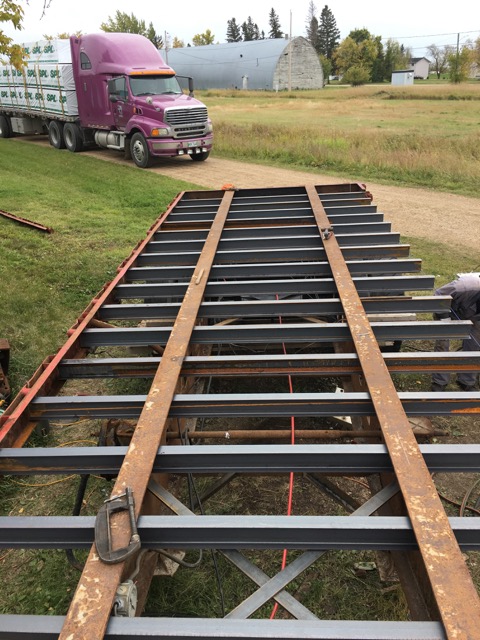 Looks more hopeful,...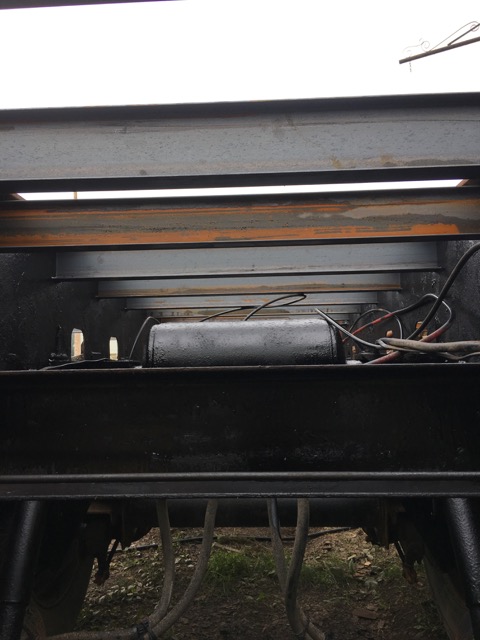 Getting crowded in there!,...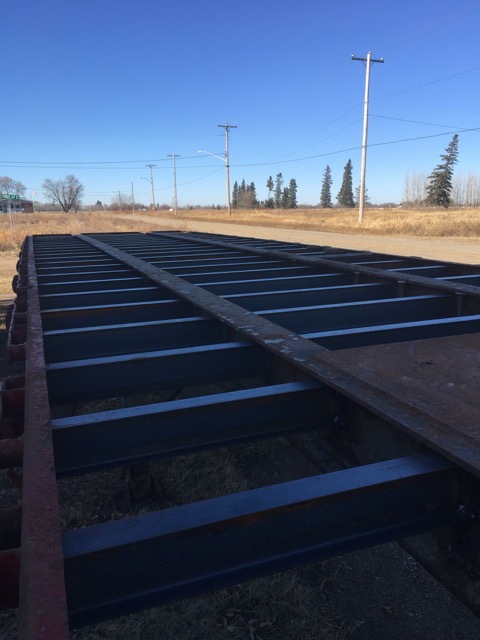 This one's nearly ready for flooring,...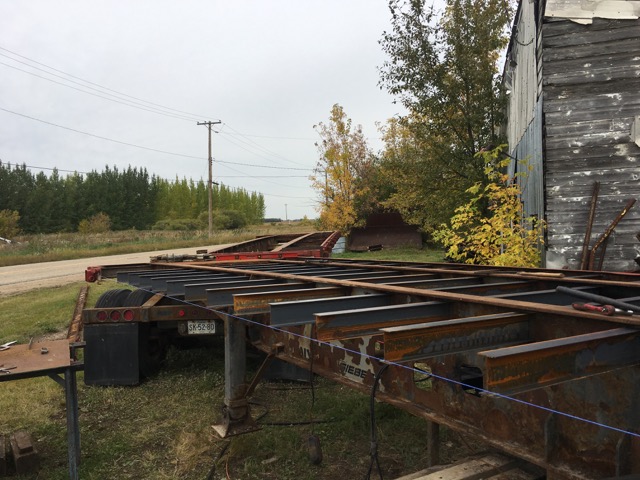 Crossmember alignment takes little skill and perseverance ,..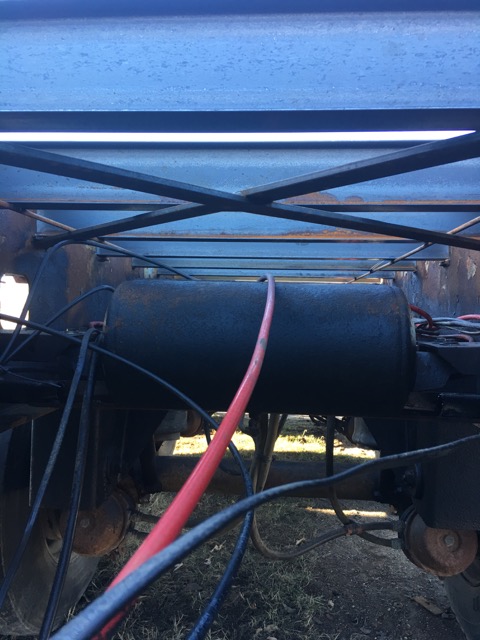 Re-plumbing air and electrical requires a bit of spelunking!,...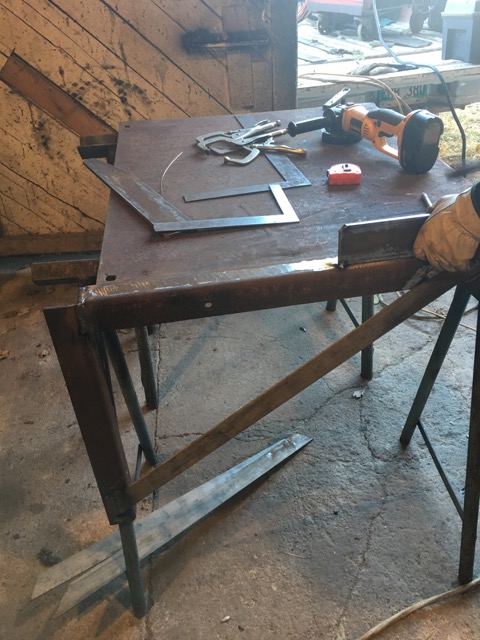 Larger storage boxes were installed on lead trailer, requiring fabrication of new mounting brackets,..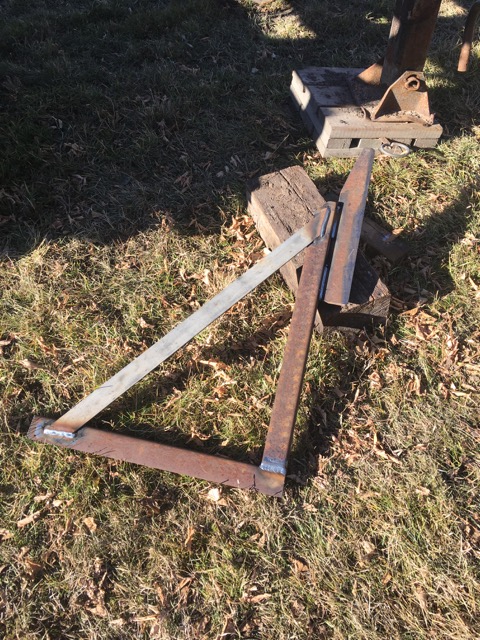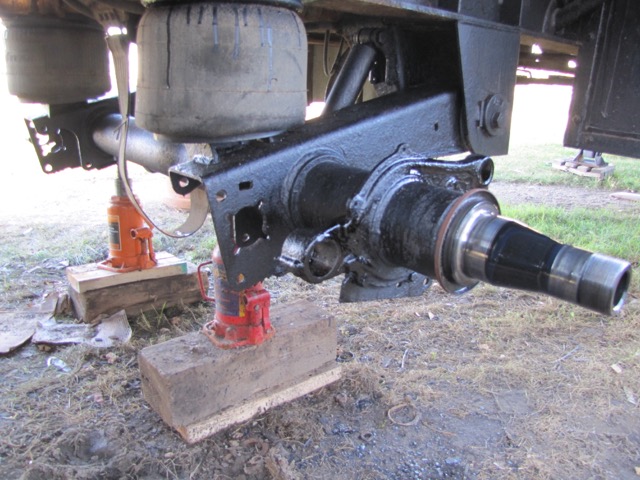 All brake components were replaced during rebuild...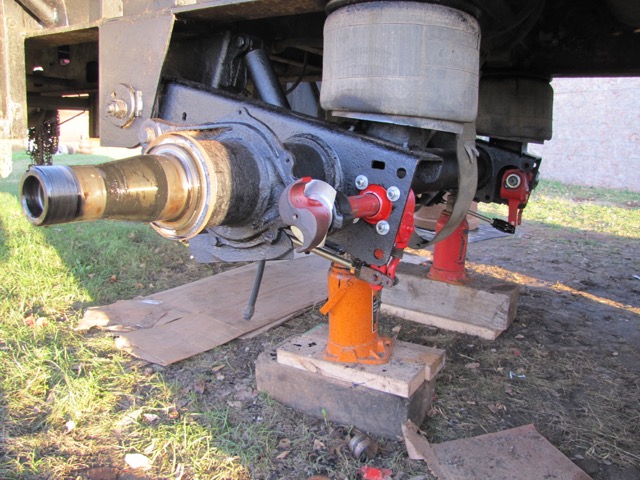 The strap you see under the axle is attached to a winch on frame exterior, it lifts that axle when trailer is empty, super cheap ($50), never malfunctions,...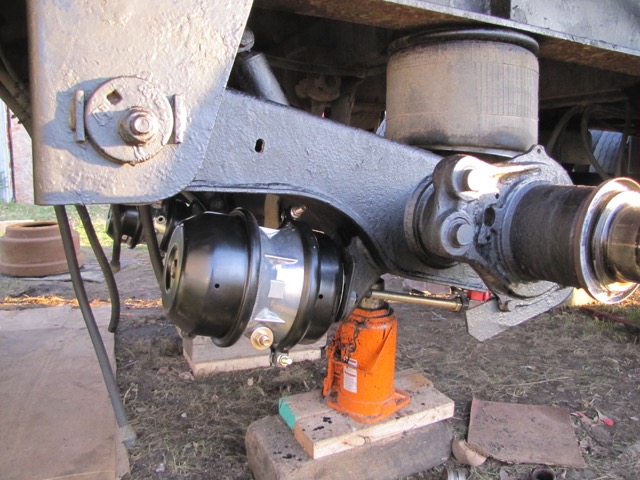 Brake chamber assemblies are replaced (on my equipment ) every 2 years , as quality of replacement parts is now so low, they are not dependable beyond that,...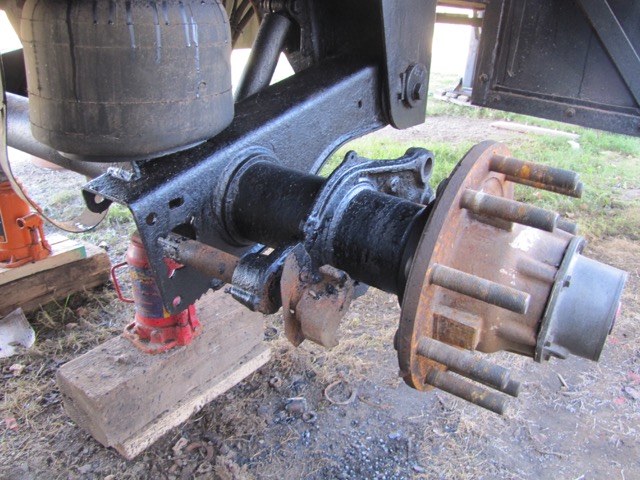 These shots show wheel hubs installed, these are proper , small diameter bearings running in oil; but you should know that the populace has allowed modern manufacturers to revert to ancient , non-serviceable, large diameter (high roller speed ) bearings running only in grease,..a very dangerous practice outlawed in the 1960's,..this is of course, criminal negligence on the part of the Department of Transport,..but they are idiot gods , above the law, and absent any morals or common sense,.so don't be too surprised when some new ,wonderful modern wheel assemblies come through your windshield...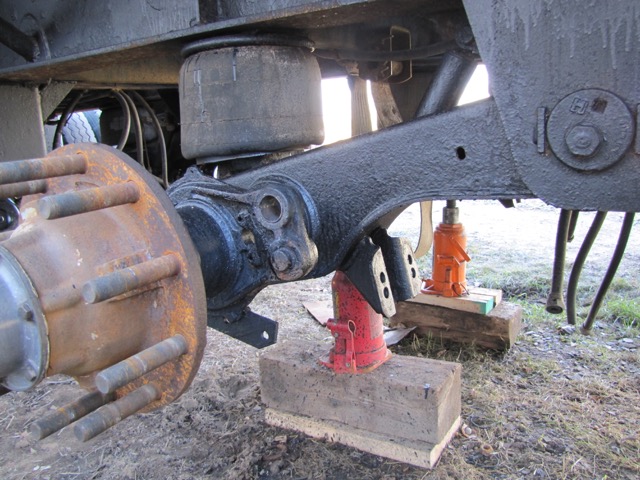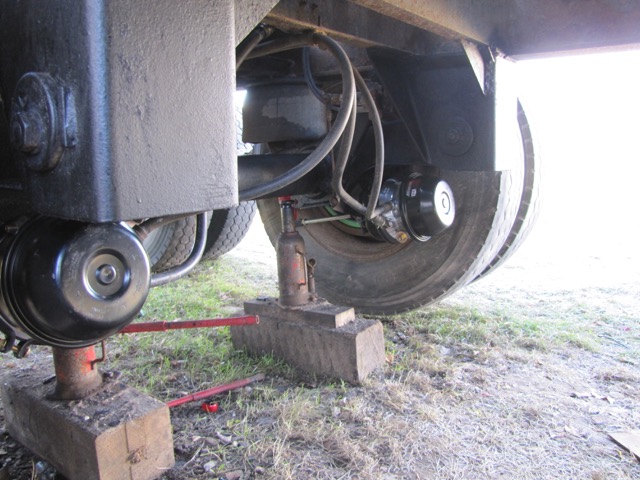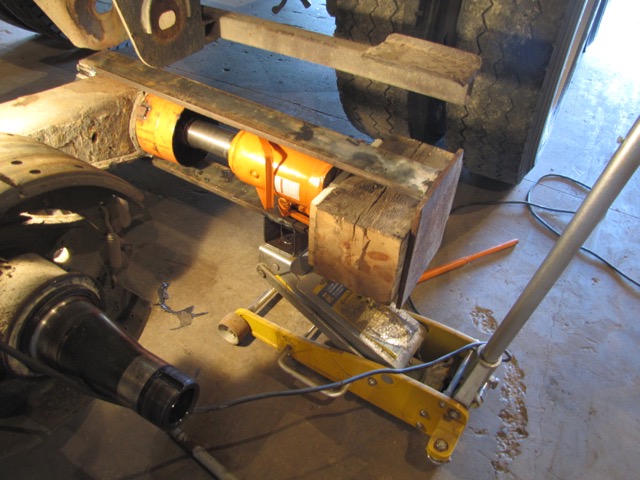 These shots show the suspension bushing housings, standard until about 2005, they are now LITERALLY half the size, and fail in as little as 2 years,..yet somehow it is legal for them to be manufactured and sold..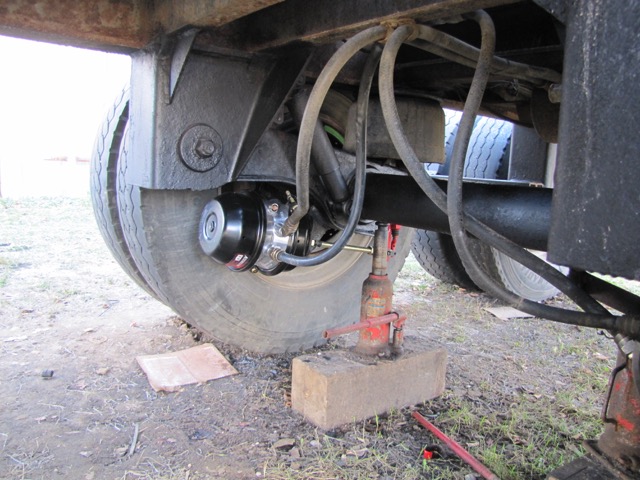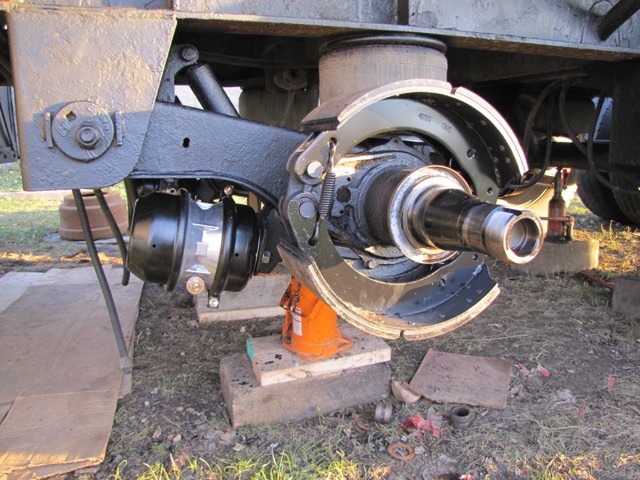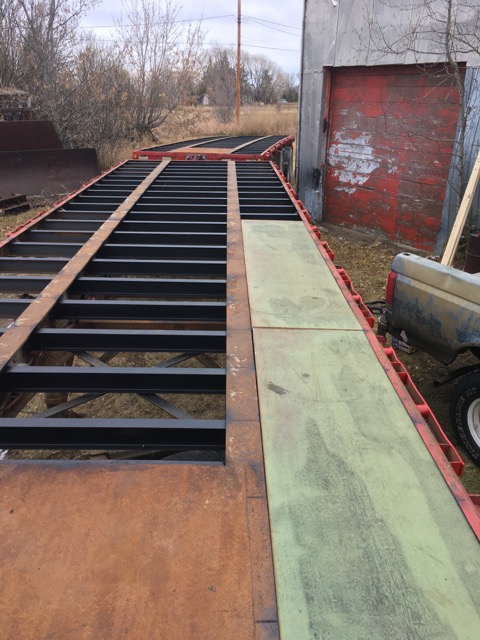 Beginning of floor panel installation,...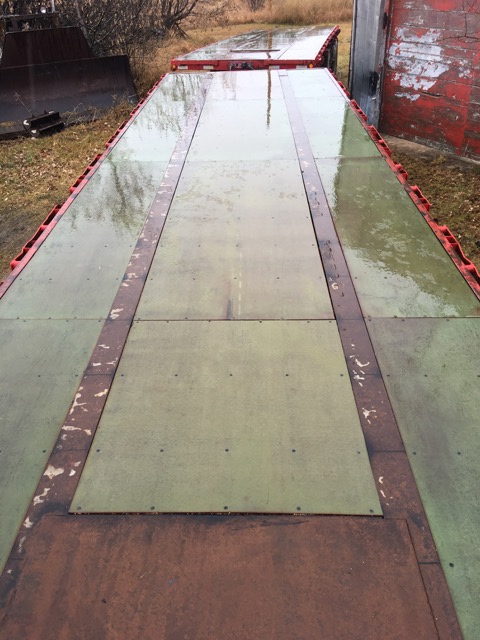 These lightweight Douglas Fir plywood panels are an experiment, not typically used this application,..they are 1000 pounds lighter than the original oak flooring, polymer coated,
                                                                                                                         ( and after two years of service, still intact,)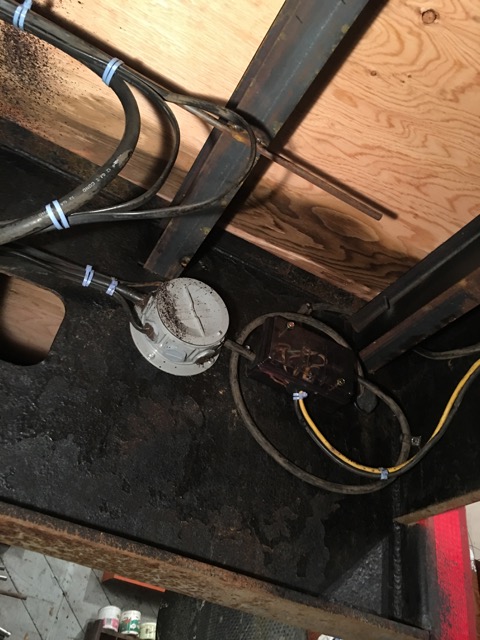 Much re-wiring was done, although the heavy original main harness was fine,and all lights were converted to LED, producing a very strong wiring system. "Modern "crappy 
                                             trailers however, utilize flimsy wiring due to the power small demand of LED's, and consequently have poor reliability...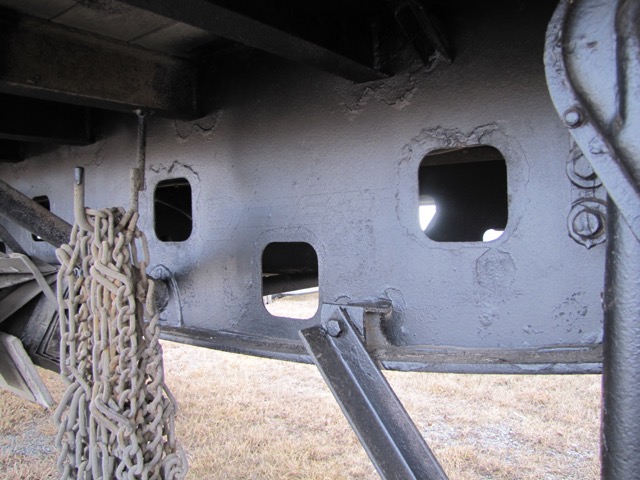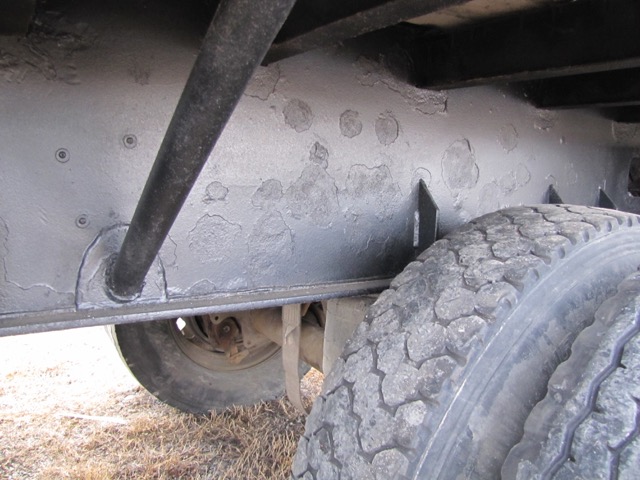 Several more gallons of undercoating to help slow the infiltration of good ol' road salt,...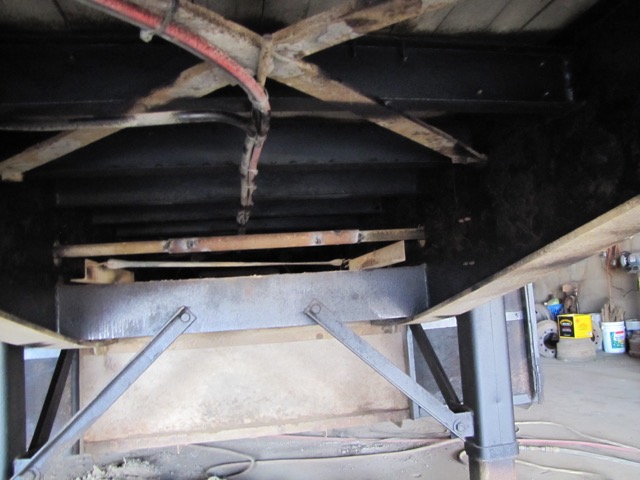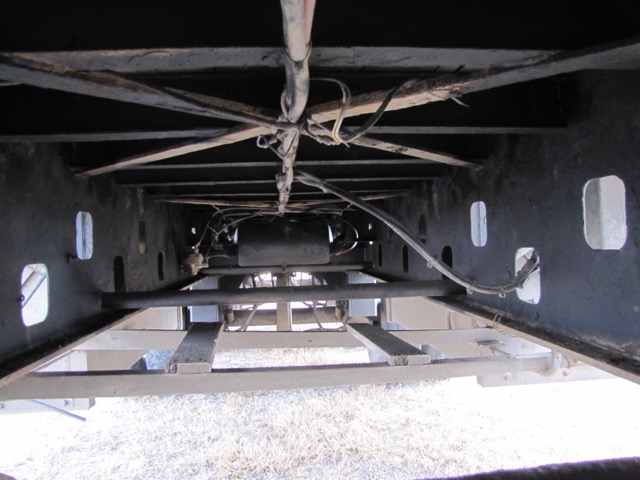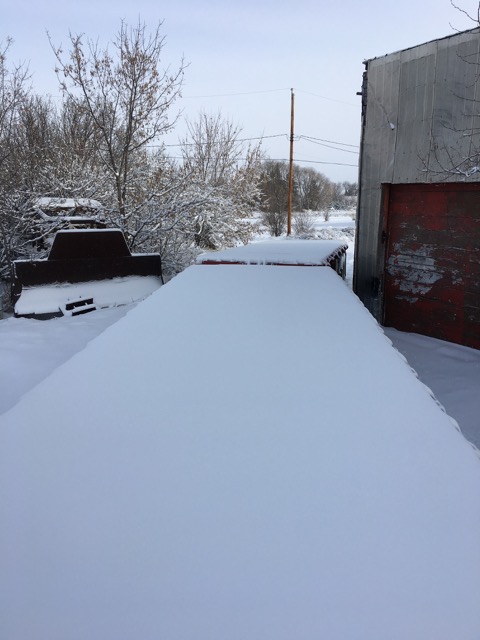 This project was begun when the snow melted, and completed 10 hours before the snow returned! However, it was accomplished on weekends, cost $15,000 for parts, and $5000
 for outside labour,..so $20,000 for a brand-new trailer of much higher quality than anything you can purchase new for $150,000; this is the pattern & realization with everything
                          we research,..this is why the ProlitarianPioneer movement exists,..and the gap between pragmatic and pathetic is growing incomprehensible